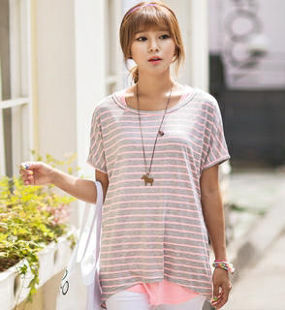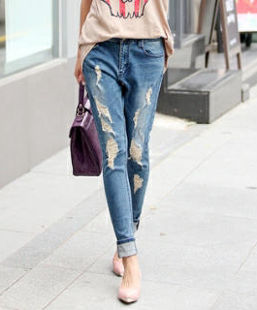 You know those days – the ones where you roll out of bed (after hitting the snooze button too many times), stumble into your closet, and have no idea what to wear? Our new series, Easy Outfit Formulas, is here to help! Every other week, I'll feature two items (which you probably already own) that can be paired into outfits for those days when you need some quick and easy inspiration.
This week, the featured outfit formula is a striped tee and a pair of distressed jeans. Striped tees are, without doubt, a wardrobe staple, and if you don't already have one in your closet, you should definitely pick one up ASAP! As for distressed jeans, they are an essential for fall's grunge trend – so buy a comfy new pair, or distress your own with this how-to video.
Outfit #1 – Last Days of Summer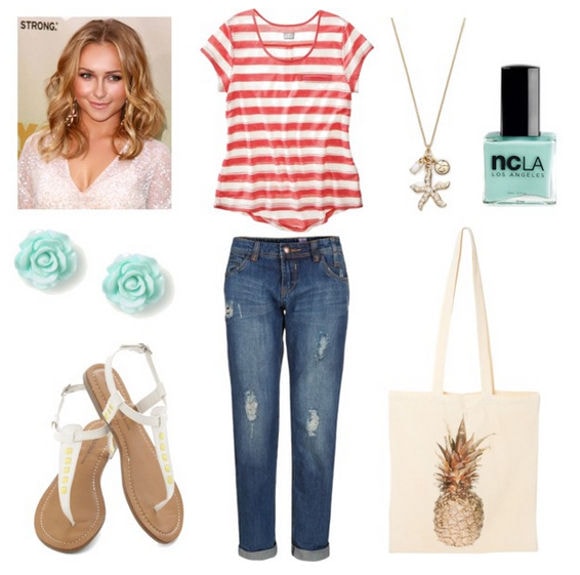 Product Info: Tee – Target, Jeans – New Look, Sandals – Modcloth, Tote – ASOS, Earrings – Icing, Necklace – Ann Taylor, Nail Polish – NCLA in "Santa Monica Shore Thing," Hair – Elle
Summer's not quite over yet, so here's a way to style this combo for warm weather. Start with a loose-fitting pair of distressed jeans, like a boyfriend or straight cut, and a bright striped tee. Slip on a pair of simple white sandals and a beachy starfish necklace, then style your hair in loose, summery waves.
A pair of mint studs and a coat of matching nail polish will contrast nicely with the coral tee. Lastly, grab a cute pineapple tote bag to give off a tropical vibe!
Outfit #2 – Trendy and Cool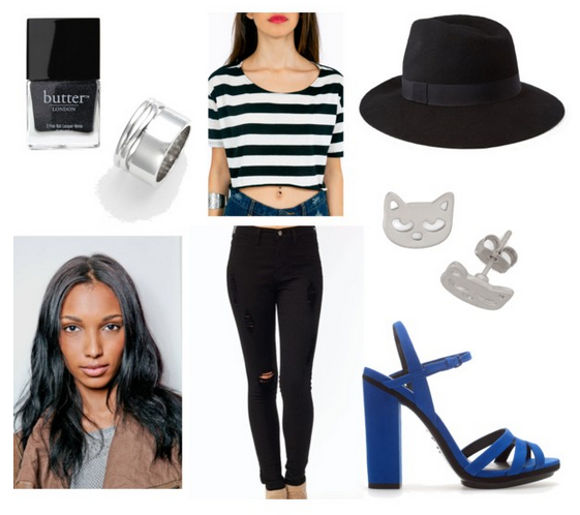 Product Info: Tee – Tobi, Jeans – Go Jane, Heels – Zara, Hat – Forever 21, Earrings – Modcloth, Rings – Nordstrom, Nail Polish – Butter London in "Gobsmacked," Hair – Elle
For this look, we're doing a trendy take on the striped-tee-distressed-jeans formula. Ripped black jeans and a striped crop top are the basis for the outfit (and also play into the black-and-white trend). A pair of cobalt blue platform heels will provide a pop of color and some edge. To avoid going over-the-top, keep your jewelry simple yet cute with these cat earrings and stackable rings.
Paint your nails with black glitter polish for a sparkly touch. To keep your ensemble effortlessly cool, wear your hair down and a tad messy. Top everything off with a sleek black wide-brimmed hat.
Outfit #3 – Back on Campus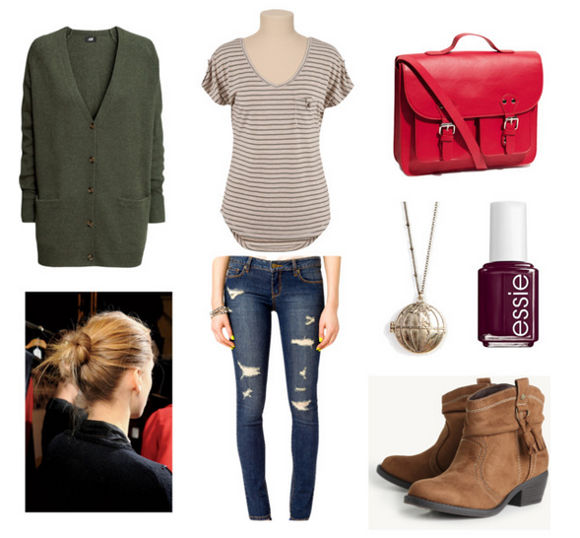 Product Info: Tee – Maurice's, Jeans – Forever 21, Cardigan – H&M, Boots – Ruche, Necklace – Urban Outfitters, Bag – H&M, Nail Polish – Essie in "Plums", Hair – Elle
This combo is perfect for the fall semester – simple, comfy, and cute. Start with your favorite pair of distressed skinny jeans and a striped tee in a neutral color. Throw on a cozy boyfriend cardigan for some extra warmth and tuck your jeans into a pair of brown suede ankle booties.
For some flair, add a long pendant necklace and a coat of rich purple nail polish. To save time in your morning routine, wear your hair in a messy bun. A structured red cross-body bag will add a pop of color and make your look more sophisticated.
Thoughts?
Would you wear a striped tee and distressed jeans? Which outfit is your favorite? How would you style this pairing? Let us know in the comments!