This post may contain affiliate links, which means we may receive a commission if you purchase through our links. Please
read our full disclosure here
.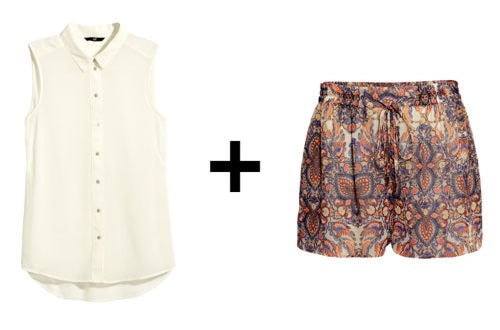 You know those days – the ones where you roll out of bed (after hitting the snooze button too many times), stumble into your closet, and have no idea what to wear? Our series Easy Outfit Formulas is here to help! Every other week, I'll feature two items (which you might own already) that can be paired into outfits for those days when you need some quick and easy inspiration.
While the combination of a tank top and denim shorts is a great go-to look for casual summer days, it's also nice to have a dressier alternative. That's where this week's Easy Outfit Formula comes in– a sleeveless blouse and tie-waist shorts are just as foolproof and almost as comfy, but they tend to look more elegant and sophisticated.
Ready to try out this formula? Here are three stylish looks to inspire you:
Look #1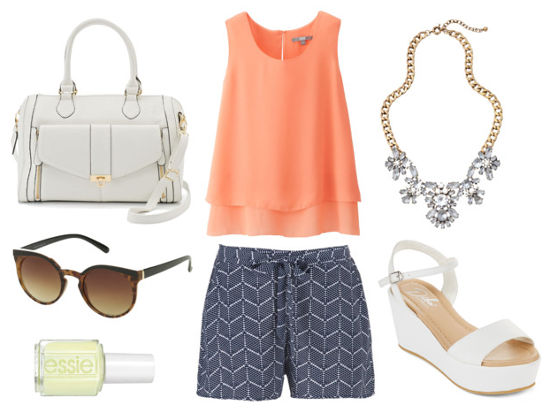 Products: Blouse, Shorts, Necklace, Wedges, Bag, Sunglasses, Nail Polish
This glamorous, feminine look would work well for a date night or dressy brunch. Start with a flowy, sleeveless peach-colored blouse and printed blue shorts. Add white platform wedges for height and a statement necklace for sparkle. Accessorize with a white satchel and modern sunglasses, and for the final touch, paint your nails a pale, lemon-yellow shade.
Look #2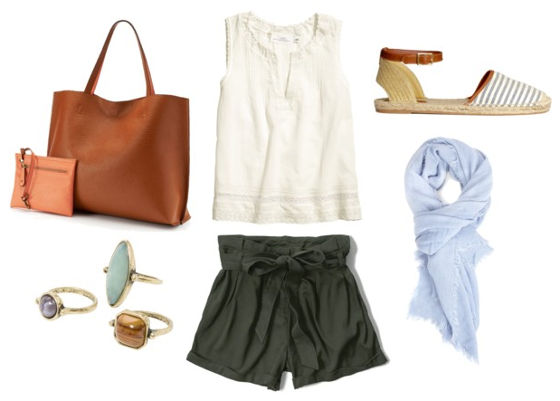 Products: Blouse, Shorts, Flats, Scarf, Bag, Rings
This cute and casual ensemble would be perfect for weekend errands, like a trip to the farmers market. Start with an embroidered white sleeveless blouse and dark green paperbag-waist shorts. Add a pair of comfy espadrille flats, then throw on a breezy blue scarf. Keep your jewelry simple with just a few stone rings, and lastly, grab a big tote to carry all your new purchases.
Look #3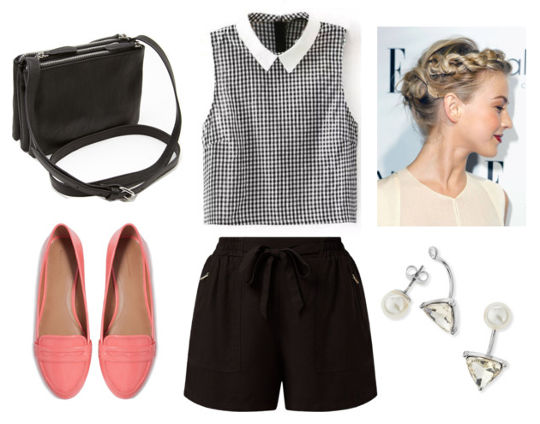 Products: Blouse, Shorts, Loafers, Bag, Earrings | Hair Photo: ELLE
This sophisticated and trendy look is ideal for a casual day-to-night outfit. It starts with sleek black shorts and an adorable collared gingham blouse. Play off of the menswear details with a pair of pink loafers, and don't forget a simple black crossbody bag to carry your essentials. Lastly, jazz up the ensemble with silver earrings and a crown braid.
Thoughts?
What do you think of this combo? Do you have these pieces in your closet? How would you style them? Let us know in the comments!