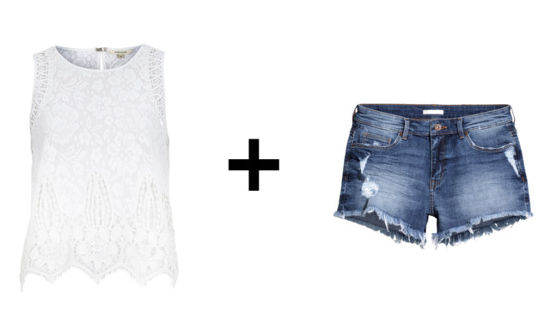 You know those days – the ones where you roll out of bed (after hitting the snooze button too many times), stumble into your closet, and have no idea what to wear? Our series Easy Outfit Formulas is here to help! Every other week, I'll feature two items (which you might own already) that can be paired into outfits for those days when you need some quick and easy inspiration.
A lacy tank and denim shorts are versatile warm-weather staples that you'll wear again and again in the summer months. Not only are they endlessly adaptable, but you just can't beat the contrast of a flirty, feminine lace tank with casual, distressed denim. Want to see some stylish ways to wear this pairing? Read on:
Casual Boho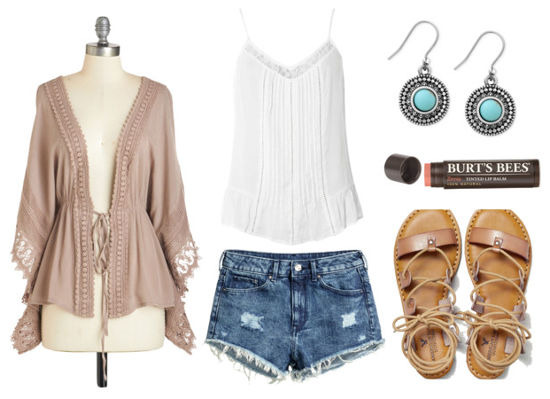 Products: Tank, Kimono, Shorts, Sandals, Earrings, Lip Balm
For your next music festival, try this comfortable yet chic look. Pair a simple white lace-detail tank with denim cut-offs, then add a breezy kimono-inspired jacket for a boho feel. Lace-up gladiators and turquoise earrings are the perfect accessories, while a bit of tinted lip balm will give you a pretty pout (and protection from the sun!).
Fun & Sporty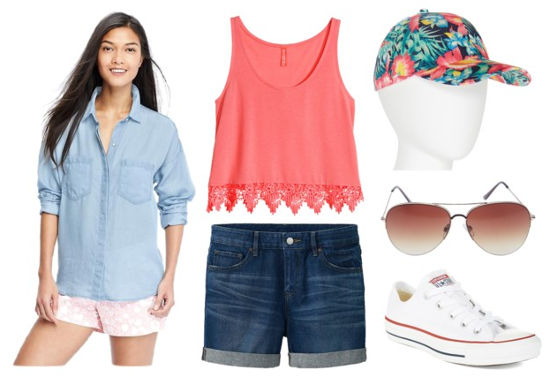 Products: Tank, Shorts, Shirt, Sneakers, Hat, Sunglasses
Is your style a bit more sporty? Then try this fun and colorful outfit– perfect for watching a baseball game or playing frisbee at the park. Pair a bright pink tank with comfy denim shorts, then add a chambray shirt for some denim-on-denim action. White sneakers and aviators keep the look casual and practical, while a floral baseball cap adds a trendy touch.
Sophisticated & Feminine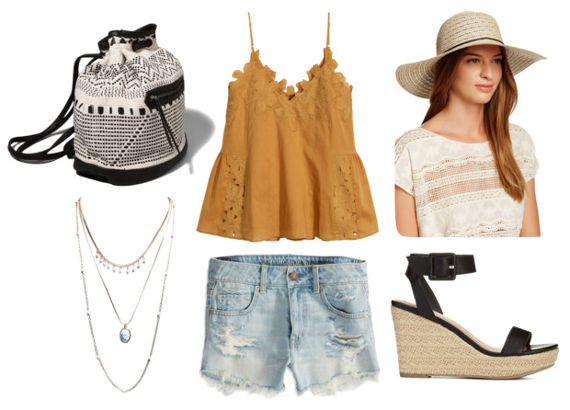 Products: Tank, Shorts, Wedges, Hat, Necklace, Bag
This outfit has a touch of feminine sophistication while still being appropriate for a casual summer evening. Try it for a warm weather date night (maybe dining al fresco or going to see Shakespeare in the Park?). Start with a frilly, mustard-colored tank and pair it with distressed denim shorts. Dress up the look with wedge sandals, a floppy hat, and layered necklaces, and don't forget a printed bucket bag to carry your essentials in style.
Share your thoughts!
Do you have these pieces in your closet? What's your go-to way to wear them? Which of these outfits is your favorite? Let us know in the comments!