This post may contain affiliate links, which means we may receive a commission if you purchase through our links. Please
read our full disclosure here
.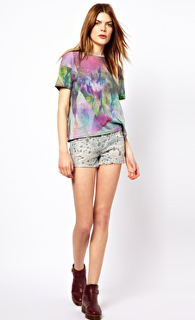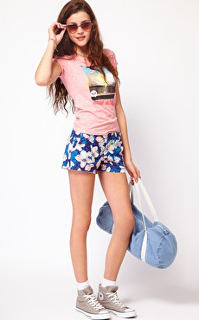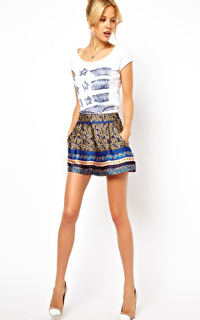 You know those days–the ones where you roll out of bed (after hitting the snooze button too many times), stumble into your closet, and have no idea what to wear? Our new series, Easy Outfit Formulas, is here to help! Every other week, I'll feature two items (which you probably already own) that can be paired into outfits for those days when you need some quick and easy inspiration.
This week, I'm going to talk about pairing printed shorts and graphic tees. These are great pieces for hot summer weather, and when combined, they create outfits with lots of visual interest.
Scroll down to check out three cute and stylish ways to wear this week's pairing:
Outfit #1 – A Walk on the Beach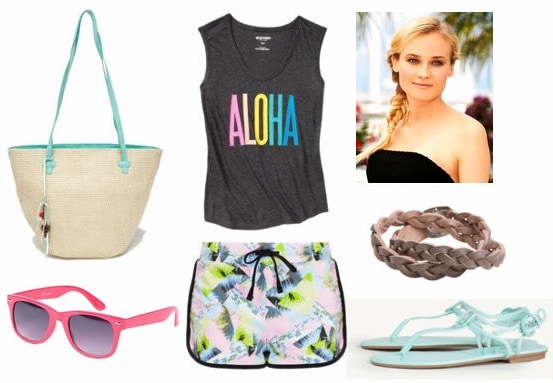 Product Info: Tee – Old Navy, Shorts – Topshop, Tote – Roxy, Sunglasses – Metro Park, Sandals – Ruche, Bracelet – Swell | Hair Photo: ELLE
For our first take on printed shorts and a graphic tee, we're heading to the beach! Start with a pair of sporty shorts in a tropical print and a fun, summery tee. Then add pops of color with a pair of light turquoise sandals and some pink sunglasses. To make your style appear effortless, try doing your hair in a messy fishtail braid. A leather wrap bracelet and straw tote (to carry your beach essentials) complete the look.
Outfit #2 – Night Out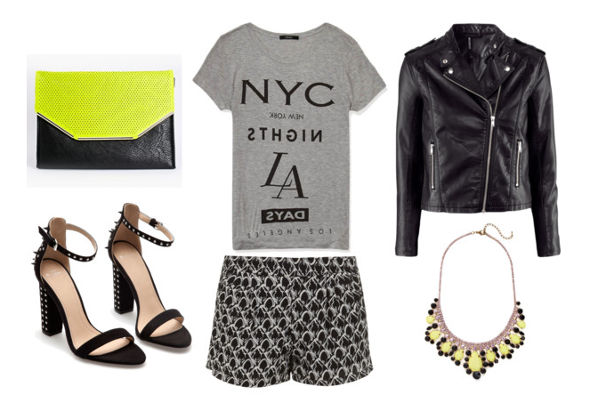 Product Info: Tee – Forever 21, Shorts – Dorothy Perkins, Jacket – H&M, Heels – Zara, Clutch – Nasty Gal, Necklace – BaubleBar
This look is perfect for a night on the town during the warm summer months. Printed black-and-gray shorts and a gray graphic tee create a nice monochrome base (of course, any black and gray combo would work here), and a classic black biker jacket is an extra layer perfect for after dark. Add some eye-catching pops of yellow with a sparkly statement necklace and bright clutch. Lastly, for a trendy edge, slip on these amazing spiked ankle strap heels before you leave for the night.
Outfit #3 – Boho Vintage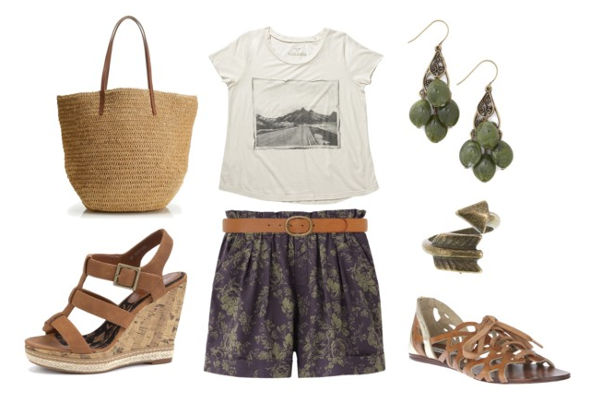 Product Info: Tee – Nine West, Shorts – Uniqlo, Wedges – New Look, Flat Sandals – Steve Madden, Tote – J. Crew, Belt – Dorothy Perkins, Earrings – Modcloth, Ring – Payless
This combo is perfect for a day of shopping at your local farmers' or flea market. A pair of menswear-inspired printed shorts and a black-and-white graphic tee set the vintage-y tone. Brown wedge sandals are a cute addition, or – if you prefer something flat – try a pair of lace-up sandals. Slip on these green stone earrings and a distressed ring for some rustic-yet-feminine flair. A simple straw tote will carry your stuff and finish off the look.
Thoughts?
What do you think? Can you see yourself wearing any or all of these outfits? How would you style a graphic tee and printed shorts? Do you have a suggestion for an Easy Outfit Formula? Leave a comment below!