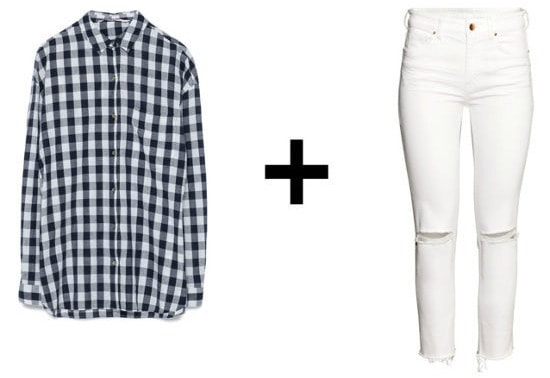 Products: Shirt- Zara | Jeans- H&M
You know those days – the ones where you roll out of bed (after hitting the snooze button too many times), stumble into your closet, and have no idea what to wear? Our series Easy Outfit Formulas is here to help! Every other week, I'll feature two items (which you might own already) that can be paired into outfits for those days when you need some quick and easy inspiration.
Gingham is always a trendy print come spring, so a gingham top is a long-lasting staple that will always be in style. White pants, though a bit intimidating, are super-versatile and chic– and when paired with a classic gingham top, they make the perfect warm weather ensemble.
Ready to give this formula a try? Here are ideas on how to wear the combo for every occasion:
For Work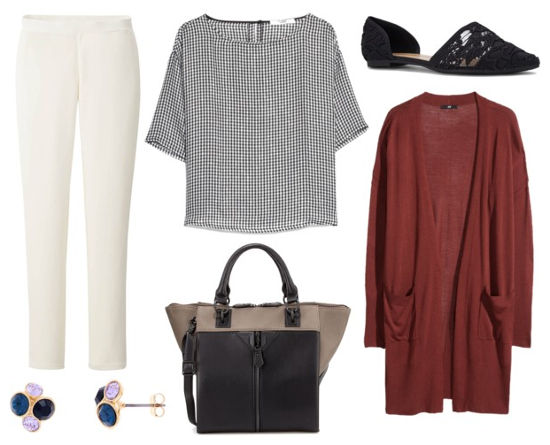 Products: Top | Cardigan | Pants | Flats | Bag | Earrings
Try this chic and stylish look for a casual/business casual workplace. Start with stretchy white ponte pants and a gingham blouse, then layer a burgundy cardigan over the top for a splash color. Black lace d'orsay flats add a pretty, feminine touch, and a structured tote adds polish. Complete the ensemble with subtle jeweled earrings.
For the Weekend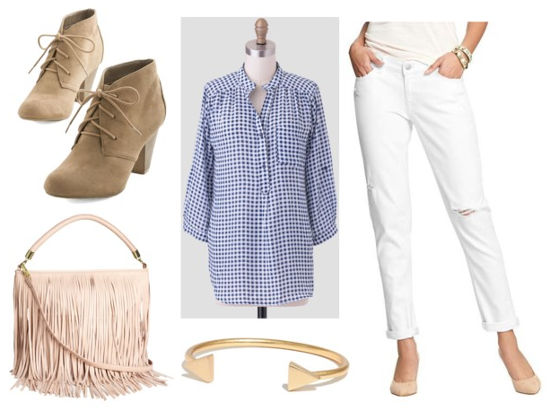 Products: Shirt | Jeans | Shoes | Bag | Bracelet
This relaxed yet fashion-forward look would be ideal for the weekend (or possibly even a day of classes). Start with ripped, white boyfriend jeans paired with a classic blue gingham shirt. Lace-up suede booties and a fringe bag add a slightly rustic, boho feel, while a geometric gold bracelet provides just the right amount of sparkle.
For Night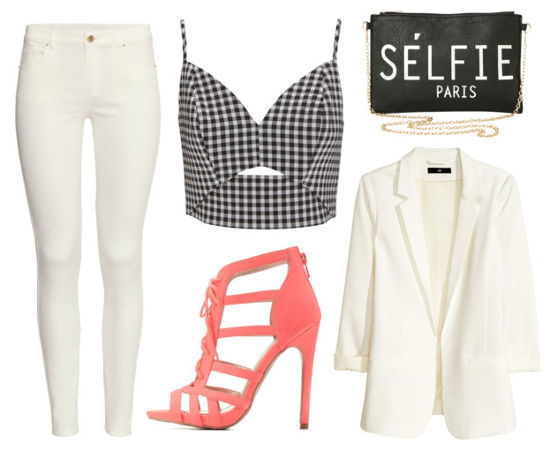 Products: Top | Blazer | Pants | Heels | Clutch
Ready for a bold and adventurous evening look that will turn heads? Try a pair of white pants, a gingham crop top, and a crisp white blazer. Strappy pink stilettos and a graphic clutch pack a trendy punch. Though you'll have to be careful not to spill anything on your all-white ensemble, your fashion sense will easily grab everyone's attention.
Thoughts?
Do you have a gingham top or white pants in your closet? How would you style them? Which look is your favorite? Let us know in the comments!