This post may contain affiliate links, which means we may receive a commission if you purchase through our links. Please
read our full disclosure here
.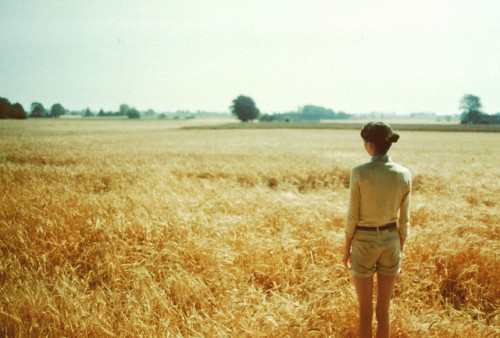 So a couple weeks ago I offered to write a post on style for tall girls, and people jumped on the idea in the comments. Today we'll talk about how to dress your tall self, look awesome, and flaunt your assets! You don't need to look shorter. Not one bit. You look great.
There are a few inconveniences to being tall, but they're easy enough to work around. Finding jeans that fit correctly is a challenge for just about everybody, but tall girls have a particular disadvantage — many stores carry short sizes but don't carry long sizes. I know American Eagle and Delia's carry long inseams online, and most large department stores will have a wide enough selection that you can hopefully find what you're looking for with enough time. As I've mentioned before, life gets easier when you try things on. And once you find your perfect jeans style, you can buy it in multiples.
The other sartorial dilemma that tall girls find themselves in is the issue of dress length. A dress that looks great on somebody 5'5″ is nearly obscene on a girl who's 6'0″. Dresses that are billed as "knee-length" are likely to hit you mid-thigh, so keep an eye out for those, and – again – always try things on before buying.
The other issue tall girls run into is people who say things like, "You're so tall! You should play basketball!" Those people are the worst. Your athletic preferences are none of their business.
These things aside, being tall is awesome. Two obvious reasons: you can reach things on high shelves, and on the off chance that you do play basketball, you have a certain advantage against shorter girls. Society has equated height with a certain amount of elegance these days, and while I'm usually in favor of taking what society says and throwing it out the window, you might as well reap the benefits of that particular stereotype. If you're above 5'9″, you can be on America's Next Top Model, or at least watch it and think "I could do that, because I'm tall enough" instead of waiting for another "petite" season like the rest of us (with shorties who are like… 5'6″).
But in all seriousness, your height is something that you should embrace, because it can make you stand out in a really great way. Below, I'll share some tips to help you do just that.
3 Quick Tips on Dressing for your Height
1. Go for prints!
Sometimes people shy away from really out-there prints, because they're afraid the prints will be too overwhelming. Because you're tall, though, you're unlikely to be outdone by the pattern on your dress. You can totally pull it off.
2. Wanna wear heels? Wear heels.
I hate it when people suggest that tall folks shouldn't wear heels. My mother's best friend is six feet tall, and one of the most poised women I know. She wears heels all the time. My theory is this: If you're already going to be taller than most people, why not go all out? You don't have to wear heels, of course, but if you want to, don't let silly outdated 'rules' stop you.
3. Fortune favors the bold.
You can really get away with some crazy stuff. Try to incorporate one bright element into every outfit. This part is true for everyone, but particularly so for tall girls, because as mentioned above, you're unlikely to have your clothes wear you.
Outfit #1: Classic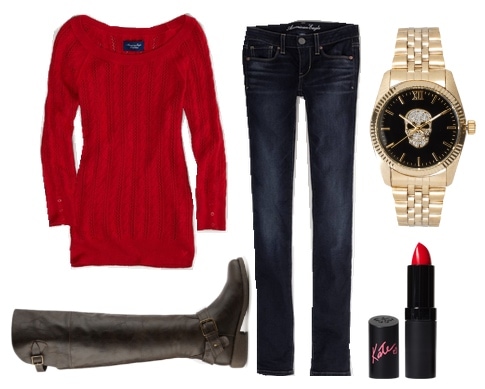 Sweater – American Eagle, Jeans – American Eagle, Lipstick – Asos, Boots – DSW, Watch – Asos
This outfit is an easy, put-together look for going to class or hanging out on the weekend. Maybe it's because I'm an Aries, but I'm all about the color red these days. (It probably has more to do with Taylor Swift's new single.) Adding a pop of red lipstick to an otherwise laid-back look is always a fun way to catch people off guard. Also, these jeans are from American Eagle, and exist in Extra Long. That's always a good thing.
Outfit #2: Going Wild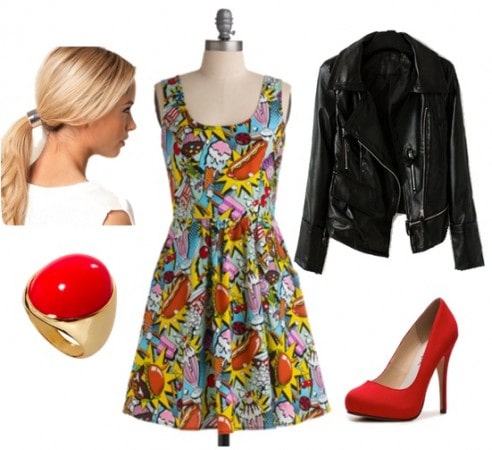 Dress – Modcloth, Ring – Asos, Jacket – She Inside, Shoes – DSW
Okay, guys, bear with me. Yes, this dress is insane. It's junk food + pop art + clothing, which isn't a combination that you see very often. However, if anyone can wear this kind of thing, it's you. Plus, this dress won't look micro-mini on you. Rock the fall look by layering a faux-leather jacket, and as long as you're going wild with your dress, you might as well dress it up with red heels. Pull your hair back into a sleek ponytail to add a touch of elegance. You look awesome.
What do you think?
Would you ever wear a dress covered in pop art depictions of junk food? Where do you find jeans that fit right? What should I talk about next time? Let me know the answers to all these questions and more in the comments!