This post may contain affiliate links, which means we may receive a commission if you purchase through our links. Please
read our full disclosure here
.
Last time on Dressing for Your Body, Which Happens to Be Awesome, we talked about hourglass figures. Today, we're talking about the girls with no curves whatsoever, which can also be awesome.
I have to say, there's a lot of anti-skinny rhetoric out there, running around pretending to be "body positive." The other day, I stumbled upon a facebook group entitled "Real men like curves. Only dogs go for bones" which I won't link to because ew. First of all, what "real men" want is the last of my worries. Secondly, I know they're proud of themselves for saying something slightly different from the status quo, but do they not realize that this kind of talk is actually hurtful?
There are definitely people out there who are insecure about how thin they are, girls who wish they had more curves but happened to pick a skinny genetic straw. What's worse is that their voices usually aren't heard in the healthy-body-image conversation. Well, I can't change society as a whole, but I can write y'all a blog post. Baby steps.
I will say that there's no shortage of skinny fashion icons in the media, which means you can draw on their style. That's always fun. If you've got more of a retro style, you can always channel the original skinny girl — Twiggy. Need I say more?
Fashion Tips for Skinny Chicks
1. Own your Androgyny.
Okay, I know this is going to come out wrong but bear with me. The fact that you don't have serious curves means you will be able to rock the menswear trend. I'm not calling you masculine, I swear. Unless you want to be. In which case, go for it. I support you, whatever your desires!
2. Look to the Stars.
There are tons of actresses and musicians out there with your body type, and a lot of them kill it, fashion-wise. I personally love Keira Knightley's laid back elegance, and Ashley Olsen's crazy artsy vibe.
3. Channel the '60s.
Anything Twiggy can pull off, you can pull off. I mean that. Anything. (I'm convinced that the very concept of "pulling something off" is directly tied to one's confidence in their ability to pull it off.)
Outfit #1: Gender is a social construct anyway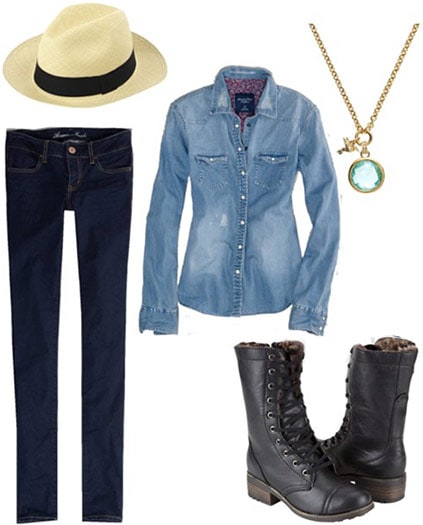 Jeans – American Eagle, Shirt – American Eagle, Shoes – Tilly's, Necklace – Juicy Couture, Hat – Marc Jacobs
Can I just say how much I love the denim-on-denim thing? It's taking the one fashion "rule" that's ever made sense to me and turned it on its head. The shades of blue are different enough in this outfit to still look awesome. The hat just looks like something you'd see somebody wearing on The Sartorialist, doesn't it? Keep things feminine with delicate jewelry.
Outfit #2: The Little Black Dress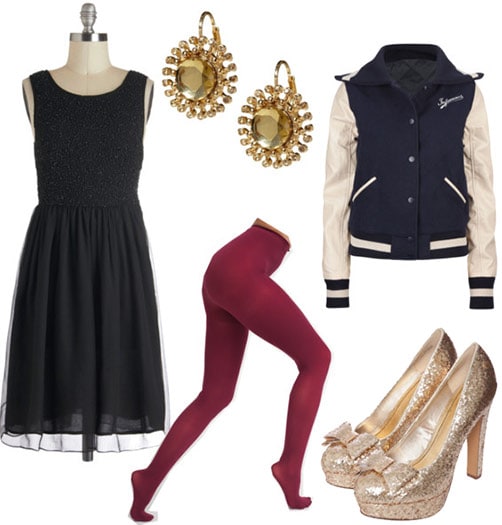 Dress – Modcloth, Earrings – Banana Republic, Shoes – Republic, Tights – American Apparel, Jacket – Tilly's
I imagine wearing this outfit to a holiday party with your parents' coolest friends. It's essentially a classic outfit plus a letterman jacket. What could be better? This dress is on the pricey side, but considering the versatility of a classic LBD, I'd say it's a good investment. Also, the neckline of this dress is especially flattering to the small chested among us. Add some color with cute tights, and bring in a current trend with this throwback jacket.
What do you think?
Is body snarking against thin people still body snarking? (Hint: yes.) What are your best skinny-girl-fashion-tips? Which body types still need addressing in this series? Let me know in the comments!
(Seriously, commenters, I love each and every one of you.)