This post may contain affiliate links, which means we may receive a commission if you purchase through our links. Please
read our full disclosure here
.
It's no secret that I'm a Florida girl. It's also no secret that Florida rarely decides to participate in winter. Instead we participate in "swinter," our own little season where we often come home for winter break and head to the beach because summer never ends.
Any girl who lives in a mainly tropical climate can relate to the fact that we have no idea how to dress for cold weather. As soon as we see signs of a dreaded cold front, we panic; our wardrobes just aren't equipped.
Traveling to the tropics or just confused about swinter? Here are three looks to help you dress for winter in Florida (or another tropical locale):
1. The "It's 78 degrees, but I want to look seasonally appropriate."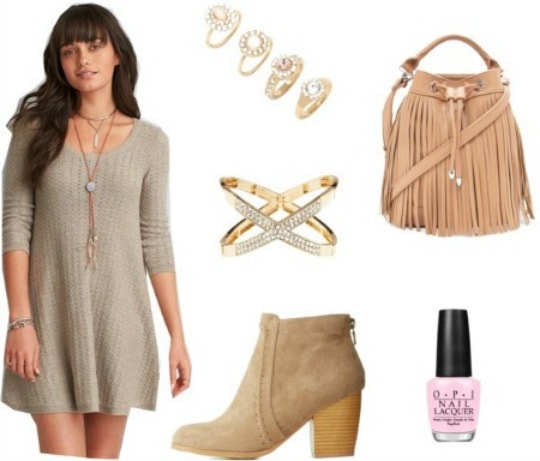 Products: Dress, Rings, Bracelet, Bag, Nail Polish
This outfit is perfect for those days when you are tired of dressing like the queen of summer. (It happens, I swear!) The key to doing this successfully is to wear lightweight winter-inspired pieces in light colors. The light colors won't look out of place and will help to keep you cool on a warmer day.
A sweater dress and low booties are the perfect choices. They'll keep your legs free so you won't die from the heat. This sweater dress has an added bonus because it's loose and comfy, perfect for the post-holiday weeks. Some simple accessories in light colors also keep this outfit fresh instead of dark and drab.
2. The "Oh no! It's only 65 degrees out!"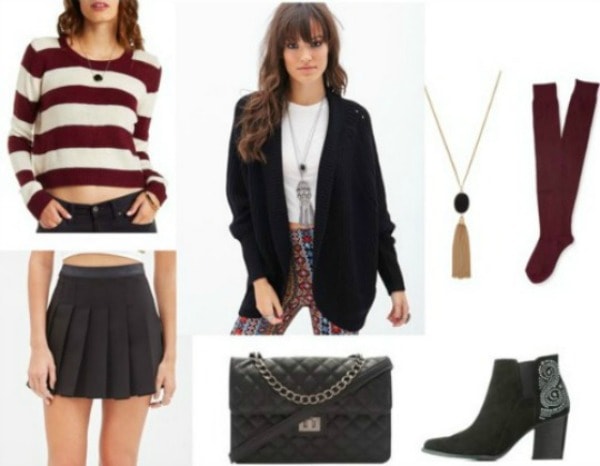 Products: Sweater, Skirt, Cardigan, Bag, Necklace, Socks, Boots
When the temperature does dip a bit cooler, it's time to dress a little more warmly and break out the darker colors. It's also key to remember to layer. It's bound to get warmer as the day goes on, and you need to be able to adapt to the changing temperature.
In this look, the knee-high socks and black cardigan give this outfit some warmth and are also super easy to remove if needed later. The cropped sweater also allows you to play with proportions when pairing it with a high-waisted skirt. A simple black bag and a long necklace finish the look off perfectly.
3. The "The high is only 64 degrees! How do I dress for that?"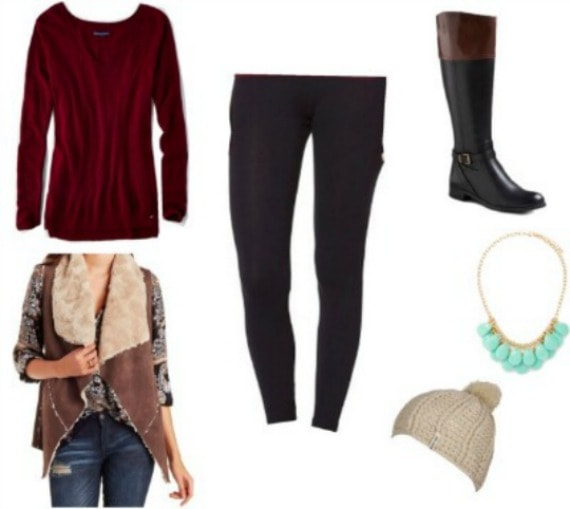 Products: Sweater, Vest, Leggings, Boots, Necklace, Beanie
This last outfit is for those days when those of us who are accustomed to warm weather just feel too cold to get out of bed. (Snicker all you want, northerners – the struggle is real.)
Wearing some leggings and a long, loose sweater will be as warm and cozy as your pajamas but they are more socially acceptable. Layer with a soft shearling vest for added warmth and add some riding boots to keep your feet warm and toasty. A cute beanie will also help you stay warm, and it can cover up a bad hair day. A bright statement necklace brings some tropical color to this wintry look without being too fussy.
What do you think?
How do you those of you who live in warm climates dress for the "cold?" Do you use light layers, or do you bundle up because you aren't used to anything below 70 degrees? Let's swap outfit ideas and tips for braving the "cold" in the comments.