This post may contain affiliate links, which means we may receive a commission if you purchase through our links. Please
read our full disclosure here
.
I've been studying in London this semester to be a personal shopper and stylist, so I've learned a lot about different body shapes and how to dress them appropriately. This is one of the most common questions we get here at CF, and while we've written a slew of posts on this subject (click here, here, here, and here for a few), you guys always seem to want more. So I'm here to help you out.
Of course every body is different (as are your goals for how you'd like to look), but I divided the rules into five basic categories based on what I've learned at London College of Fashion and through my internship as a personal stylist. Scroll down to see the suggestions:
Hour Glass
This is the most common body shape. The shoulders and hips are nearly in proportion, and the waist is tucked in. Your waist is the smallest part of you, and it's fun to accentuate it! You can do this by wearing fit and flare shapes, body con shapes, belting sweaters and cardigans, and wearing high-waisted trousers and skinny jeans.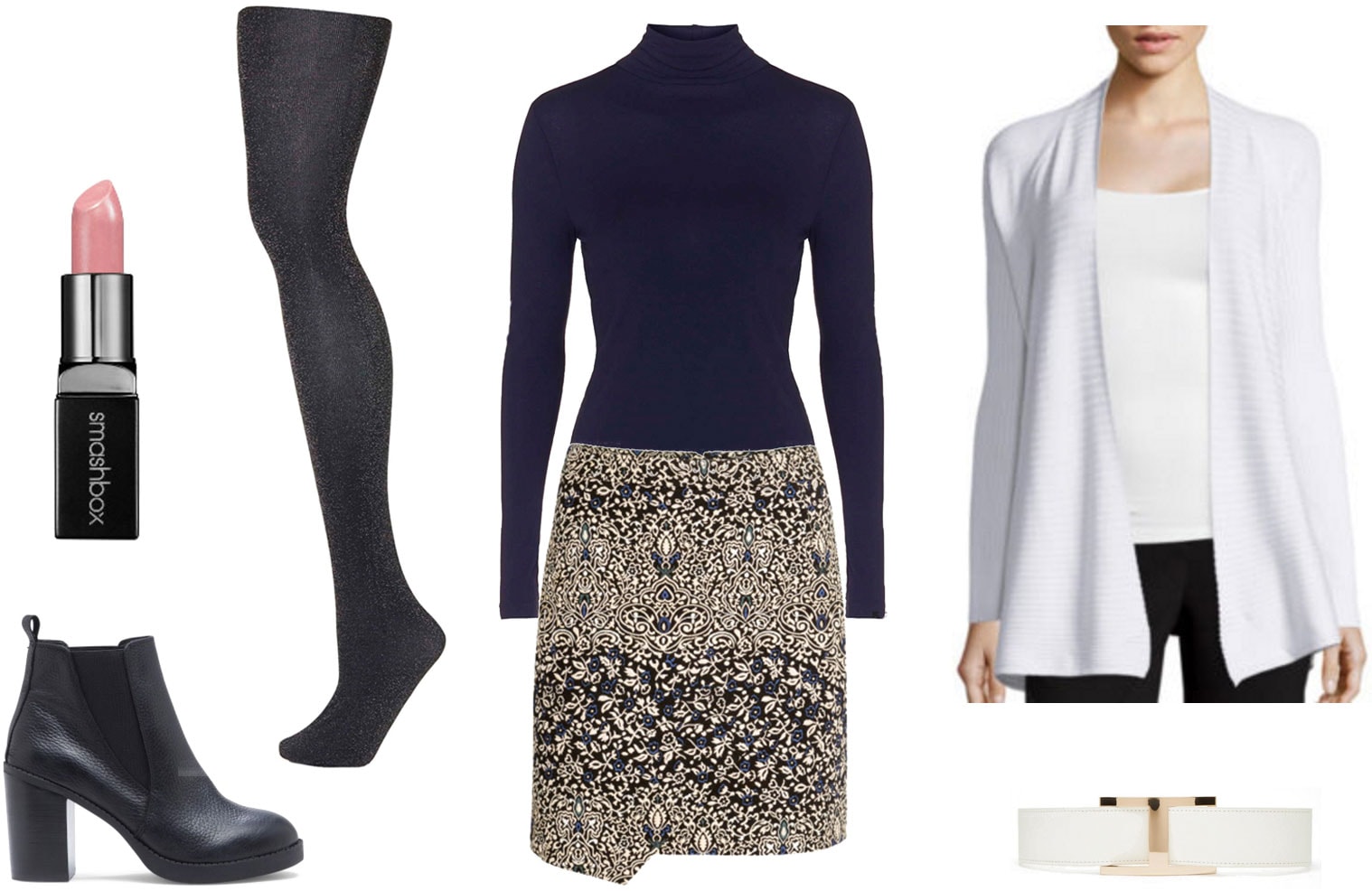 Products: Skirt, Turtleneck, Glitter Tights, Boots, Lipstick, Cardigan, Belt
Pear
Most women think they're a pear, but it actually makes up the smallest percentage of body shapes. Pears have an obvious smaller frame on top and a relatively small waist, and larger hips and bottom. An example of this would be a woman who wears a 6 on top, and a 10 or even a 12 on the bottom. Create balance by wearing volume-heavy (but fitted) tops and glitzy accessories. Leave colors on bottom simple to keep proportion in check.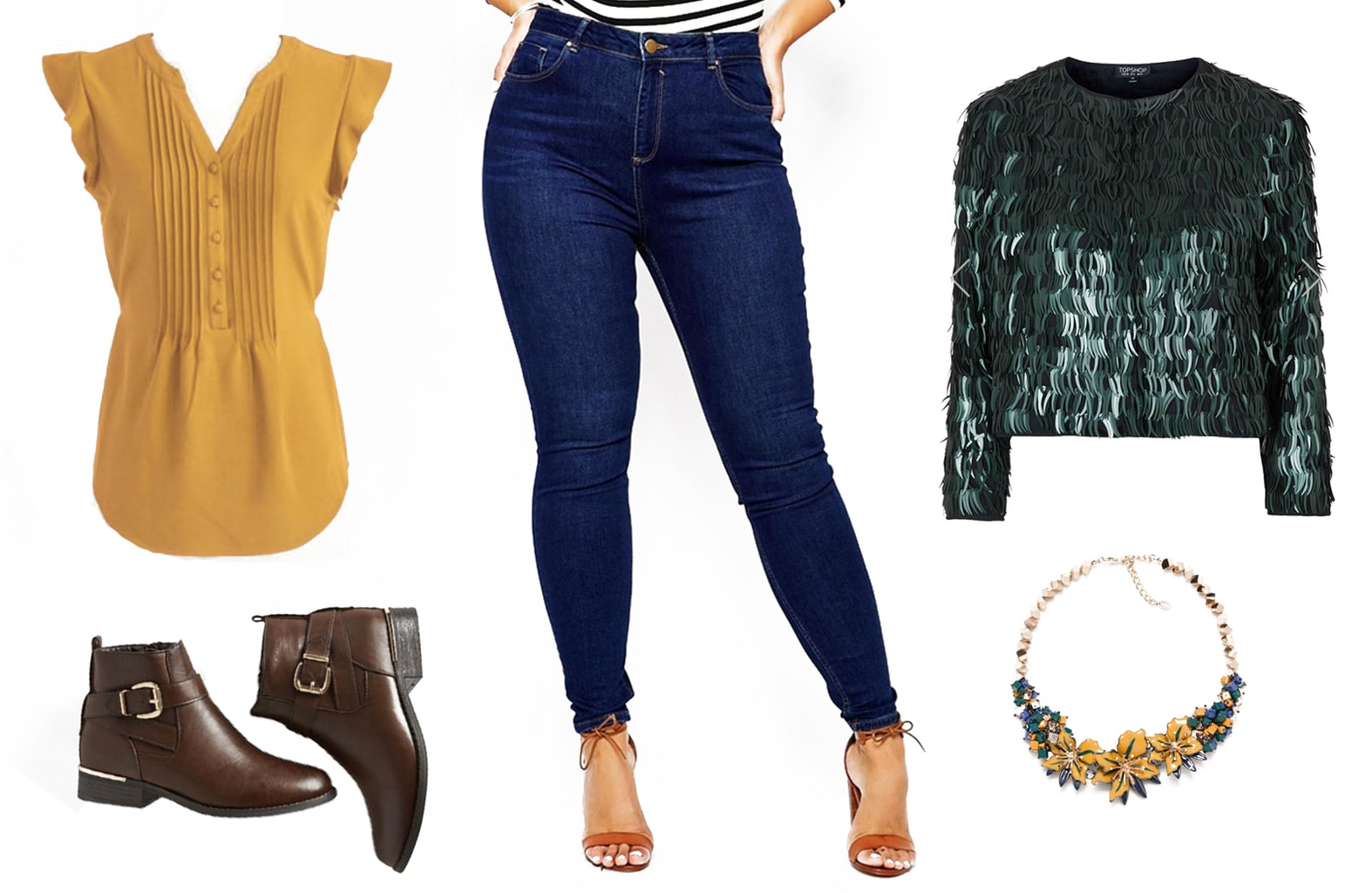 Products: Jeans, Top, Boots, Necklace, Jacket
Rectangle
This is also the "athletic" shape. The body is straight up and down, with not much of a waist definition. Actually, you're going to want to do the same thing as the hour glass shape. Waist belts are your friends. Also, try and create volume on the shoulders with structured jackets and scarves, and create volume on the hips with peplums and pleats.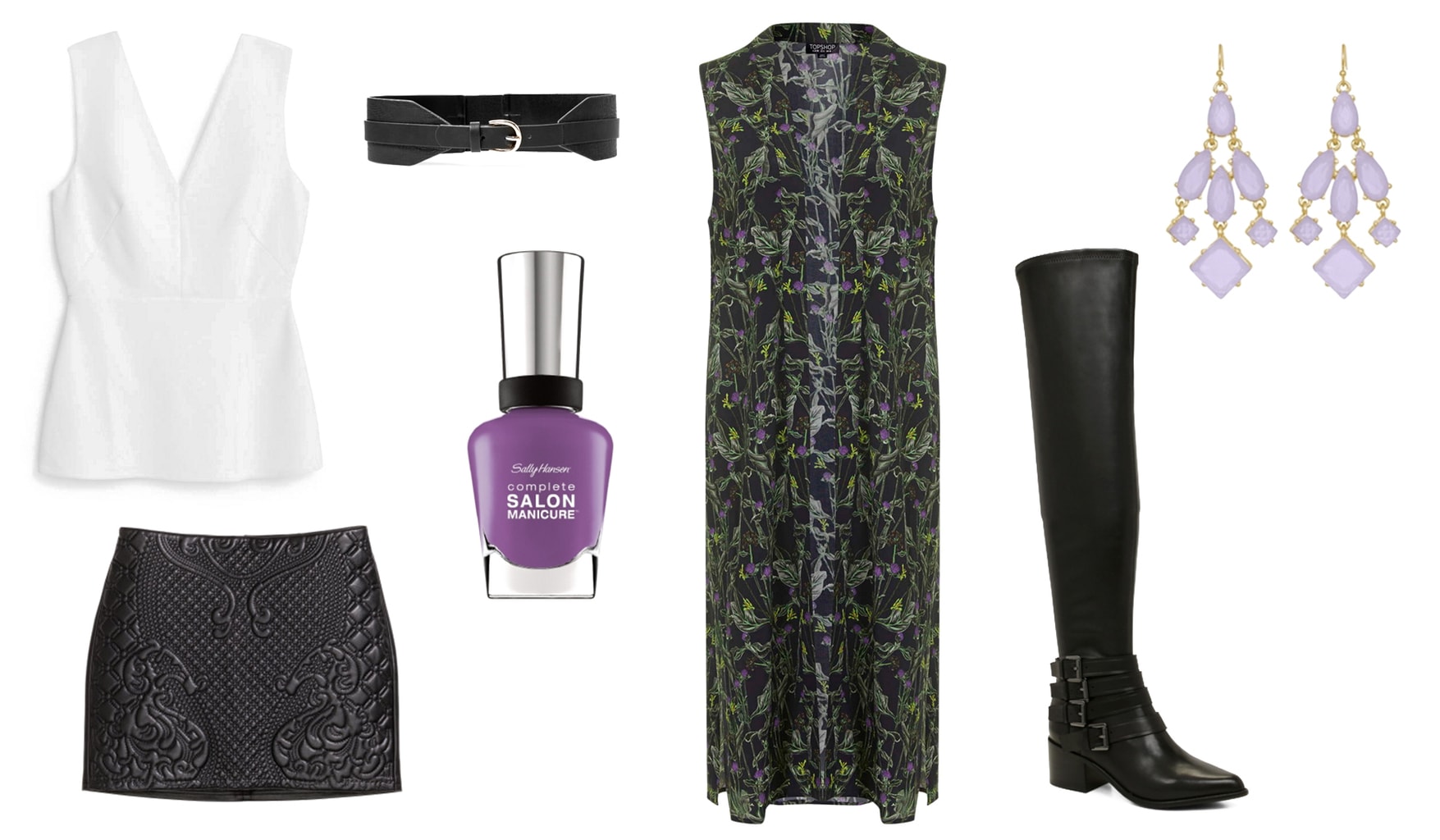 Products: Skirt, Duster, Top, Belt, Over-the-knee Boots, Earrings, Nail Polish
Apple
Apple shapes are usually petite, with a full bust and bottom. Since the waist isn't always defined, looking for pieces that you can play with to create shape is important. Have fun with monochromatic outfits or outfits with pops of color here and there. Long lines of black, blues, and other neutrals will make you appear taller and leaner, if that's something you desire. Sheath shapes are also very flattering, as they will create a streamlined look.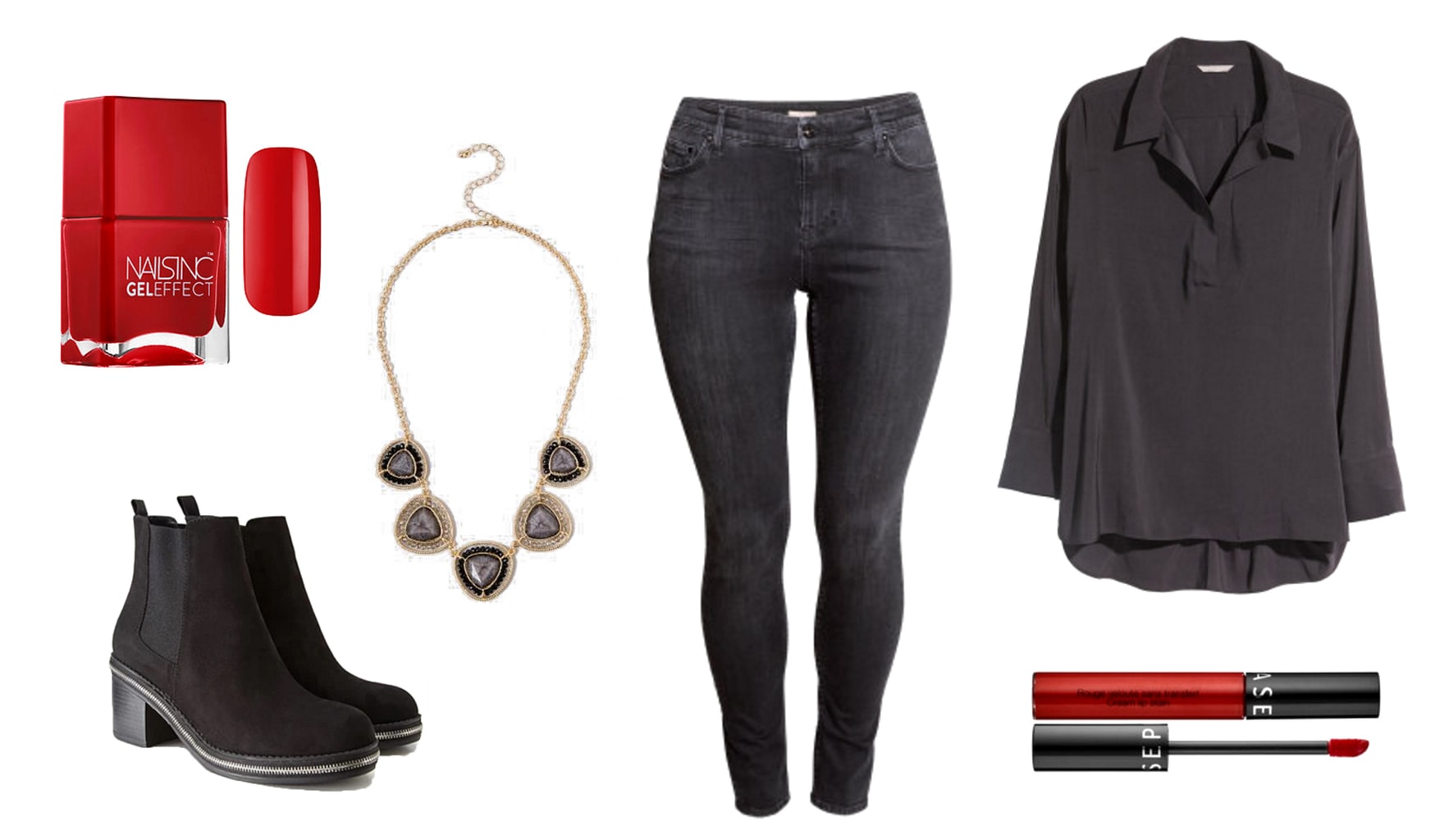 Products: Shirt, Jeans, Boots, Necklace, Lip Stain, Gel Polish
Inverted Triangle
With broad shoulders and narrow hips, inverted triangles can have trouble finding dresses and jumpsuits that fit correctly. The key to finding flattering outfits for this shape is mixing and matching separates.
Create volume on the bottom with wide-leg and flared jeans (these especially work well for tall frames). Wear fitted tops for balance, and avoid things like cap sleeves or shoulder pads unless you want to play up wider shoulders. If you wear something that buttons, like a cardigan or jacket, keeping the buttons low will create a narrower appearance on top. Remember – when dressing an inverted triangle shape, less fabric is key.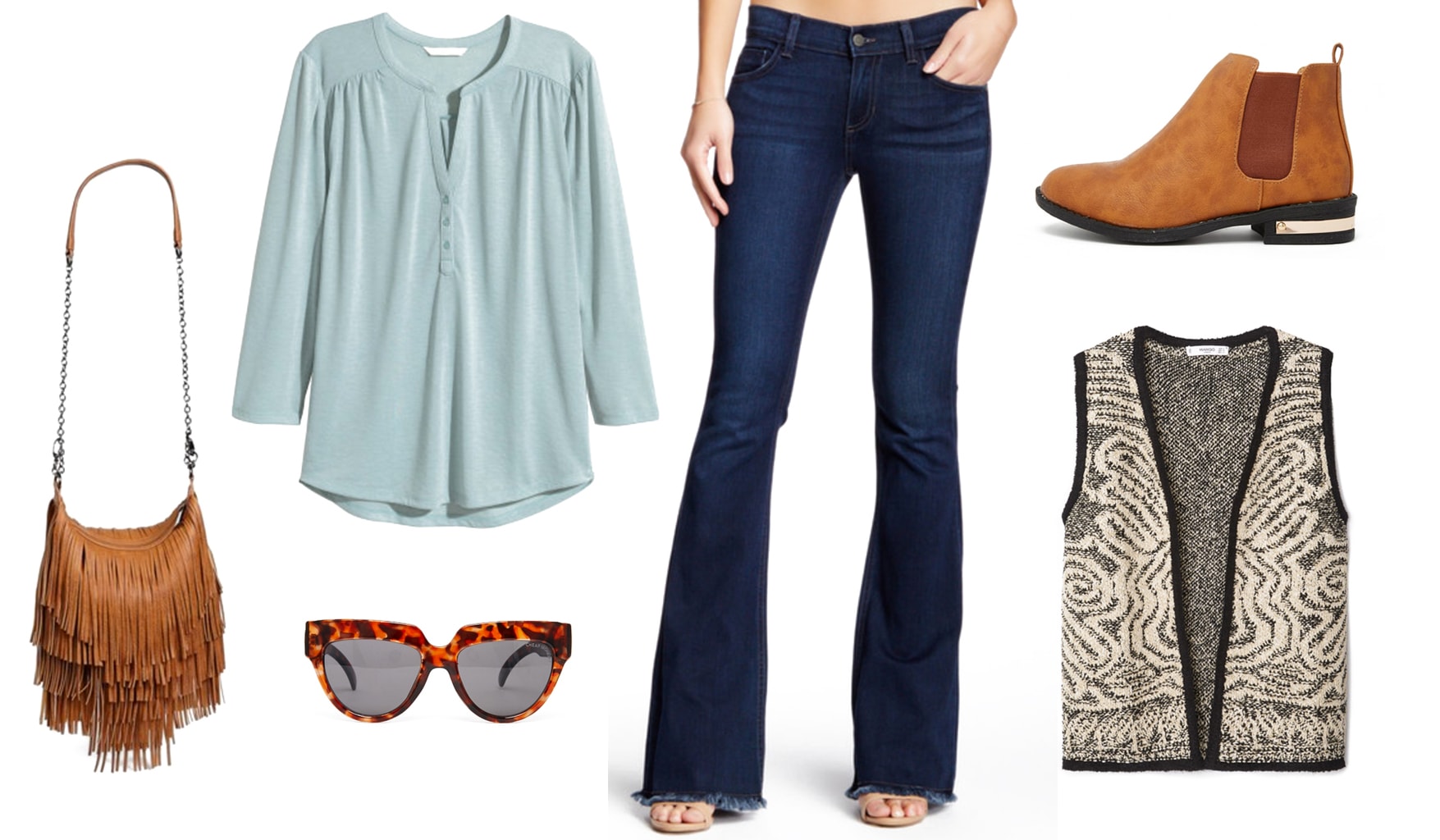 Products: Jeans, Top, Bag, Boots, Sunglasses, Vest
Now it's your turn.
Ultimately, it's best to dress how you feel most comfortable. If you don't like belting things at the waist or wearing fit and flare skirts, then don't do those things. The key to looking your best is feeling your best – so keep things comfortable and chic.
I should also mention that this is my last article for College Fashion. I've had a great year with the site, learned a lot about myself and about the fashion industry, and have really enjoyed interacting with our readers. Thank you for all of your support and I wish you all the best of luck with your fashion endeavors!
xo Molly