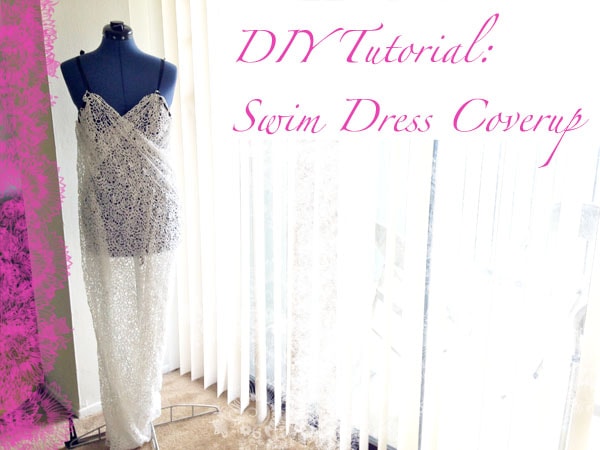 Summer is almost over and the temperatures are dropping fast! Some people (*cough* myself) spent the whole summer either in a poorly air-conditioned office for an internship or romping the streets of a foreign city for study-abroad, and haven't had a chance for some low-key, traditional summer fun, like barbeques, picnics, or a pool day.
I decided that I needed to squeeze in at least one relaxing day at the pool before fall, and what's a good pool day without a good cover-up? (Sidenote: I'm obsessed with cover-ups; here are tutorials for "top" and "bottom" cover-ups.)
Fellow CF writer Catherine mentioned in this post (and hinted at a future DIY…) the super-popular Victoria's Secret version. Based on all the positive responses to this DIY reusable shopping bag, I decided to repurpose the same technique and similar materials to create my take on the swim dress cover-up.
Read on for step-by-step instructions detailing how you can create your very own swim dress cover-up. (Spoiler alert: it's incredibly easy and no sewing is required!)

Materials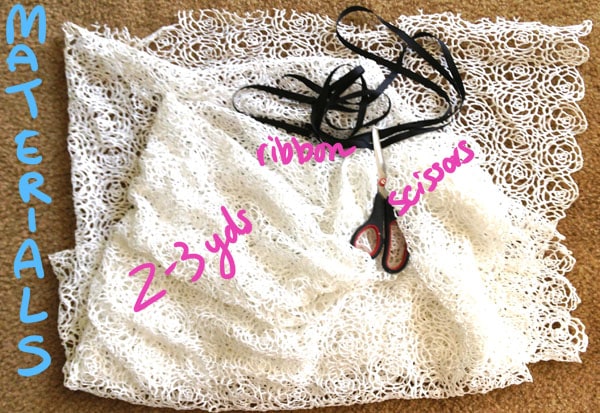 Scissors
Ribbon
Fabric – at least 2-3 yards. Aim for one with "holes" in it, like mesh or crochet lace.
Step One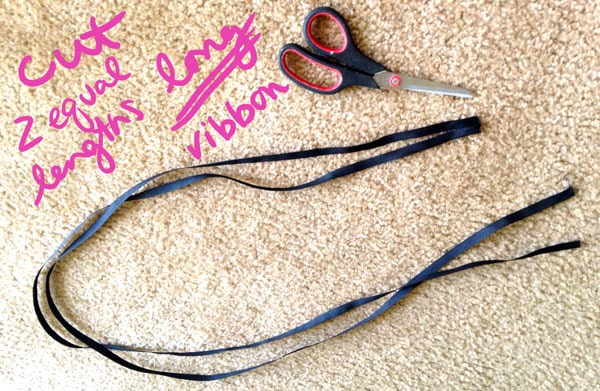 Cut two long, equal lengths of ribbon. I always fold and cut a ribbon in half to ensure two equal lengths.
Step Two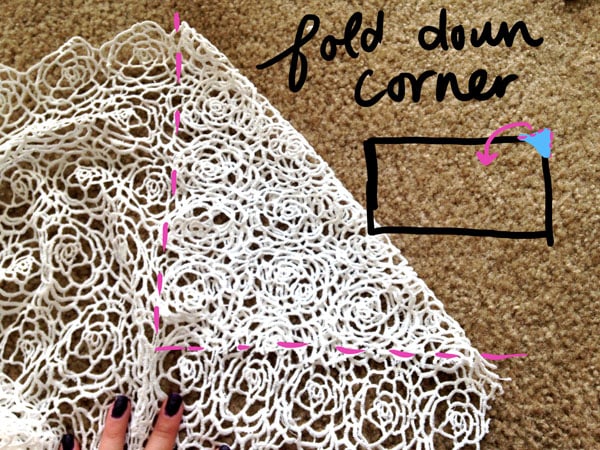 Positioning the fabric so that's it's a horizontal rectangle, fold down the top right-hand corner. (As always, follow the diagram!)
Step Three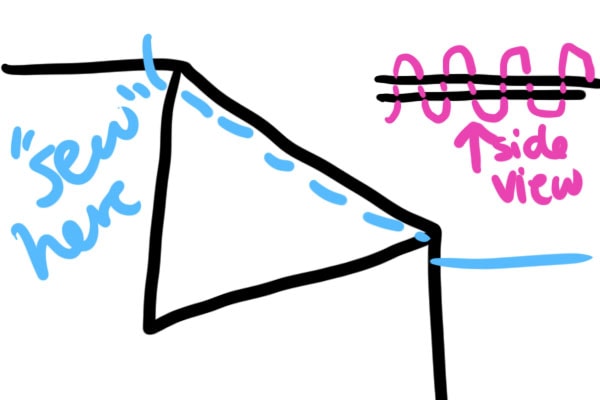 Simply thread a ribbon at the edge, looping the ribbon in-between the holes of the fabric, effectively "sewing" down this section.
If you choose to use a fabric without holes, simply sew down the corner a few inches down from where I marked on the diagram to form a "casing." Thread the ribbon through the casing.
Step Four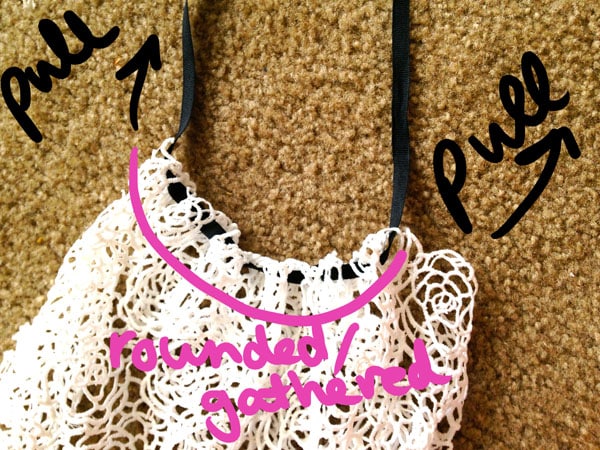 Pull the ribbon a bit so that the ribbon ruches/gathers at this corner edge. You should have a nice curved arch.
Step Five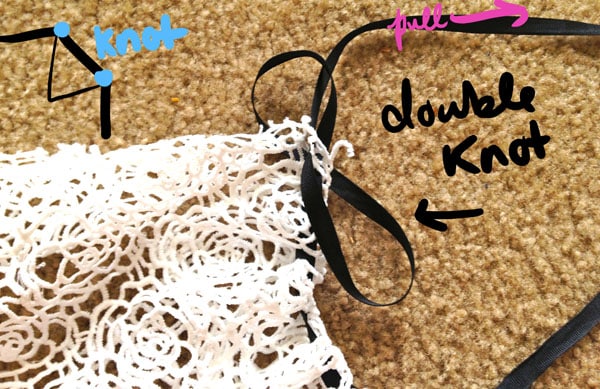 To prevent the ruched/gathered part from moving around, you need to secure it in place. You can do this by double knotting the ribbon on itself, making sure to go through the fabric edges. Repeat this step on both sides of the ribbon.
Step Six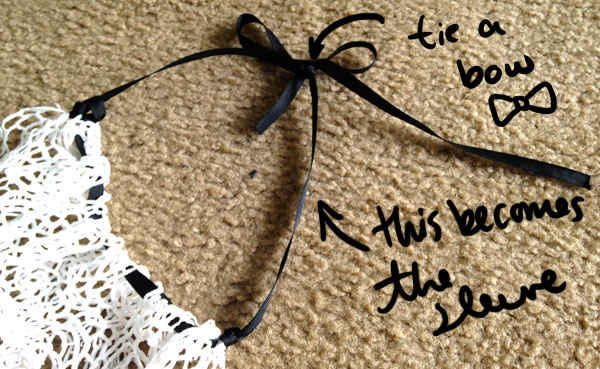 Loop the two ends of the ribbon upwards, and secure on top with a bow. You now have a sleeve!
Step Seven
Simply repeat the process on the top left-hand corner, and you're done. The handy diagram below shows you how to wear this cover-up: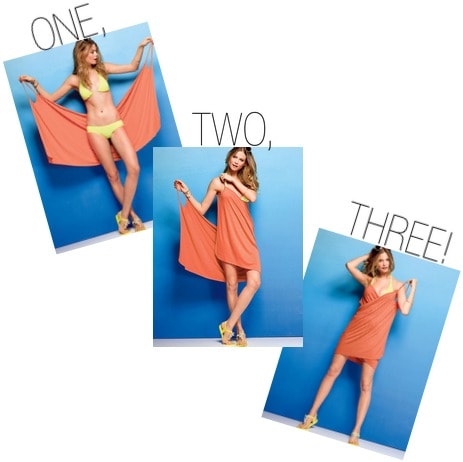 Finale: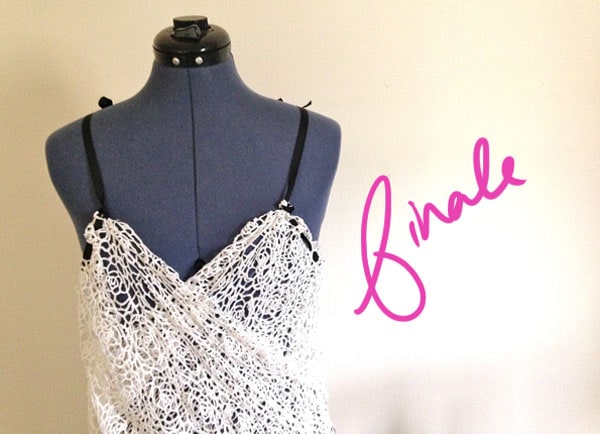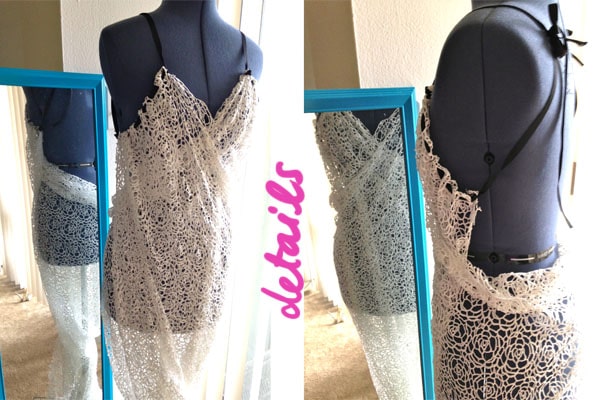 Feel free to trim the bottom of the fabric to your desired length. I love maxis, so I opted to keep mine long.
Feedback please:
Do you love swim cover-ups as much as I do? Would you make your own DIY swim dress cover-up using this tutorial? Are there any other DIYs you would like to see tutorials for? Let me know in the comments!