This post may contain affiliate links, which means we may receive a commission if you purchase through our links. Please
read our full disclosure here
.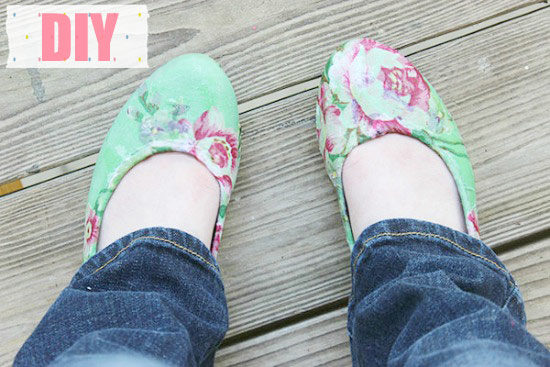 Hello, fashion fans! Spring is officially here (though it's still freezing outside in some places) and I have the perfect DIY project to put that spring (pun intended!) in your step.
Thanks to their beautiful colors and simple elegance, floral prints are always trendy for spring. I also love ballet flats for the springtime season — they're my go-to shoe since I'm always on the run. So, I decided to combine the two to create a cute and simple DIY that captures the essence of spring: floral print flats!
Note: this DIY will also work on a pair of wedges or heels if that's more your style.
You Will Need: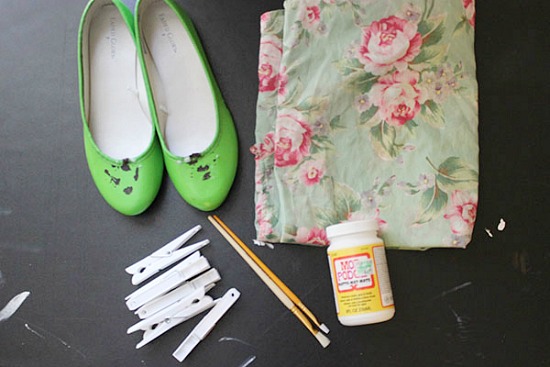 A pair of flats (Mine were from an old Halloween costume)
Floral fabric of your choice (about 1/2 a yard)
Mod Podge (the regular kind works fine but you can also use the Mod Podge fabric glue)
Scissors
Clothespins
Paintbrush
Clear Acrylic Sealer (optional)
Step One:
First, place the fabric on a flat surface, then lay one shoe on each side. This helps determine how much fabric is needed. Then, cut the fabric evenly down the middle, leaving enough fabric to completely cover each shoe.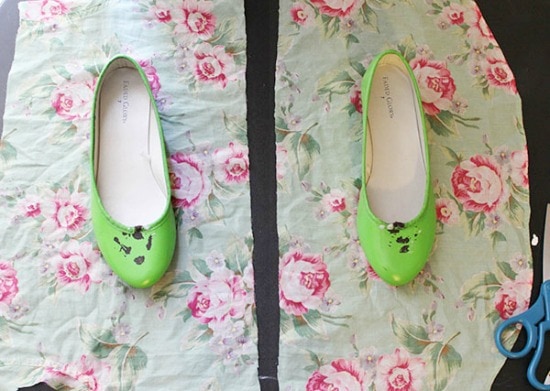 Step Two:
Take your first shoe and place its piece of fabric on top. Using your Mod Podge, lightly brush the sealant onto the toe area of the shoe. Then place the fabric back down and smooth it against the glue. You need to repeat this process on the entire outside of the shoe where you want fabric.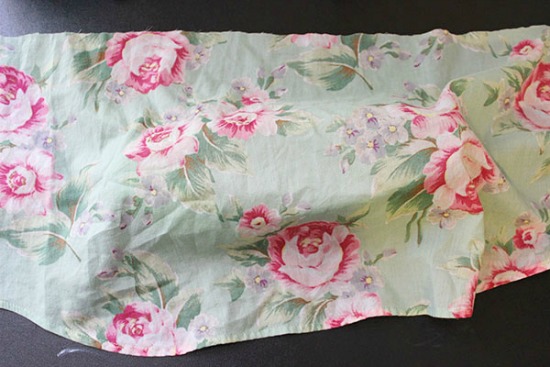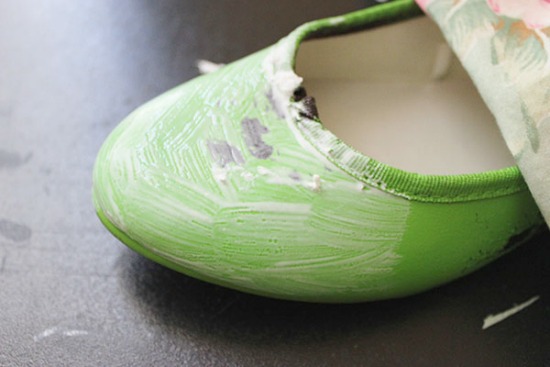 Now you should have something that looks like this: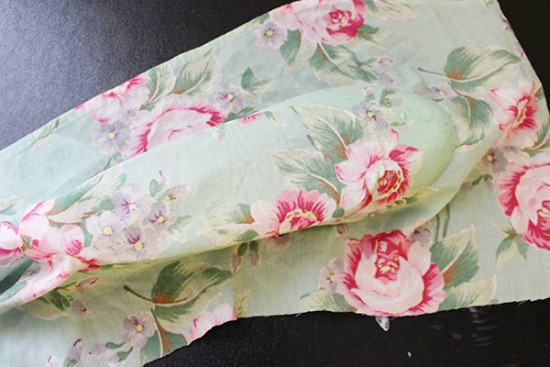 Step Three:
After a few minutes of drying, you can take your scissors and cut a slit in the fabric on the inside of the shoe from the heel to the front. Then make smaller slits in the fabric so that the pieces will fold down easily.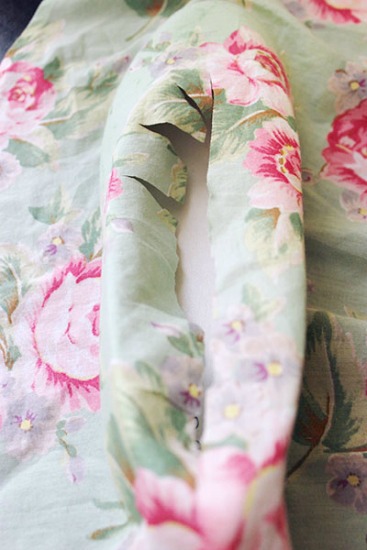 Step Four:
Next, glue down all the little flaps you cut in the last step to the inside of the shoe. To help keep things in place you can usethe clothespins to secure the fabric. Allow this to dry for about 30 minutes.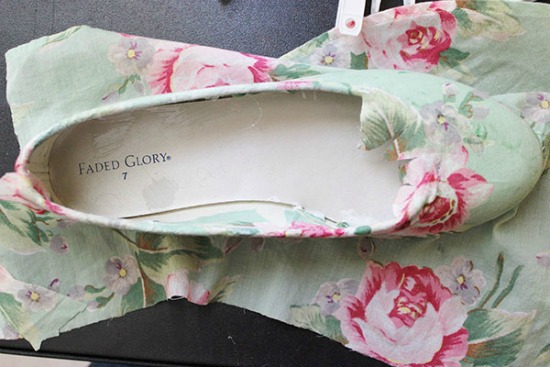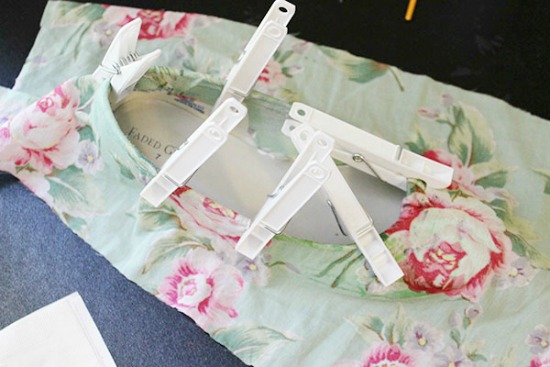 Step Five:
Using your scissors, carefully trim off all the excess fabric that is remaining on the sides of the shoe. Take your time so that it's all mostly even.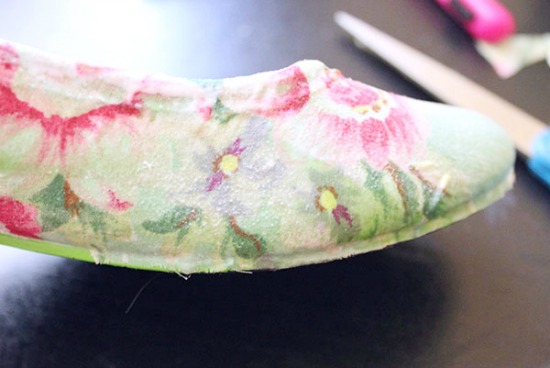 Step Six:
Lastly, you will want to cover the shoes in one more full layer of Mod Podge just to make sure everything is nicely sealed. This will appear cloudy, but don't worry – Mod Podge dries clear. After you have let the shoes dry completely for about 24 hours, you can go over them with a clear acrylic sealer, which will make them more water-resistant.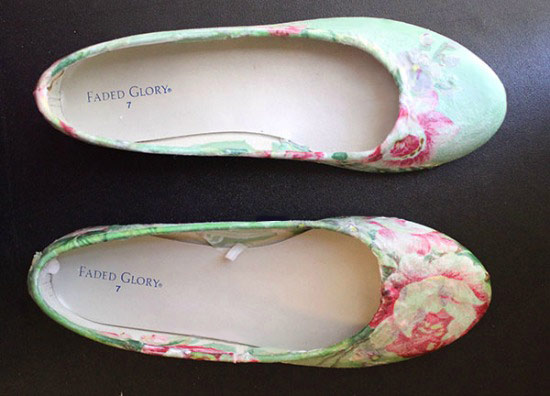 The Finished Product: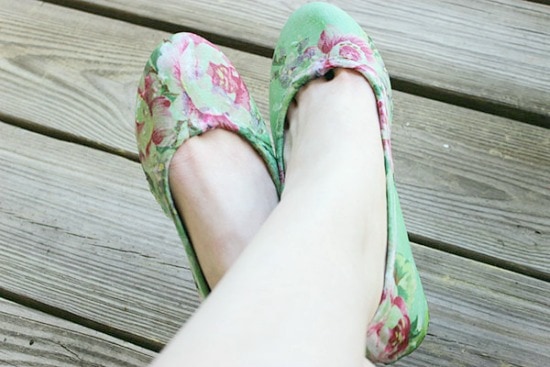 Yay! You're done and now you have super cute springtime flats. Enjoy!
Tell us your thoughts!
Do you like this DIY? Are you going to give this DIY a try? What are your favorite things about Spring? Got any DIY's you would like to see? Leave a comment below and let us know!