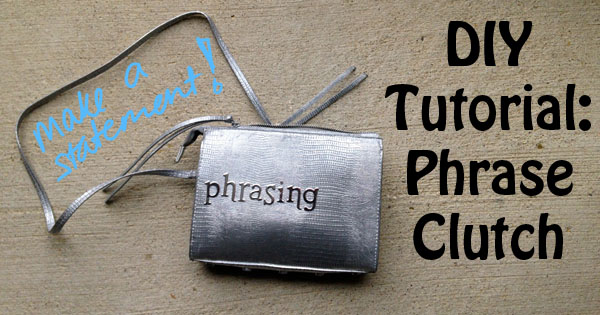 I love to make a statement, and a phrase clutch is the perfect way to do so. CF writer Caitlyn suggested DIY-ing one in a "Would You Wear?" post a few weeks back, so as the resident crafter, I immediately thought, "Why not?"
I used to shy away from anything ultra-trendy in fear that I would look back 30 years down the road and go "What was I thinking?" and die a little from embarrassment. That is, until I realized that our high school and college years are the best years to test drive all those crazy, of-the-moment trends.
Obviously, none of our wallets can really support that habit, which is why I love a good budget-conscious DIY project. Read on to see how to make your own phrase clutch:
Materials
A clutch or a small handbag (mine is from H&M)
Plain paper and a pencil
A tape measure
Letter stickers (available in the scrapbooking section of a craft store)
Optional: spray paint and liquid super glue
Step One (Optional)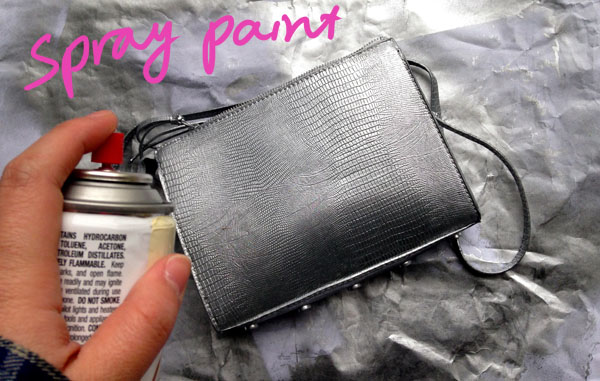 I chose to spray paint the entire bag to create a cool metallic effect. In my first trial run of this DIY project (which failed miserably), I accidentally got spray paint where I did not want spray paint. Since the surface of this bag is textured, the spray paint didn't coat evenly, and left ugly layered splotches (hence why I scrapped DIY idea #1).
When I attempted to clean it off, I discovered a cool effect! If you spray paint a heavy coat, and then use paper towels wipe it off, it will actually leave behind a smooth and even surface without sacrificing the color.
Pro Tip: be sure to spray outside or in a well-ventilated area, and be sure to protect your work area with scrap paper!
Step Two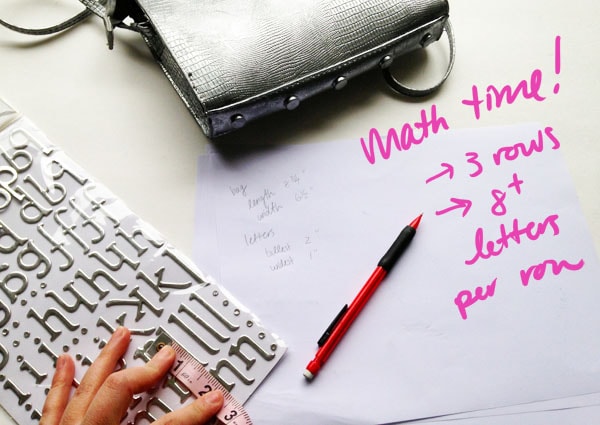 Decide on a phrase. I decided to use the phrase "phrasing" (not because it's ironic, but because it's a quote from the TV show Archer).
Now, there is a little math involved in this DIY project. Measure and note the dimensions of your bag (the length and width of the face). Next, measure the longest letter and widest letter of your sticker set.
My bag was approximately 9 inches long and 6 inches wide. The tallest letter was 2 inches and the widest letter was 1 inch. This meant I could fit approximately 3 rows of text, each row with 8+ letters.
Step Three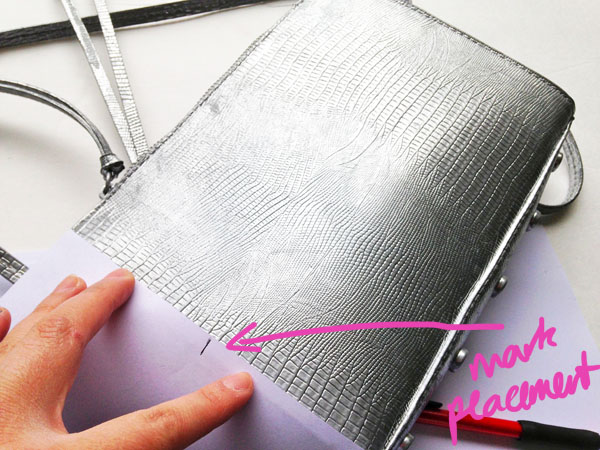 Next, line up a piece of paper at the top of the clutch. Mark on the paper where you want the bottom of your letters to be placed.
Step Four
Start placing your stickers, and make sure that the bottom of the letters line up with the mark you made.
Step Five (Optional)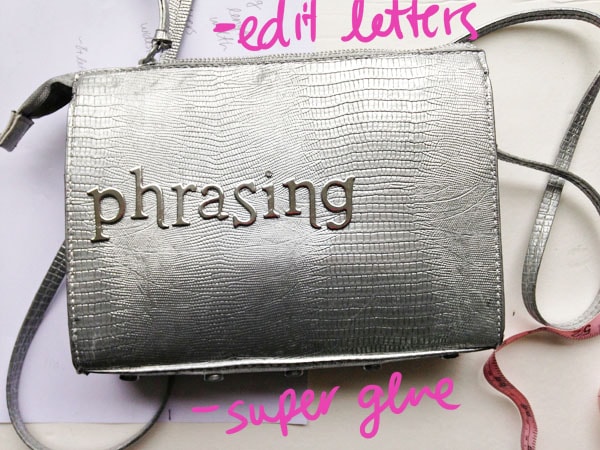 If needed, edit the placement of your letters. If you don't trust the adhesive of the stickers, feel free to add a small dab of liquid super glue to the back of each letter.
Finale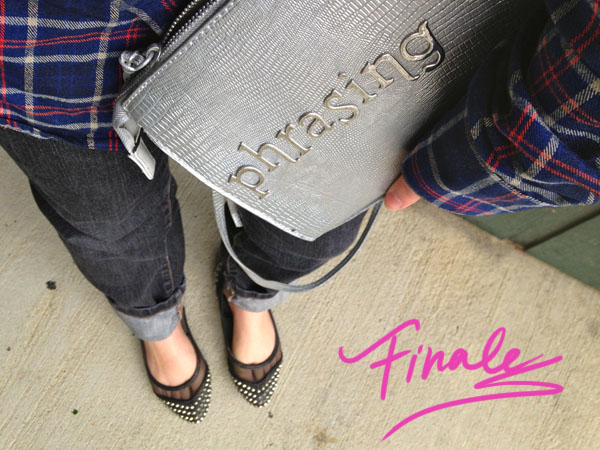 I decided to pair my clutch with a men's plaid dress shirt from Merrell, DKNY jeans with a rolled cuff, and Forever 21 mesh spike flats. Since the clutch has a quirky-glamourous feel, I wanted to tone it down with menswear-inspired pieces, but keep my accessories very feminine.
Feedback please:
Do you like trying out every new trend or are you terrified of fashion regret? Would you attempt to DIY a phrase clutch using this tutorial? Are there any other DIYs you would like to see the tutorials for? Let me know in the comments!