This post may contain affiliate links, which means we may receive a commission if you purchase through our links. Please
read our full disclosure here
.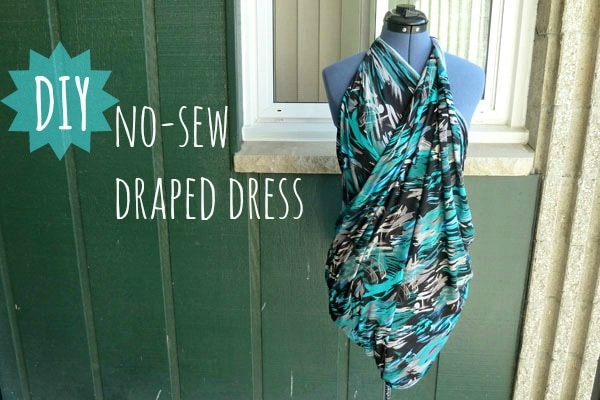 As a designer-in-training, I spend hours just draping plain rectangular fabric onto a dress form, hoping that it will spark some sort of idea (the cliched "let the fabric talk to me").
While doing this, I managed to create this crazy-easy, no-sew draped dress (I admit, sewing is the bane of my existence, a necessary evil), which today's DIY will help you create for yourself! The dress itself is a simple wrap halter that features an asymmetrical twisted neckline and a semi-draped front. Read on to learn how to make your own:
Materials
One yard of fabric (preferably a lightweight knit/stretch fabric)
Your body and/or a dress form
Optional: sewing supplies
Step One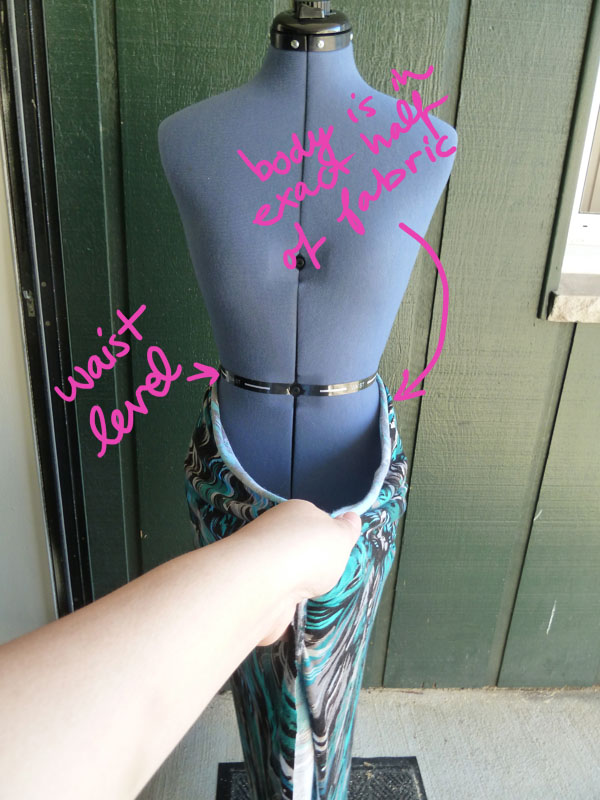 Start by positioning the fabric at waist level, making sure that the body/dress form is in the exact middle of the fabric.
Step Two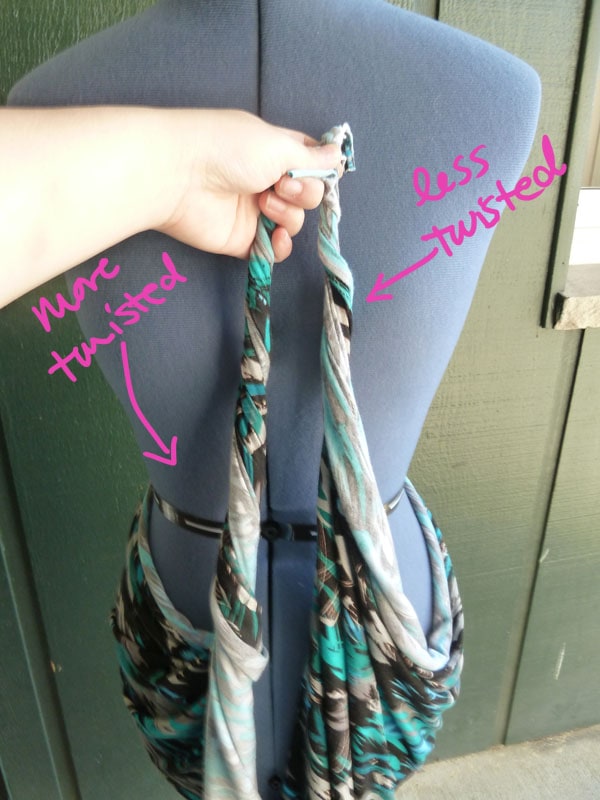 Twist the upper corners of the fabric, as shown above. Be sure to twist one side more than the other, as this will create a cool asymmetrical effect on the neckline.
Step Three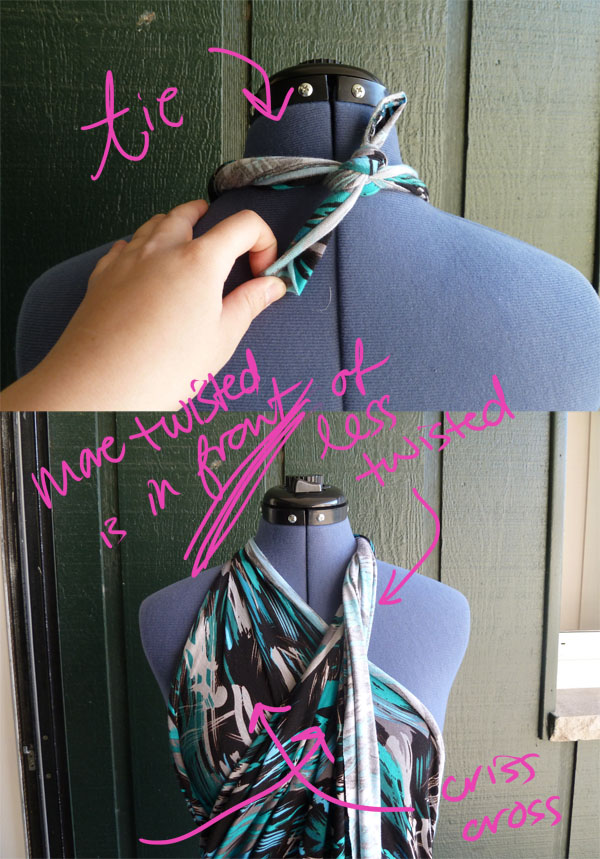 Take the looped ends and wrap this behind the "neck" and double-knot in place. Make sure that the side that is looped more is wrapped underneath the one that's looped less. (If you don't trust your knot-tying skills and want something super-secure, you can sew the two ends together instead.) The two ends of the fabric should criss-cross wrap the body.
Step Four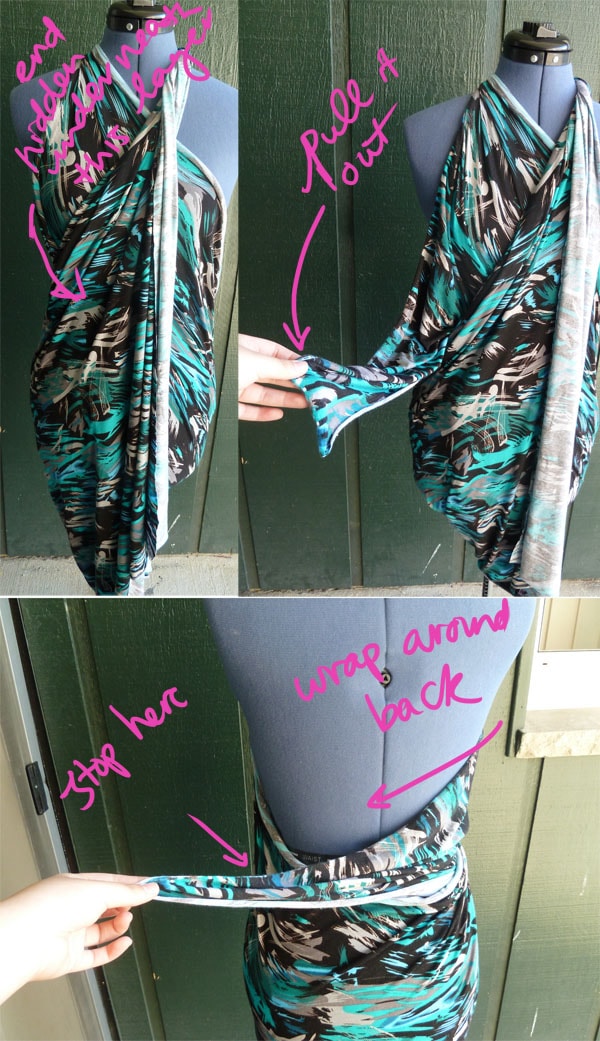 As shown in the photos above, take the end of the fabric that's closest to the body/wrapped underneath the other end, and pull it out. Take this end, and wrap it around the back tightly so that it ends around the opposite hip.
Step Five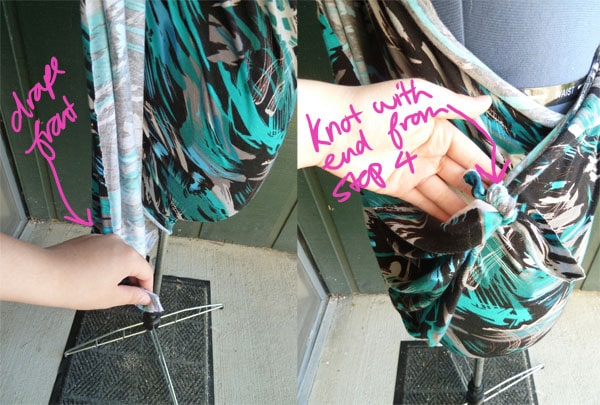 Grab the bottom corner of the fabric that's not pulled behind the back (the one that's currently draped/hung in the front). This should create a nice slight drape in the front as you tie this to the end that wraps around. This will also create a little knot bow detail at the hip. Again, if you don't trust knots, feel free to sew this down instead.
And that's it! Who knew that a rectangular piece of fabric could look so good?
The Finished Dress: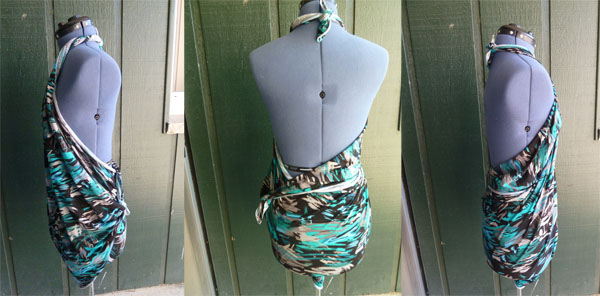 270 degree view of the dress (Be sure to check out the front view in the header!).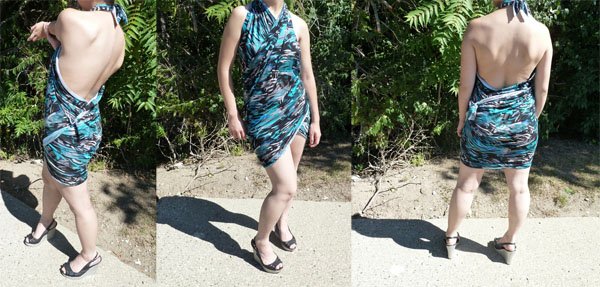 Wearing the dress (front view, side view/back view, back)
Feedback please:
Do you like these garment-construction DIYs? What do you think about draping fabrics in the fashion world (lame and sloppy or super cool and chic)? Would you attempt this DIY? Are there any other DIYs you would like to see the tutorials for? Let me know any thoughts you have in the comments section!