This post may contain affiliate links, which means we may receive a commission if you purchase through our links. Please
read our full disclosure here
.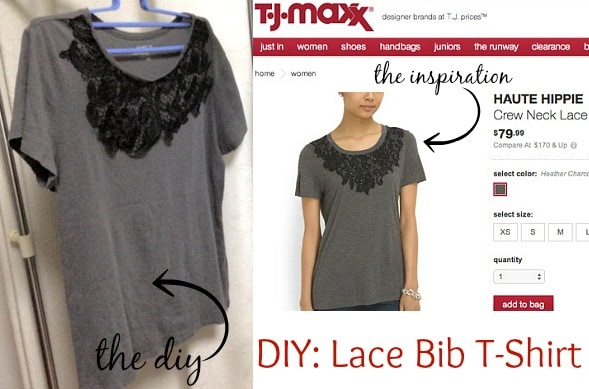 Recently, I was browsing through TJMaxx's website when this shirt caught my eye. I love t-shirts (the level of caring how polished I looked slowly deteriorated as college sapped my energy), and I especially love all things lace.
However, even though the $79.99 tag is considerably cheaper than it's normal retail price at "$170 & Up," it still made my broke-college-girl wallet sad. And then I realized that I know how to DIY, and just so happen to have all the supplies needed on hand!
Read on for the step-by-step instructions for how I created my own lace bib tee for a fraction of the price.
Materials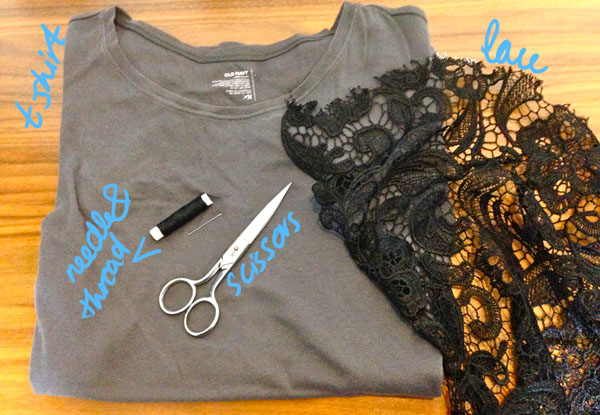 Grey crew neck t-shirt (Mine was purchased at a thrift store for $2)
Black crochet lace/normal lace; you don't need to purchase a lot – 1/4 of a yard would suffice (I bought mine in China, for $6/meter) Super Secret Tip: Instead of fabric, use lace appliques instead for an easier DIY. There are tons on Etsy. Slightly more expensive than regular lace, but nevertheless cheap!
Needle and coordinating color thread (You an also use a sewing machine if you prefer)
Scissors
Step One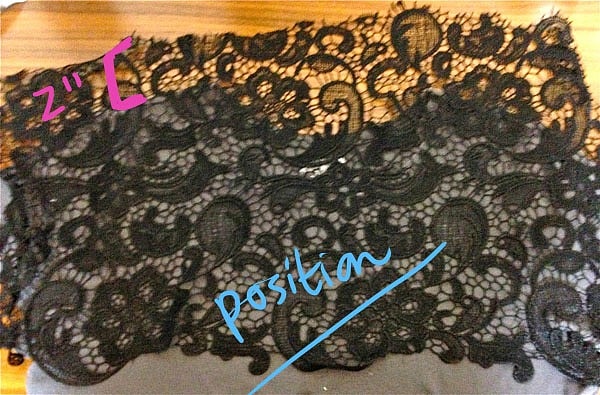 Position the lace fabric over the t-shirt. Make sure the shirt is at least 2 inches lower than the lace.
Step Two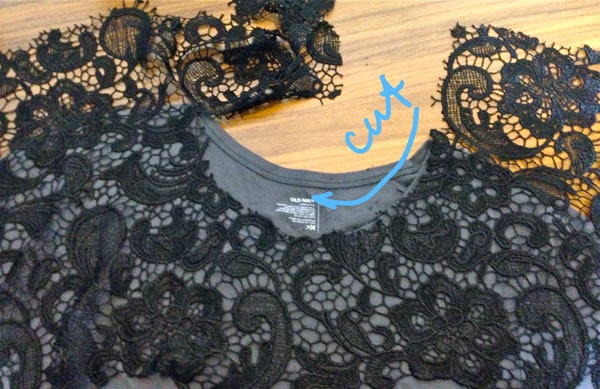 Carefully cut the lace, tracing around the neckline. If your t-shirt is "ribbed" (that extra strip of fabric around the neck), cut at exactly the neckline; if not, leave it a centimeter off (we say this a seam allowance of one centimeter).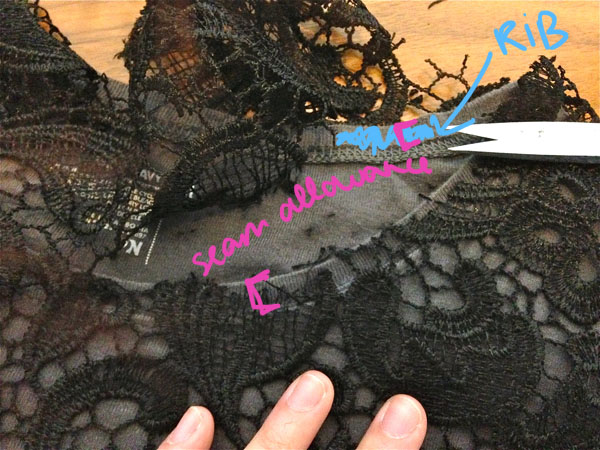 Step Three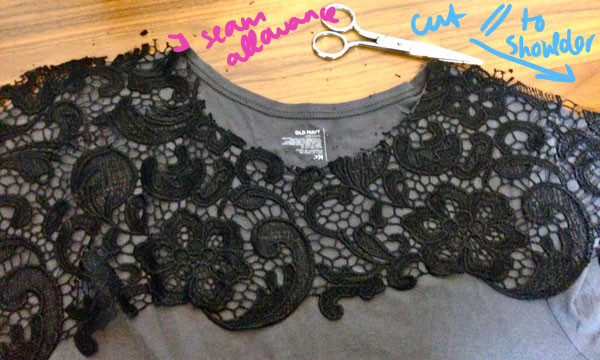 Next, cut the lace on top so that it parallels the shoulders, with a seam allowance of one centimeter.
Step Four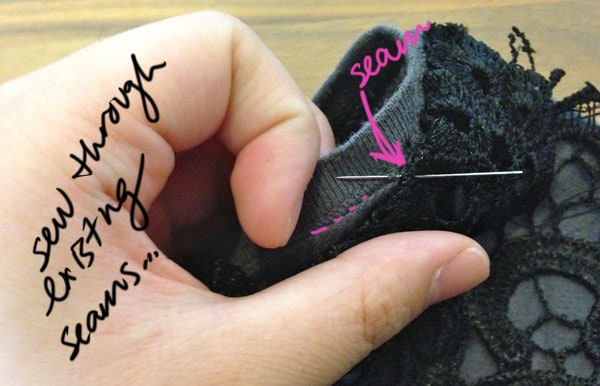 Stitch the fabric down. "But Gloria, how do I sew holes down?" you ask. Fold a teeny top section of the fabric inwards, so you'll sew through "two" layers of fabric – where there was once a hole is now fabric!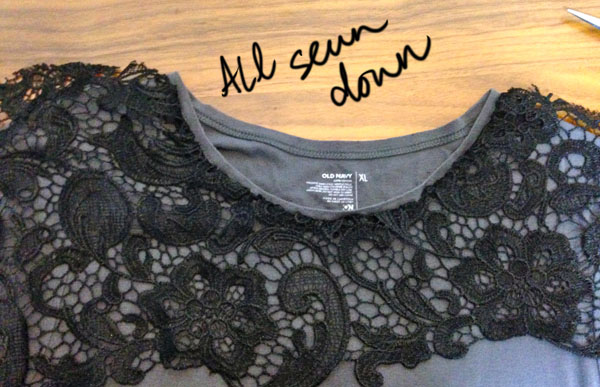 Pro-tip: try "hiding" your stitches by sewing in-between the seam line instead of through the shirt.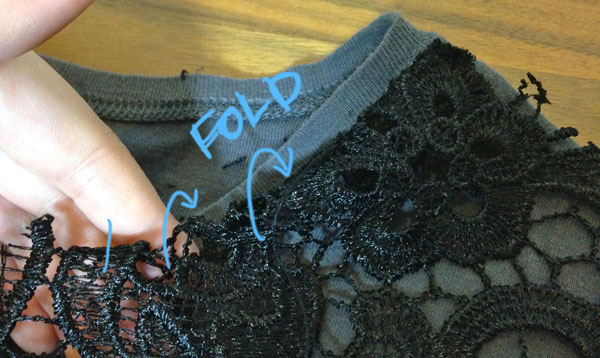 If you did this correctly, the stitches should be barely visible on the inside.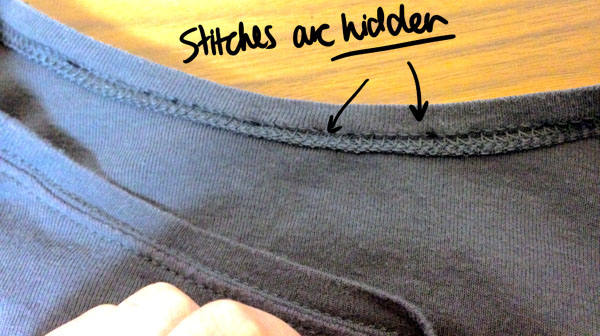 Step Five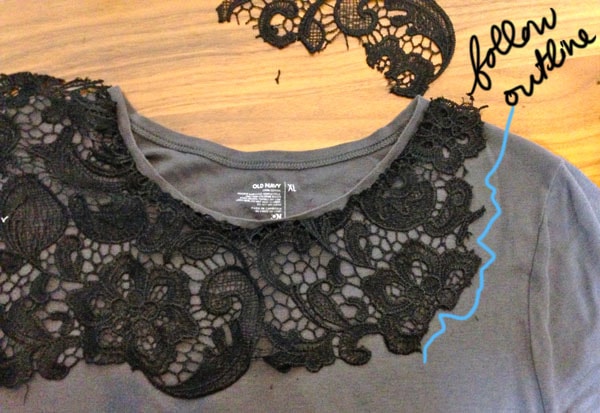 Tracing and following the natural design of the lace, cut out the bib shape. Do not throw away the scraps!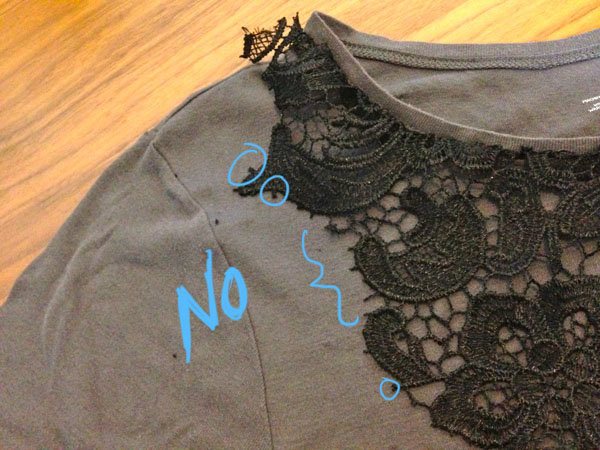 Pro-tip: notice how some strands poke out? This looks messy and silly, so be sure to trim them out!
Step Six (Optional)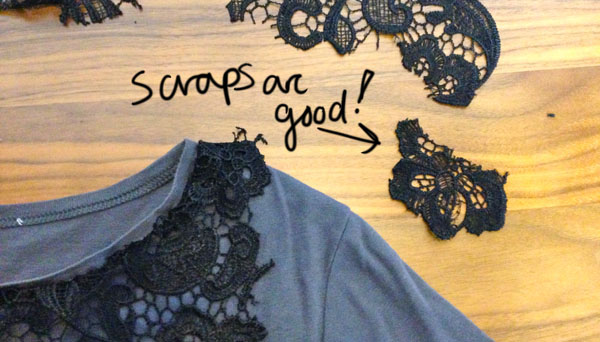 With the scraps, feel free to cut out additional motifs to add and layer on top. You can use the scraps to either add more depth and visual interest or to adjust the shape of the bib to your liking! If you prefer, you can also stitch the lace down onto the front of the shirt.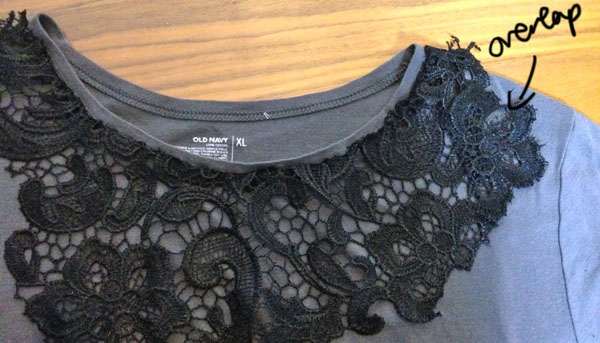 Step Seven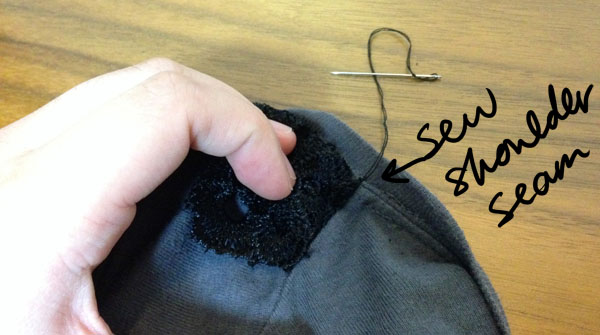 Lastly, securethe ends of the bibby sewing the tips of the lace onto the shoulders. Again, make sure to hide your stitches through the seams.
Finale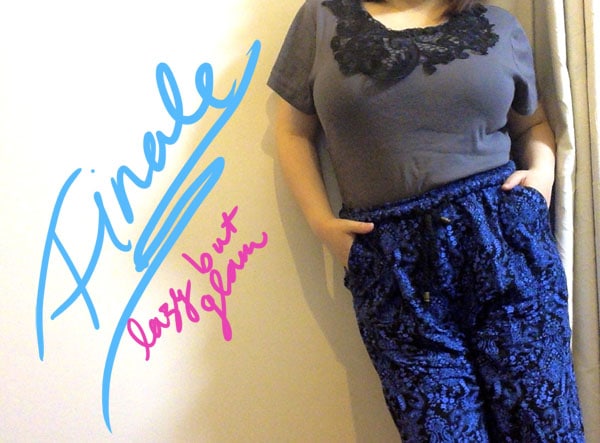 Keeping true to the tee's casual yet chic vibe, I tucked it into a pair of ultra-comfy drawstring harem pants. These pants feature a paisley design, which I think reinterprets the lace design on top.
Feedback please:
What do you think of this DIY? Would you make your own lace bib tee? Are there any other tutorials you would like to see the tutorials for? Let me know in the comments!