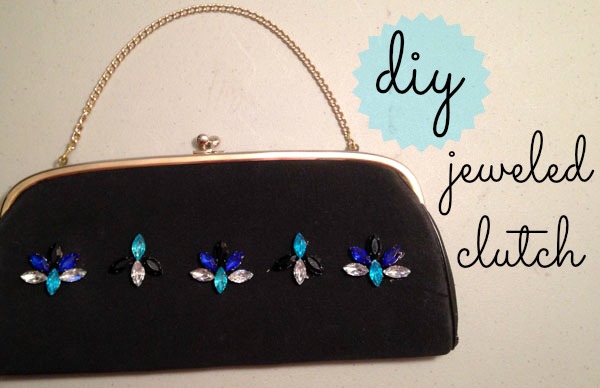 I wish everyone a happy holidays! If you've read my posts in the past, you'll notice that I absolutely adore the holidays and festive DIYs! The holiday season is also perfect for DIY-ing gifts.
I know it's the day after Christmas, but there are still plenty of moments when gift-giving is still afoot! For example, let's say you were swamped during finals week (or month in my case), and didn't have any time to shop for presents before all of your friends left for the break. Or if you spent your holidays with a family and you're meeting up with your friends later to exchange presents. And let's not forget those souls who have birthdays near the holiday season and are always left out.
Regardless, it's always fun to personalize a gift for a special someone, or if you're not into DIY gifts, the new year is just around the corner and maybe challenging yourself creatively or exercising your craftiness is on your list of resolutions. Whatever the reason, I have the perfect, end-of-the-year, holiday DIY project in store today, because what's better than celebrating the holidays with glitz and glam?
Read on for the step-by-step tutorial for how to create your very own jeweled holiday clutch:
Materials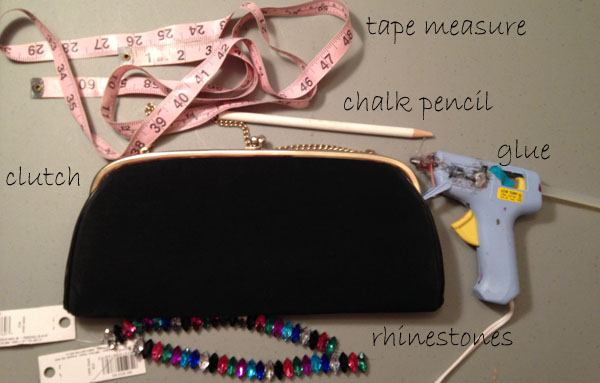 Plain, un-embellished clutch (mine was $4 from my local thrift shop)
Hot glue gun
Measuring tape
Chalk pencil (for marking on fabric)
Rhinestones in settings (the ones used in this tutorial are from Jo-Ann Fabrics… they're $2.99 now! I bought two strands)
Step One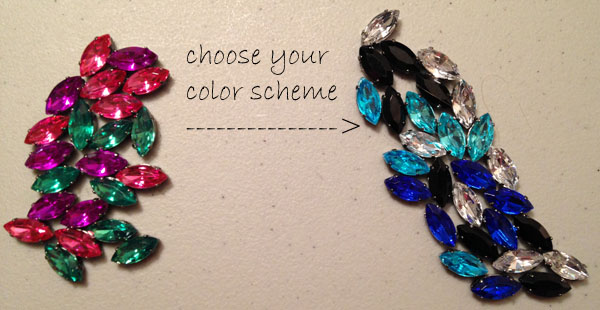 First, select your color scheme. Because I love Frozen, I chose clear, black, dark navy blue, and sky blue.
Step Two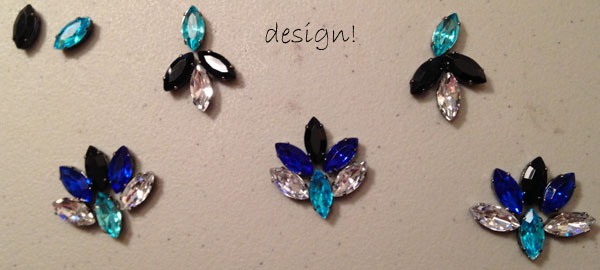 Play around with your rhinestones to create a pattern by clustering rhinestones together. A few tips on clusters: aim for symmetry in the design, as well as an odd number of clusters.
Step Three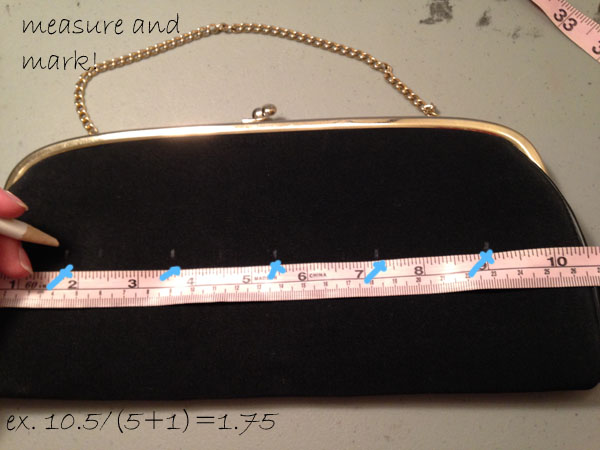 Measure the width of your clutch from where you want the rhinestones to be. Take this number, and divide it by the number of clusters you have +1. This is the how far apart you should space the clusters. Mark these on your bag.
So, to illustrate via example. My bag is 10.5 inches wide. I have 5 clusters. I take 10.5 and divide that 6, and I get an increment of 1.75. Using the measuring tape as a guide, I mark every 1.75 inches, starting from the sides.
Step Four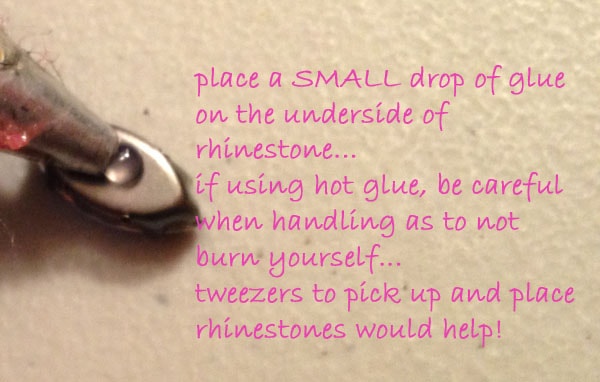 Squeeze a small dot of hot glue on the back of the rhinestones and start gluing them into place. I find it helpful to take a picture of my design beforehand and refer back to it as I work.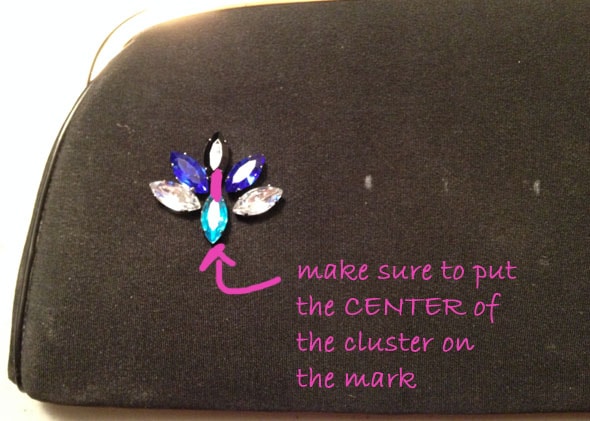 Make sure to place the center of the rhinestone cluster on the marks that you made in step three. Also, feel free to swap out hot glue with an industrial strength glue, like E6000 or liquid super glue, or even sew on the rhinestones if the surface you're working on is fabric. I like to use hot glue because it's instantaneous; also, if you mess up, simply pry the rhinestone off, scratch off the residue, and start over.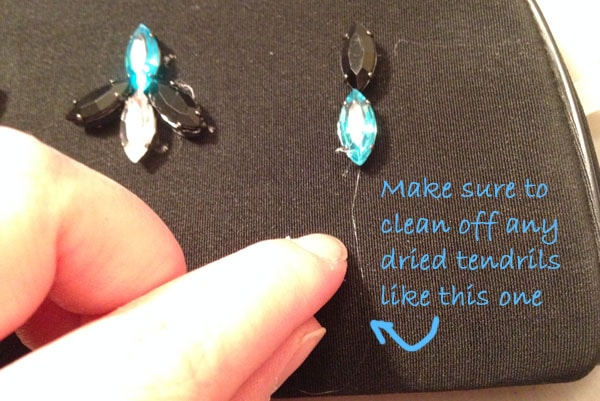 However, if you are using hot glue, be sure to clean off tendrils it leaves behind.
Finale: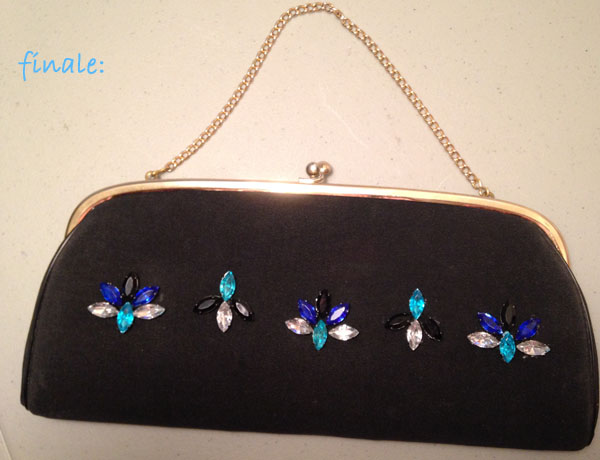 That's it! Super easy to make, but the clutch looks super-glamorous.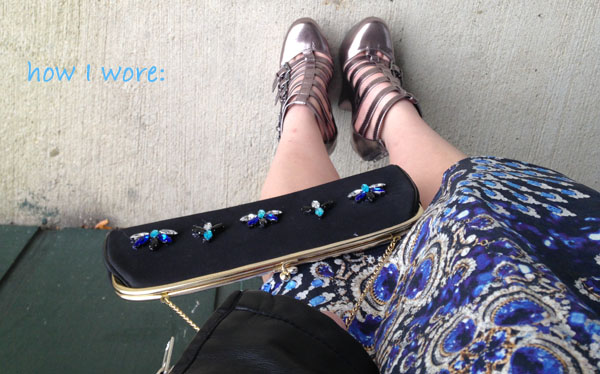 I'm carrying my clutch for New Year's celebrations. I chose to pair it with my absolute favorite ASOS dress, these death-to-my-feet Forever 21 heels, and a (p)leather jacket (also Forever 21) to stay warm.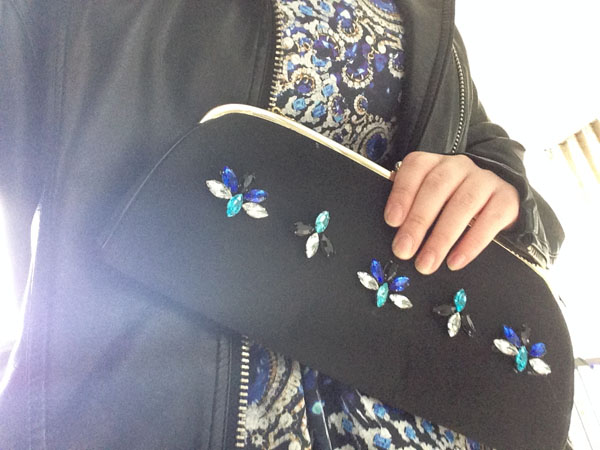 Feedback please:
Do you love DIY-ing gifts? If you liked this DIY clutch, tell me what colors you're planning to use and what you're planning to do with the clutch. Are there any other DIYs you would like to see the tutorials for? Let me know in the comments!
Post-script:
I wish you all a happy holidays! I know I said this before, but this is my last DIY post for CF and I just wanted to thank all of our wonderful readers and all of you wonderful folks who crafted with me!