This post may contain affiliate links, which means we may receive a commission if you purchase through our links. Please
read our full disclosure here
.
Like many of you, I've been a fan of TOMS shoes for a few years now, and even though I love the simplicity of the shoes, I thought it was time to customize mine and give them some flair. Here, I'll show you how I transformed my TOMS in 2 easy steps and also show you some photos of how other people personalized theirs.
What You Need:
Acrylic paint (Can be found at any craft stores)
Paint brush (If you want to get intricate with the details, make sure to buy different sizes of brushes)
Optional: Gems
Optional: Fabric Glue (To attach the gems)
Step 1: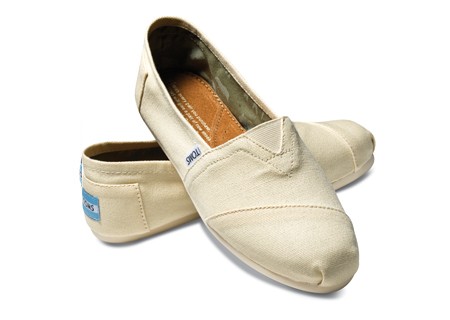 Start with your blank pair of TOMS. Squeeze a little bit of paint onto your brush and start painting away! (Note: Make sure to be extra careful around the back where the TOMS logo is and around the base to make sure that your shoes don't look sloppy.)
Step 2:
Because I'm totally girly girl and love the color pink, I naturally chose to paint mine a bright pink. I also wanted to add some gems to spice them up a bit. Before adding any extra details, make sure the paint is completely dry. You may even want to add a second coat of paint on to make the color bolder before you attach the extras.
Inspiration:
I decided to paint my shoes after I saw these Tiny TOMS and was informed they don't come in adult sizes. The TOMS Shoe Fans website has a great collection of photos from users who customized their shoes. Here are two of my favorite pictures that I saw on the site.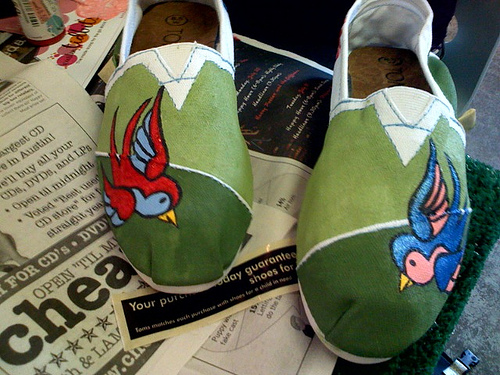 The two tones of the green make for a great backdrop and let the birds stand out.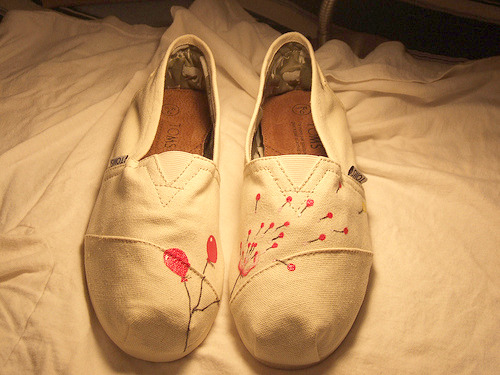 I love the simplicity of this design, and how it carries over from one shoe to the other.
Thoughts?
What do you think about this DIY project? Do you own TOMS shoes? Do you customize any of your shoes? Let us know what you think by leaving a comment!