This post may contain affiliate links, which means we may receive a commission if you purchase through our links. Please
read our full disclosure here
.

Staying stylish on a budget can be a challenege, especially in College. That's why DIY Chic is here to show you how to update your wardrobe without breaking the bank. If you are looking for more DIY inspiration, take a look at our past tutorials on making a multi-strand statement necklace, bow hair accessories, flower hair clips, a printed word scarf, transforming a pair of old jeans, recreating an old or thrifted item, or creating a pair of cap-toe flats or shortening a hemline.
Warm weather is here and no summer wardrobe is complete without a pair of denim shorts. Whether you wear this summer staple with a classic white tee or mix things up by opting for a high-waisted style, a good pair of cutoffs will carry you straight through summer.
If you're still looking for that perfect pair of cutoffs, why not make your own? This week's DIY introduces an inexpensive and easy way to create your own distressed denim shorts out of a pair of old jeans.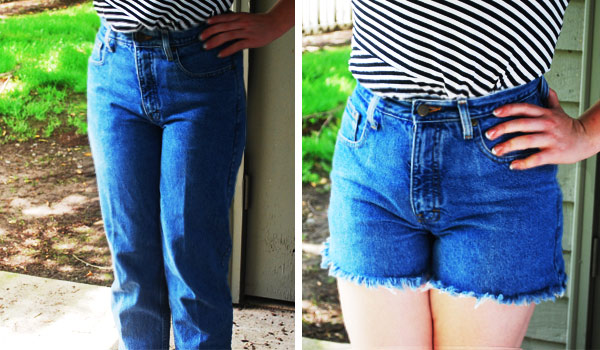 What you'll need:
An old pair of jeans. I found a super cheap pair of high-waisted jeans at my local thrift store.
Scissors, preferably those meant for fabric. You'll need a high-quality pair since denim is usually so thick.
Sandpaper. Check out a local hardware store or even Target. You generally want a coarse, low-grit sandpaper to really distress your jeans.
The step-by-step process:
1. Figure out just how short you want your shorts to be. It's easiest to lay a different pair of shorts you like over the top of the jeans to compare. Then, use a pen or some chalk to mark your length. I opted for about a 2 inch inseam.
2. Carefully make your cut. Denim is a thick fabric, so a good pair of fabric scissors is really going to help.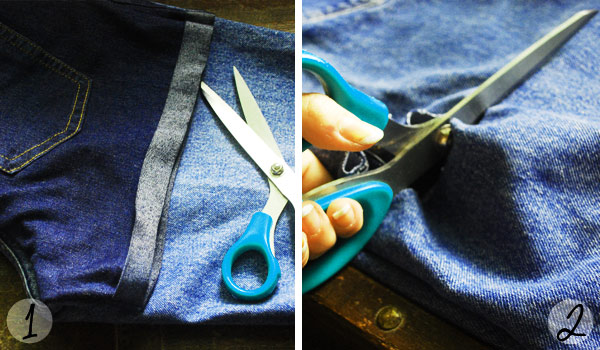 3. Once your shorts are cut, it's time to rough them up. Using the sandpaper, begin distressing the edges of your shorts. You'll want the fabric to begin to wear and fray. I folded a piece of my excess denim and wrapped the sandpaper around it for an easier grip. Do this over a shoe box or other surface that won't be damaged.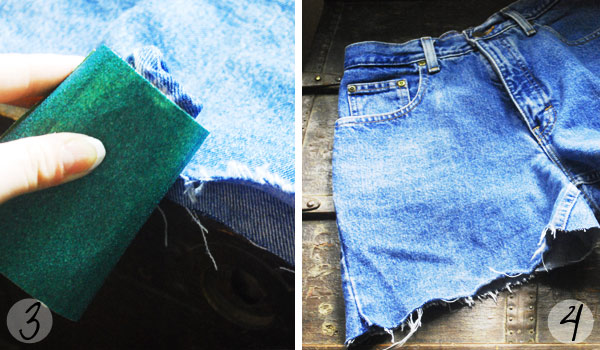 4. Once you've worked the edges with your sandpaper, throw your shorts into the washer and dryer. This will finish the process and really give you that worn, distressed look. Check out the before (seen in step 4) and the finished product above.
And there you go! Denim cutoffs are definitely a summer staple, and as you can see, they're incredibly easy to make. This project is a great way to recycle and repurpose an old pair of jeans – after all, what girl doesn't have an old pair languishing in her closet? Be crafty and make your shorts this year instead of buying them!
What do you think?
Would you try creating your own pair of denim cutoffs? How do you style your shorts for summer? Do you have a do-it-yourself project you'd like to see on College Fashion in the future? Let us know in a comment!