This post may contain affiliate links, which means we may receive a commission if you purchase through our links. Please
read our full disclosure here
.

Life on a college budget can be difficult, especially for us ladies who want to stay looking stylish and up-to-date. That's whyDIY Chic is dedicated to bringing you budget-friendly and super easy do-it-yourself projects.
Sometimes items that you already own or picked up at the thrift store can be the very best source of do-it-yourself inspiration – and it's hard to argue against their budget-friendly nature! So how can you recreate, update, or transform items you already own? Take a look at some of these ideas to get you started.
1. Tweak or rework the details
Making slight modifications to a garment is by far the easiest way to reinvent it. Plus, it's also one of the cheapest and quickest as well.
Take a close look at your garment and pick out the small details that keep it from being just right. Does the wide fit make it unflattering? Pin the extra fabric in the back with a broach or pin. Does a too-long hemline hit you at an awkward length? Tailor the hem to your perfect length with fabric tape or glue. Are your jeans too wide? Transform your jeans into skinnies!
Looking for other ideas? Check out these past College Fashion guides how to easily tailor a too-big blazer and how to reinvent an oversize thrift store dress.
2. Add embellishments, trim, etc.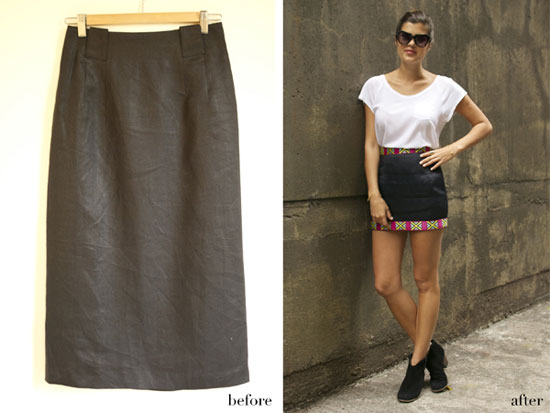 Another fun way to recreate an item is by dressing it up with a bright trim, new buttons, snaps, or whatever else might catch your eye. This is by far my favorite tactic for recreating garments since it's so customizable.
Our friend Geneva of A Pair and A Spare showed CF readers how to add a bright, eye-catching trim to a thrifted skirt. This project is a perfect example of how you can reinvent an old garment and make it entirely your own.
Along those same lines, there are many more ways to embellish a basic piece! Swap out the buttons on your old winter coat for new ones in a different color or shape. Stitch or glue rhinestone or jewel embellishments around the neckline of a dress or shirt to add a little visual interest. Or add a cute embellishment to your favorite pair of heels like DIY blogger Katrine showed CF readers last month.
3. Repurpose or recycle an item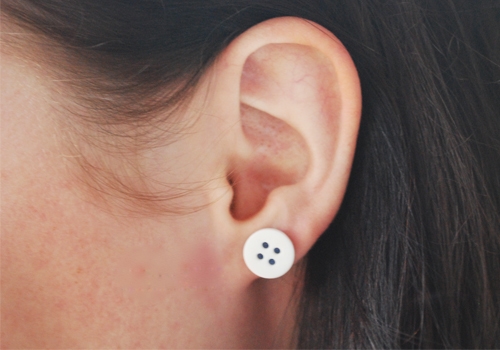 Sometimes the best way to bring an old item back to life requires a little more creativity. Repurposing or recycling an item can be a great way to add a new and fun, yet totally unexpected garment or accessory to your closet.
Before you throw away that old button-down or cardigan, salvage the buttons and make your own pair of button stud earrings. Go through your donate box and recycle an old tee shirt into a simple and light scarf for the spring season.
For more inspiration, also check out these past College Fashion tutorials on creating your own printed scarf, making a chain and ribbon necklace, and turning your work pants into a chic pair of dress shorts.
What do you think?
Have you ever recreated an old or thrifted item? What is your favorite technique for bringing a garment back to life? Do you have an do-it-yourself project you'd like to see on College Fashion in the future? Let us know in a comment!