This post may contain affiliate links, which means we may receive a commission if you purchase through our links. Please
read our full disclosure here
.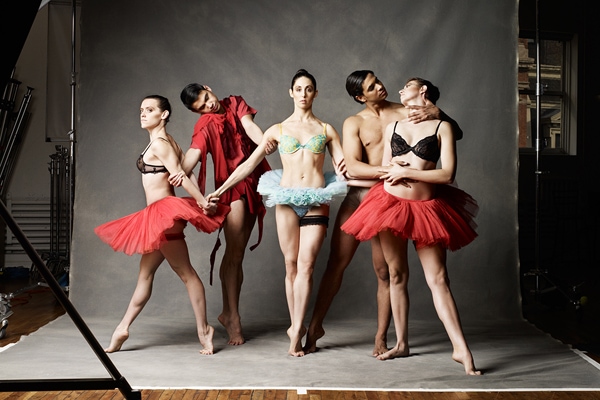 Photo Credit: ELLE
One of the great things about college is that it is completely acceptable to wake up ten minutes before class and throw on your workout clothes (hello, leggings and sweatshirts) to go about your entire day. In the real world? Not so much. You're expected to put a little more effort into getting dressed on a day-to-day basis.
As a dance major at Florida State University (Go Noles!), I spend the majority of my time on campus in workout clothes, which includes leggings, t-shirts, tights, and leotards. This is both a blessing and a curse. Why, you ask? While I love waking up and immediately throwing on clothes that are more akin to pajamas than anything else, I do miss getting dressed up and looking like a real, put-together human being every once in awhile.
After some brainstorming, I've come up with a few styling tricks that will allow you (and me!) to look put-together and fashion-forward in workout clothes (regardless of whether you just rolled out of bed or actually finished an hour long workout sesh at the gym – no judgment!). Repeat after me: I don't have to sacrifice comfort for fashion! With a few adjustments, these clothes can take you straight from the gym to the street without a major quick change.
Look #1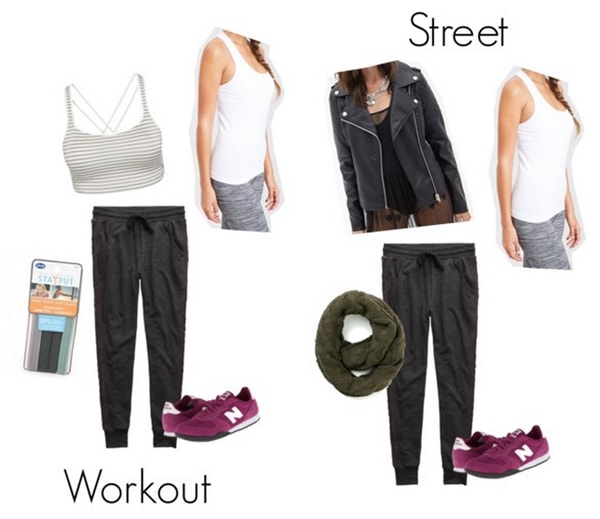 Sports Bra, Tank, Athletic Headbands, Jogger Sweatpants, Sneakers, Leather Jacket, Knit Scarf
Whoever the fashion trendsetter is that decided to bring joggers back, I bow down to thee. I am obsessed with joggers. They are ridiculously comfortable for working out and incredibly chic for wearing out (see what I did there?). For girls like myself who live in their athletic wear, joggers are a trend that work to our advantage because they can be easily dressed up and down.
I love New Balance sneakers because they have a vintage feel and are less bulky than other shoes. They are also incredibly versatile since sneakers are so on-trend this season. To upgrade this athletic outfit to one more suited for impressing the cutie in your American Lit class, simply throw on a black leather jacket and an infinity scarf for extra coziness.
Look #2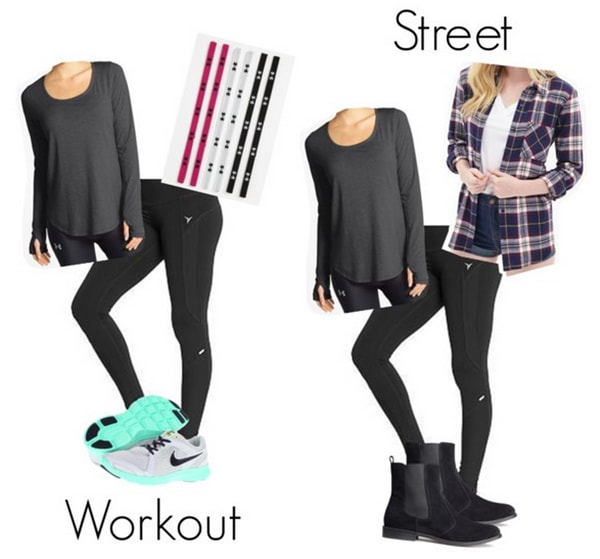 Workout Tee, Athletic Headbands, Leggings, Sneakers, Plaid Shirt, Ankle Boots
Some people are strongly against wearing leggings as pants, but I for one am an avid supporter. Love them or hate them, you can't deny the endless styling possibilities of a basic pair of black leggings. The beauty of workout leggings is that they are usually thicker than your standard, cheap pair of cotton leggings, which means no see through underwear mishaps. They also come in compression styles that will give anyone standing behind you a great view… if you know what I mean 😉
This is one of my favorite outfits to wear when I'm going from a dance class to lunch with friends or even just studying at the library. Keep your workout tee and leggings on, and wear a plaid flannel shirt either over the tee or tied around your waist. Trade out your sneakers for ankle boots and you're all set!
Look #3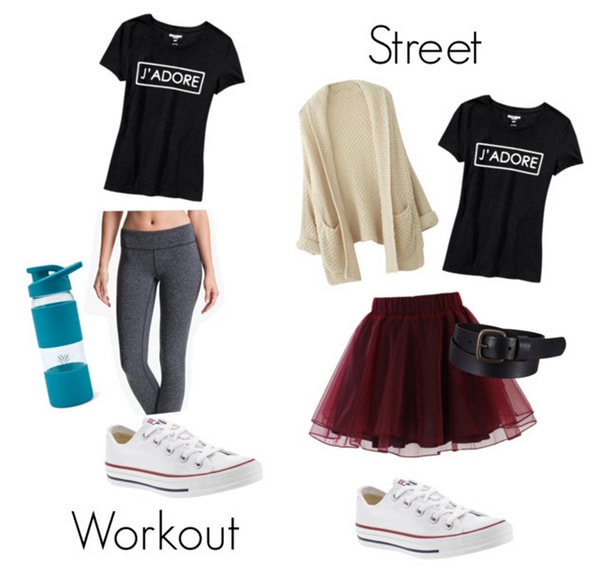 T-Shirt, Leggings, Water Bottle, Sneakers, Cardigan, Belt, Tulle Skirt
This year I've been collecting a lot of cute graphic tees. It's become a bit of an addiction. They're just so easy to dress up and down and can really show off your personality. Throw on your favorite tee with leggings and sneakers (these classic Converse are having a moment right now) and you'll be ready to head out the door to the gym in five seconds flat.
Graphic tees also work well when you want to balance out a dressier item, such as this tulle skirt. While this street outfit is certainly not one you would be able to wear very often, it showcases just how versatile a graphic tee can be. The Converse keep the ensemble from looking too feminine, while the tee and cardigan keep things a little more casual. If you're going straight from the gym to a date or dinner with your parents, this would be the perfect outfit.
What Do You Think?
What is your opinion on fashion vs. comfort? What do you think of these outfits? Are you a fellow dancer or dance major? If so, have you experienced the same fashion struggles as I have? I'd love to hear what you ladies have to say!