This post may contain affiliate links, which means we may receive a commission if you purchase through our links. Please
read our full disclosure here
.
Running around campus from place to place can get annoying in the winter, especially with the change of temperatures from indoors to outdoors. I know that when I have to hike all the way to my lecture hall from the other side of campus (and I'm most likely running late) that it gets to be quite a workout.
This is why I've found cardigans to be my best friends. You can layer them over any look for added warmth, and then when you get to that super hot classroom (that is inexplicably heated to 90 degrees) you can take them off while you sit through that lecture. (Need more reasons to love 'em? See our post on 5 reasons why every girl should own a cardigan.)
Below, I've compiled 9 adorable and affordable cardigans that will improve your closet with their very presence. Read on to check them out!
1-3: Slouchy, Open Cardigans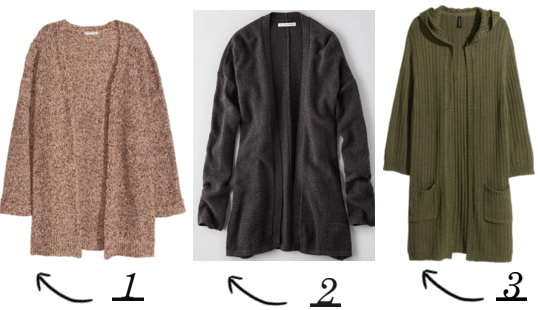 Slouchy and open cardigans are amazing casual pieces. They can make your leggings, boots, and tee combo look classroom-appropriate in a flash. These three cardigans have a sleek feel, and they're all neutral toned so you can wear them with everything you own.
4-6: Classic Cardigans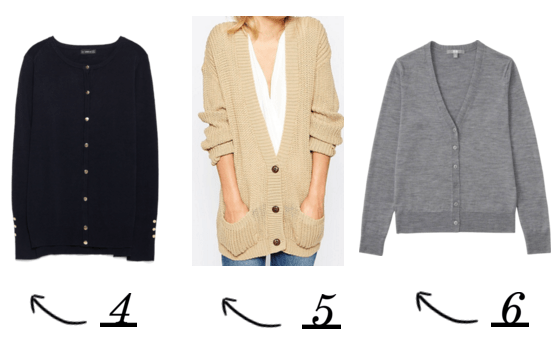 Classic cardigans are just that, classic. They are definite business casual staples: They're so great to dress up an outfit for a presentation or advisor meeting. Or, layer one of these with a v-neck tee or button-down for a perfect day-to-day look on campus.
7-9: Long Cardigans
Long cardigans are a trendy take on the classic and slouchy cardigan, perfect for wearing with jeans and a t-shirt or a swing dress. Long cardigans are a trend to watch, especially for this upcoming spring, so pick one up if you like the combo of classic and trendy.
What do you think?
Are you as obsessed with cardigans as we are? How do you wear yours? Which one of these cardigans is your fave? Let me know in a comment.