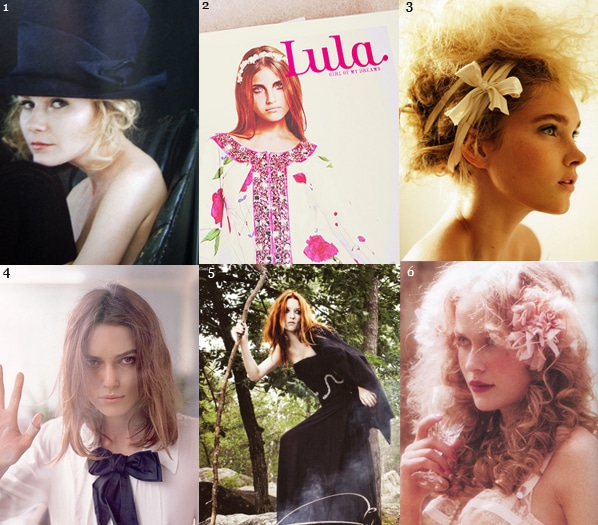 Photo Credits: 1, 2, 3, 4, 5, 6
Last year, when my roommate introduced me to UK magazine, Lula, I fell in love. As I flipped through its glossy fashion editorials full of whimsical and ethereal characters, I quickly realized that I had stumbled upon one of the most unique and beautiful fashion magazines I had ever seen. I felt like someone had opened up my brain, scooped up all my hopes and dreams, and dumped it into a beautifully laid out and colorful publication. I can honestly say that it truly is one of my favorite publications due to its great photography spreads, articles, and fantasy styled aesthetic.
I recently watched a video combining both Lula Magazine and Topshop's expert styling and production talents, and was instantly inspired by the wardrobe worn by the characters. I thought I would share it with you guys to hopefully spark your inspiration as well.
Check out the video, and then read on to see how you can get some inspired looks from the film:
1. Flower Girl (0:38-1:15)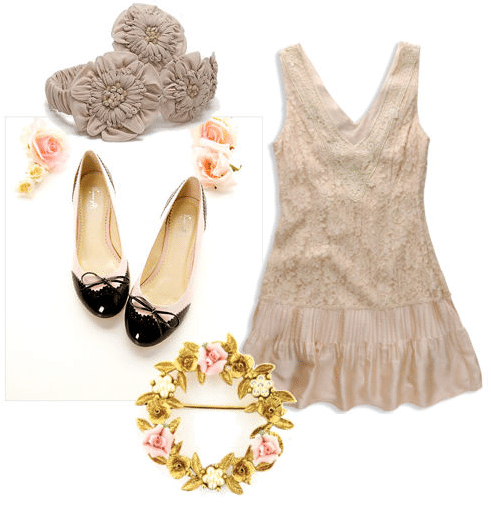 Headband- Urban Outfitters Shoes- LovelyShoes Brooch- 1928 Dress- Forever 21
The beginning of the film features hippie-esque flower children and nature as the centerpieces, so I put a very ethereal/bohemian outfit together.
To get this kind of look, soft colors like pink, white, or off white are probably best. Also, try looking for materials that have floral or lace details, as this keeps the look fresh and innocent. In general, you can't go wrong with any type of floral accessories, which is why I pulled together the floral headband and pin. The best advice I can give you when trying to get this look is keep things sweet and subtle; your pieces should be small and delicate but also deliberate.
2. Gothic Girl (3:37)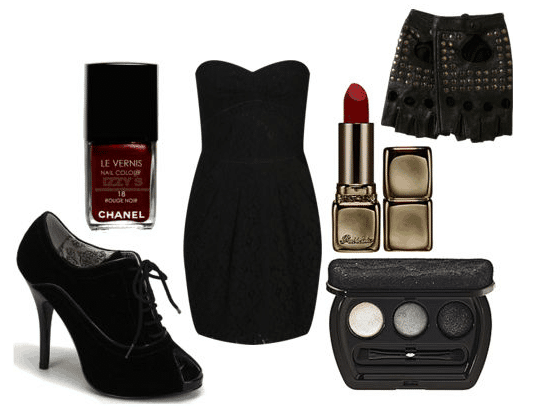 Nail Polish- Saks Shoes- Spike Angel Dress- Forever 21 Gloves- Topshop Lipstick- Sephora Eyeshadow- Sephora
One of the main characters in the video is this eerie mysterious girl that looks kind of like a vampire/witch. While her outfit is not exactly everyday appropriate, I tried to create a toned down version of what one would wear if they were channeling her on a night out.
Essentially, her entire look is dark and vampy so I gave my outfit lots of dark, dark, colors. For instance, one thing you are definitely going to need is a nice smokey eye- that's where the dark eyeshadow comes in. Pair a dark eye with a nice dark vampy red nail polish and lipstick, and your look is halfway there! Clothing wise, I chose a black lacey dress. The lace makes the dress seem less plain and more sophisticated and sexy so you don't have to worry so much about jewelry. On your feet, I recommend donning a peep toe high heel like the one above – it keeps things sophisticated but sexy at the same time. And last but not least for you fashionistas, I threw in a pair of studded fingerless gloves; while it's not exactly necessary for this look, it sets you apart from all those girls in their tired LBDs. After all, who doesn't like standing out?
3. Dark Sparkle (5:38-5:41)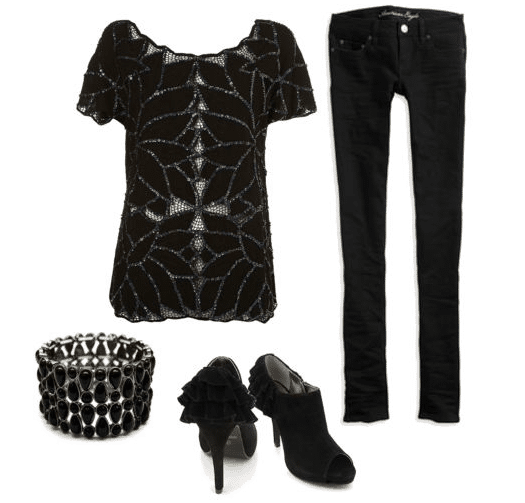 Top- Topshop Bracelet- Fantasy Jewelry Box Heels- Cutesygirl Jeans- American Eagle Outfitters
Around 5:38, there is a girl that is surrounded by what looks like smoke, and while I couldn't see the entire outfit, one thing I could see was that she had a certain sparkle to her.
Since I couldn't see exactly what she was wearing, I tried to recreate her outfit based on the aforementioned sparkle. I started off with a really cute Topshop blouse which has lots of sparkly goodness on it, and then combined that with a cuffed bracelet. As for the lower half of the outfit, I added ol' faithful- the black skinny jean, to keep you looking sleek and stylish. Finally on your toes I chose another pair of peep toe booties, chic but with a small ruffle on the back to keep things fun. Overall, this look is very clean and sleek, but the details make the outfit shine.
4. Virgin Suicide (9:11)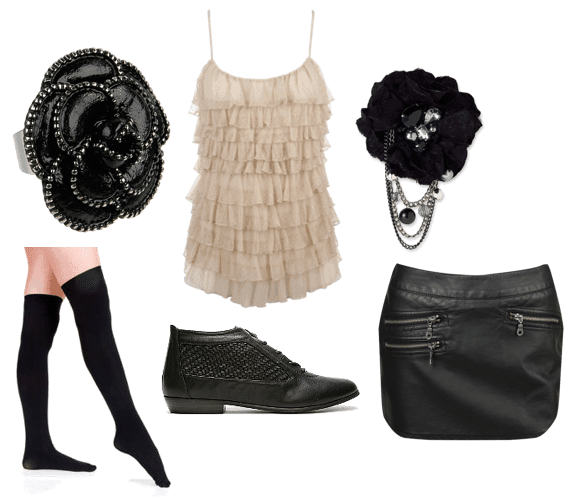 Ring- Forever 21 Socks- American Apparel Top- Charlotte Russe Shoes- UO Pin- Nordstrom Skirt- Forever 21
As you might have noticed if you watched the video, the film starts off totally innocent and as it progresses, it crosses into the darkness. Throughout the video the characters outfits get darker and more edgy, and at the conclusion, the girls transform from doe-eyed to tinged with corruption. Because of this transformation, I fused both styles together to create a soft yet edgy outfit.
To keep that feminine innocence in check, I chose another off-white blouse with lots of frills to keep things girly, however instead of pairing this with something equally feminine, I chose a faux leather skirt to sharpen the edge and keep things interesting. Next, I pulled some cute knee-high tights and a cute ankle bootie to tone down the voracity of the skirt. Finally, for finishing touches, I chose a cute floral ring and pin, both with gothic undertones. This outfit is pretty meticulous since there is a fine line between sweet and dark, but I think the balance can be achieved with careful consideration. But don't be afraid! If Madonna pulled it off, so can you!
Thoughts?
So what do you guys think? How did you guys like the video? Personally I thought it was a little bit creepy (in a good way though!), but either way, the styling was so impeccable that I was instantly inspired by the clothing.
If you are interested in purchasing Lula, I recommend visiting their website to find (Under the "Find Me" Link) bookstores that sell it. It's such an amazing magazine, if you are remotely interested in Art, Fashion, or Photography, check it out- I guarantee you won't regret buying it.