This post may contain affiliate links, which means we may receive a commission if you purchase through our links. Please
read our full disclosure here
.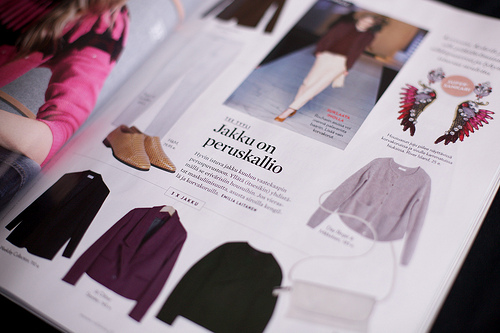 Between 9am classes, lab reports, ten-page papers and drafting cover letters for internships, it can be way too much work to put together Looks on Campus-worthy ensembles while riding the college roller coaster.
If you're stuck in a bit of a style rut, or just need a quick way to elevate your ensemble between all that college life entails, today I'll be discussing four ways to instantly look like your favorite style blogger.
I've put together eight outfits for this post to demonstrate several different ways of integrating these tips. No matter what your wardrobe looks like, you can and should tailor these tips to your personal sense of style and the degree of winter you're currently experiencing.
1. Mix Textures
(Faux) Fur Season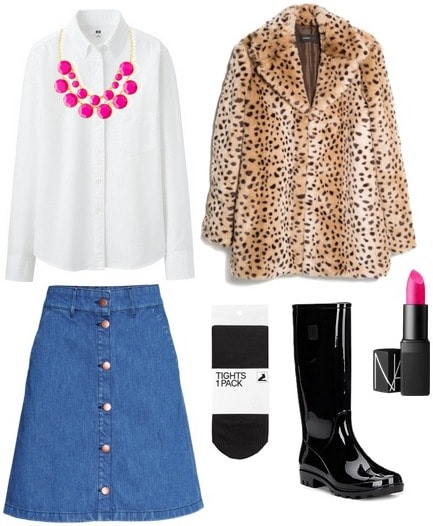 Product Information: Shirt – Uniqlo, Skirt – H&M, Necklace – Shamelessly Sparkly, Coat – Mango, Tights – H&M, Boots – Target, Lipstick – NARS
One of the easiest ways to experiment with textures is to pair something a bit more lush with a piece that's slightly distressed. This button-front skirt reminds me of the denim offerings that flooded the Spring/Summer 2015 runway, and makes for fun interplay with the faux-fur coat. Faux fur is definitely not for everyone, but I'm a huge fan, because it instantly makes any outfit look super-expensive when it's cold out.
Given the amounts of snow that have flooded some parts of the Northeast this month, rain boots are a practical option for days when your routes to class are covered with slush and ice.
Velvet Revolver
Product Information: Turtleneck – Topshop, Skirt – Boohoo, Necklace – Forever 21, Jacket – Last Call, Boots – Wet Seal, Tights – H&M
One of my favorite ways to experiment with texture is by using a monochromatic color palette. Try mixing your luxe velvet skirts and dresses with edgier leather and ribbed knit pieces, and juxtaposing your pearl jewelry with combat boots. I also went with a dark brown moto jacket instead of black to add an interesting extra dimension to the outfit.
2. Add Something Unexpected
Gingham It Up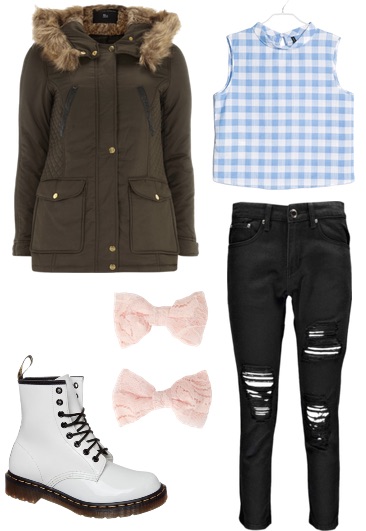 Product Information: Parka – Dorothy Perkins, Crop Top – Mango, Jeans – Boohoo, Bows – Forever 21, Boots – Doc Martens
Gingham is another hot trend for Spring/Summer 2015, but here I've used its beachy and ladylike appeal to add an element of surprise to closet staples, like an olive parka and ripped boyfriend jeans. Lace bows play well with the gingham, and the white combat boots tie the edgy and demure elements of this look together.
A Slightly Alien Appeal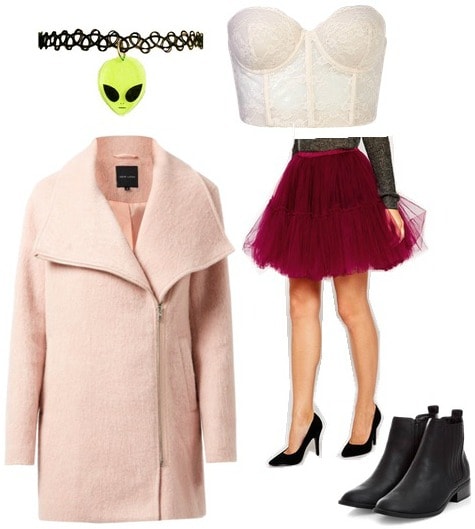 Product Information: Crop Top – Forever 21, Skirt – ASOS, Boots – New Look, Coat – New Look, Choker – Etsy
The easiest way to instantly add an element of the unexpected to your outfit is to choose accessories on opposite sides of the style spectrum. This alien choker brings the best of '90s goth to the romantic tulle and lace, but you could also substitute it for a studded or chunky choker if it's a little too "out there" for you.
3. Play with Color
All Over the Color Wheel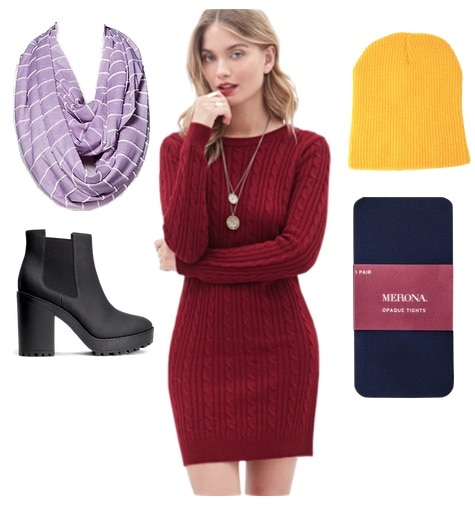 Product Information: Dress – Forever 21, Beanie – Forever 21, Tights – Target, Scarf – Target, Boots – H&M
You really don't need many elements to create an interesting ensemble – mixing colors across the color wheel instantly does that for you. I've found being proficient with the color wheel very useful when it comes to mixing colors. Here, I've used the three primary colors as a base, then threw in a lilac scarf, which is analogous to blue and complementary to yellow.
Shifting Palettes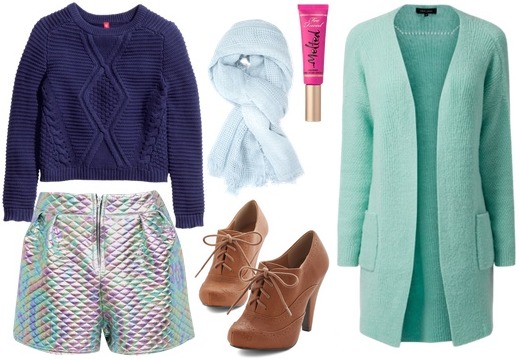 Product Information: Sweater – H&M, Shorts – Boohoo, Scarf – Forever 21, Booties – ModCloth, Lipstick – Too Faced, Coat – New Look
If you've got an iridescent piece, the easiest way to pair it with other shades is by pulling out the colors that are reflected in the iridescent color shift. Here, these shorts shift blue and green, so that's the color palette I've gone with. Just so it doesn't get too matchy-matchy, adding a swipe of fuchsia lipstick – which is complementary to green – takes the look up a notch.
4. Rock a Statement Piece
Positively Pink
Product Information: Jacket – Black Five, Necklace – JCPenney, Crop Top – River Island, Jeans – New Look, Boots – Pretty Little Thing
When you've got a statement piece as loud as this coat, it's really easy to look like a style blogger. I went with an all-white base outfit with pops of black to keep the overall ensemble from looking overdone, but a mint sweater and high-waisted jeans are another great way to capitalize on the attention-grabbing coat without stealing its thunder.
Back to Basics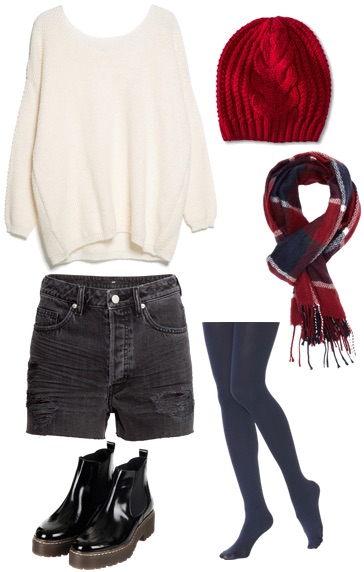 Product Information: Sweater – Mango, Shorts – H&M, Boots – Topshop, Tights – Target, Scarf – Charlotte Russe, Beanie – Target
I love my oversized sweaters – they're the perfect piece to throw on when I have ten minutes to get to class and wolf down breakfast. Take the standard sweater-tights-scarf combo up another notch with impeccable color coordination and a statement scarf. This plaid scarf basically makes the outfit, and the tall soles on these platform boots are not only fantastic when the snow begins to melt, but are also incredibly attention-grabbing on their own.
What do you think?
What are some of your favorite instant outfit fixes? Have you tried mixing your outfits in any of the ways above? Would you wear any of the looks? Let me know in the comments!