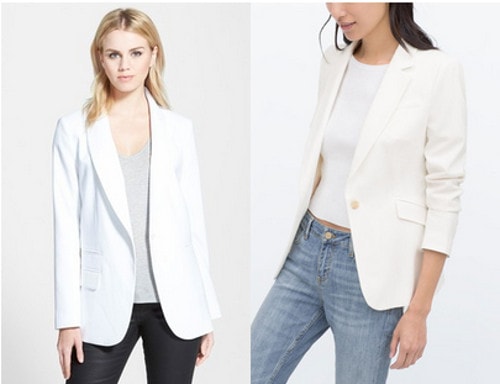 White Blazers: 1. Nordstrom, 2. Zara
Just because we're approaching summer doesn't mean life is slowing down for anyone. Between interviews, internships, and presentations in summer classes, you may be busier than ever as the weather heats up. Having to look professional and neat when you just want to throw on your bathing suit and cutoffs and run to the beach can be a real struggle. But don't worry, we've all been there!
The easiest way to look put-together is to throw a blazer on top of your favorite outfit. A white blazer helps you look mature and professional while also adding a trendy summertime touch to your outfit. Even better, a blazer can work for a busy day and a night out. Pick a trendy or classic silhouette, splurge or save, and then read below to see how I've styled this piece for both class and a night out.
White Blazer: Class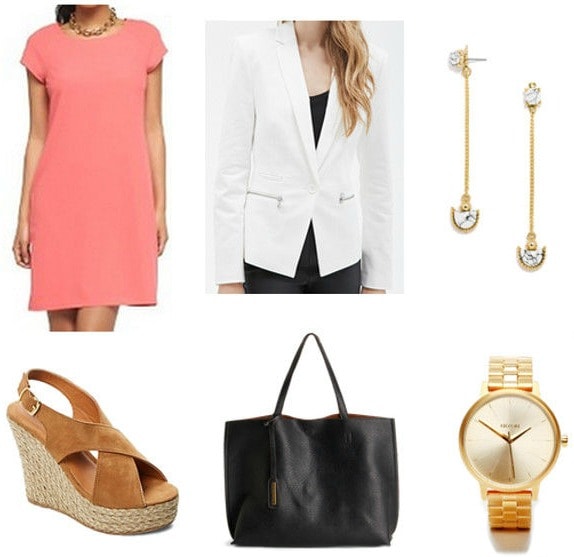 Product Info: White Blazer, Shift Dress, Wedges, Tote Bag, Watch, Earrings
To look crisp and sharp even in the heat, start by pairing your white blazer with a lovely, coral-colored shift dress. Add neutral-colored wedges for a little height, along with a large tote bag to hold all your belongings for class, work, and whatever else your day may bring. Accessorize with these lovely drop earrings for a touch of sparkle, then complete the look with a classic gold watch.
White Blazer: Night Out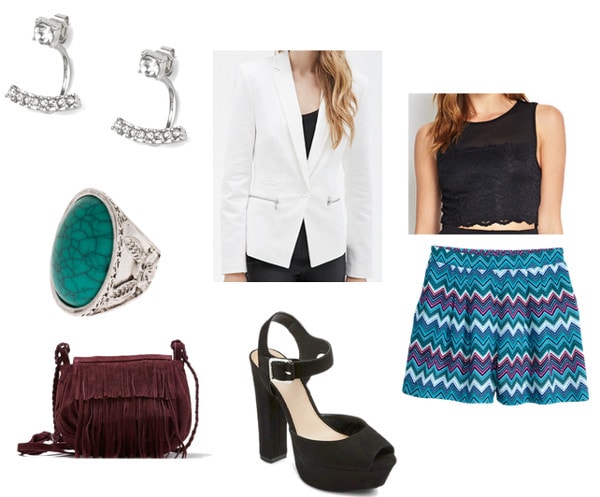 Product Info: White Blazer, Crop Top, Shorts, Heels, Purse, Ring, Earrings
For a night out, pair your white blazer with some fun, printed soft shorts. A lacy crop top in a solid color, like black, ties the pieces together. Edge up your look with sky-high heeled sandals. A trendy fringed bag is a funky choice to hold all your essentials. Finally, finish the ensemble with bold stud earrings and a colorful ring.
Thoughts?
This summer, will you reach for a trendy white blazer instead of your classic black or navy one? What do you think of the outfits above? I'd love to hear your thoughts, so leave me a comment!