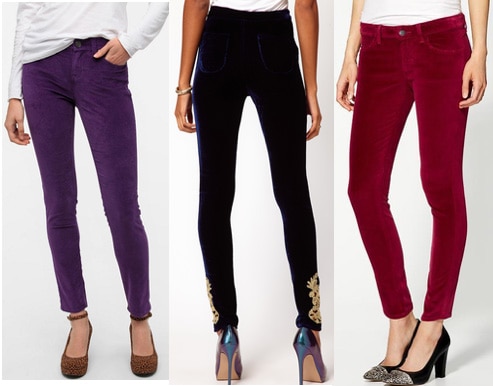 Do you struggle with transforming your outfits from day to night? Don't worry, CF is here to help turn that daily annoyance into a fun challenge. Class to Night Out focuses on one piece per week, and aims to help you take your look from study sessions in the library to dancing the night away.
Even though the holidays are over (sob!), there are still plenty of reasons to look glamorous. And few things say "glam" quite like one of my favorite fabrics – velvet.
Despite its recent fashion comeback, velvet is notoriously difficult to wear. Do it wrong and you can end up looking like an extra in a bad Buffy the Vampire Slayer spin-off, or worse. However, when styled correctly, velvet can add a touch of sophistication to even the most casual of looks. What could be better?
This week, I'll be showing you how to style a pair of deep plum velvet pants for both a day of classes and a night out. Check out the outfits below!
Velvet Pants: Class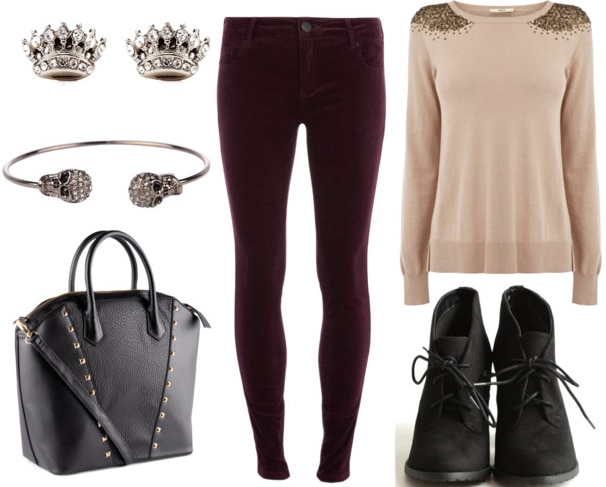 Pants, Sweater, Booties, Bag, Bracelet, Earrings
The key to mastering velvet for daytime is balance. Don't be afraid to mix casual staples with dressier pieces, because the result will be stunning!
For class, pair your pants with a nude sweater with gold sequin detailing. Not only is this super trendy, but the touch of bling on top balances out the dressy look on the bottom. Next, add classic black ankle booties to dress things down a little. Keep your accessories simple but stunning – try a trendy studded bag and crown-shaped studs. Complete the look on an edgy note by adding an thin embellished skull cuff.
Velvet Pants: Night Out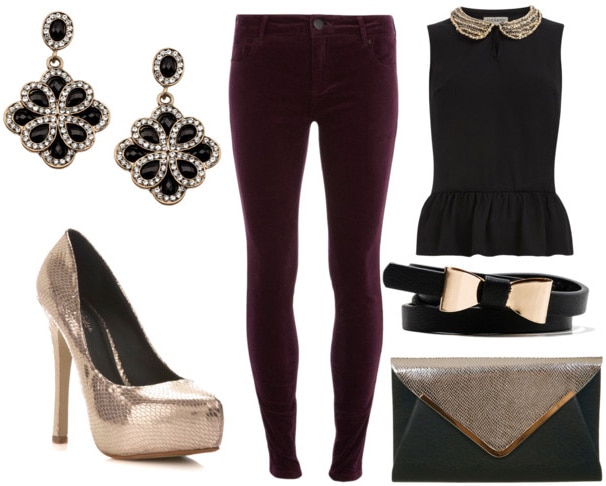 Pants, Top, Belt, Clutch, Pumps, Earrings
For your night look, help your velvet reach its full potential by going all-out glamorous. Try a black drop-waist top with a gold embellished Peter Pan collar to add feminine flair and cinch it at the waist with a gold bow belt. Add shine with elegant rose gold pumps and a snakeskin clutch. Tie the whole look together with a pair of retro-inspired, ultra-girly bejeweled earrings.
Your thoughts?
Do you own a pair of velvet pants? How would you style them? Be sure to leave a comment and let me know what you think of the outfits, I'd love to hear your thoughts!