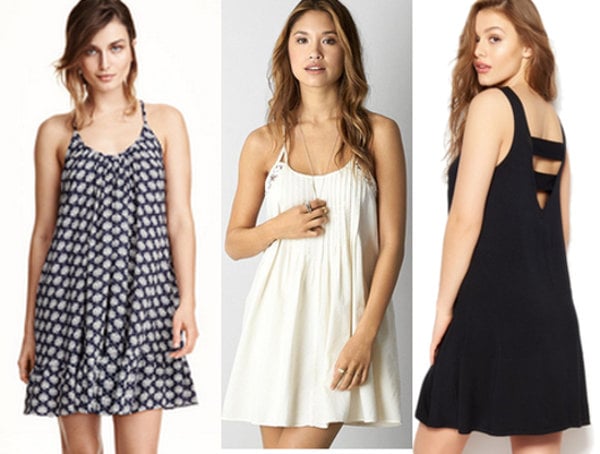 Swingy Tank Dresses: 1. H&M, 2. American Eagle, 3. Garage
Let's be real– in the summer, there's really no better option than a sundress when you're in a fashion time crunch. It's one piece, it's easy to accessorize, and it keeps you cool when temperatures are soaring. Sundresses are pretty much no-brainers at this point. Still, it gets tiring to wear the same skater-style or maxi dress over and over again.
If you're stuck in a sundress rut, branch out to a new silhouette: the swingy tank dress. It's like a t-shirt dress, but the sleeveless style is much better suited for sweltering summer days. Plus, the swingy, drapey silhouette is a unique twist on a casual sundress that's also very on-trend this season.
With the right accessories, this dress can easily be transformed from a daytime look to a nighttime ensemble. If you're interested in seeing how I've styled this piece for both a day of classes and a night out, read on!
Swingy Tank Dress: Class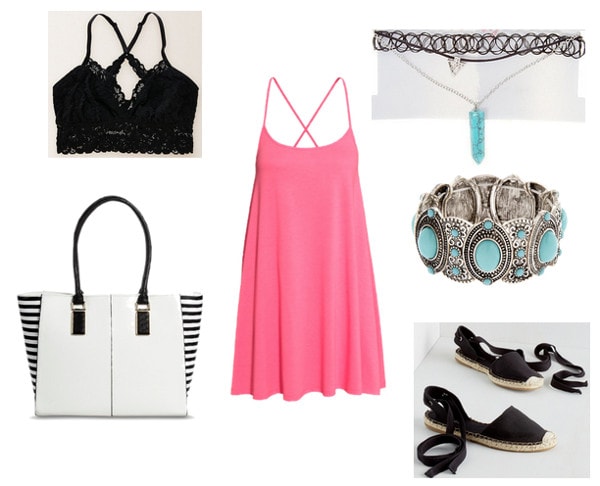 Product Info: Swingy Dress, Espadrille Flats, Bandeau, Bracelet, Chokers, Tote Bag
Pick a fun and colorful swing dress, then layer a pretty bralette underneath, like this lacy one. Add an extra pop of color to your look with a bold turquoise bracelet and give your outfit a '90s twist with a choker necklace set (you know you want to). Slip on some funky espadrille flats, and pack everything you need for the day in a large white tote bag.
Swingy Tank Dress: Night Out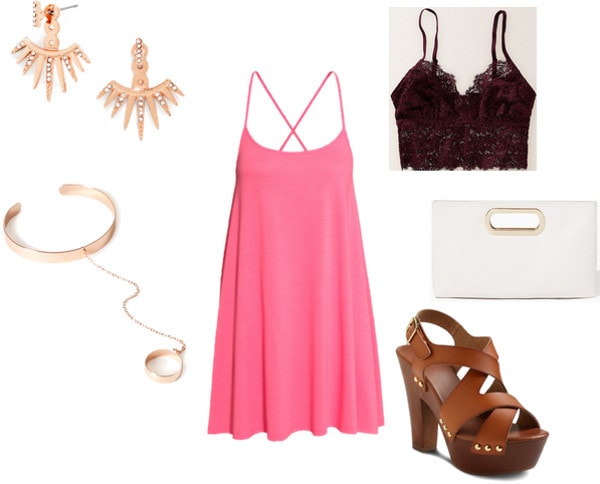 Product Info: Swingy Tank Dress, Bandeau, Clutch, Heeled Sandals, Hand Chain, Ear Jackets
For a night out, swap out your simple daytime bandeau for one in your favorite color– have fun with it! Next, add strappy heeled sandals (I'm particularly obsessed with this pair from Target). Get trendy with your jewelry; pair spiky ear jackets with a delicate hand chain bracelet, all in a gorgeous rose-gold hue. A simple white clutch ties the whole look together.
Thoughts?
What are your thoughts on this swingy sundress? Are you devoted to the ubiquitous skater dress, or are you willing to try new silhouettes this summer? What do you think about the outfits pictured above? Leave me a comment; I'd love to hear your thoughts!