Do you struggle with transforming your outfits from day to night? Don't worry, CF is here to help turn that daily annoyance into a fun challenge. Class to Night Out focuses on one piece per week, and aims to help you take your look from study sessions in the library to dancing the night away.
I mentioned last week that suede was a huge fall texture trend. And as you probably know, the 1970s are back this season. (Personally, I'm OK with revisiting the decade for as long as possible…) Put those trends together, and you have the suede button-up skirt, perhaps the season's hottest must-have.
These skirts have been hot tickets on the streets where I live lately. (Hello from Charleston!) They are absolutely perfect for fall and I can't get enough of them.
To see how to style a suede button-front skirt for day and night, keep reading!
Suede Skirt: Class
Products: Tee – Jacket – Skirt – Tote – Shoes – Scarf – Earrings
To style this skirt for class, pair it with a denim jacket, a plain white t-shirt, and a cream and crimson scarf. Enhance your outfit with a deep blue tote bag and some gold-and-crimson stud earrings to match your scarf. Finish off your ensemble with these slouchy ankle booties. (Note: If you really want a '70s vibe to go with your skirt, wear fringe booties instead.)
Suede Skirt: Night Out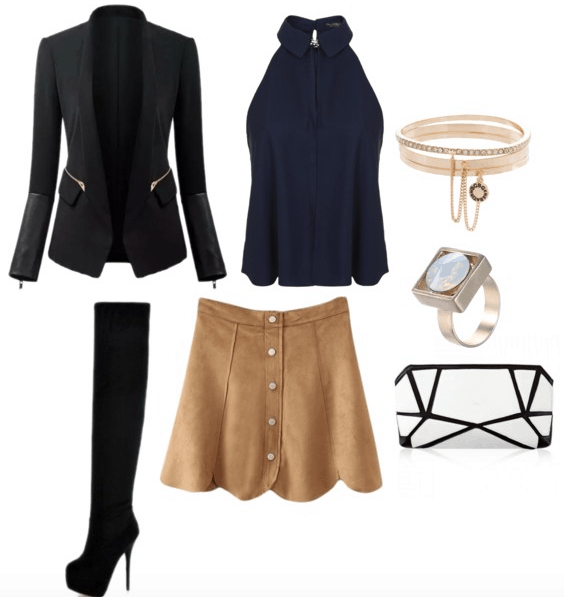 Products: Blazer – Top – Skirt – Boots – Clutch – Bracelet – Ring
Black thigh-high boots are one of my favorite fall 2015 night out trends. They work so perfectly with this skirt, especially when it's worn with a dark blue blouse and a black blazer. Don't go crazy with accessories: Lots of jewelry would be excessive with these killer boots, you know? I kept it simple with a gold gemstone ring and chain-connected bangles. Finally this black and white geometric print clutch is the perfect finishing touch. You are officially ready for your night out!
Your thoughts?
What do you think? Are you over the '70s trends that have been popping up this fall, or do you hope the decade will be back for a while? Do you love these skirts? If so, how would you style one for class and a night out? Let me know in the comments, I love hearing feedback!