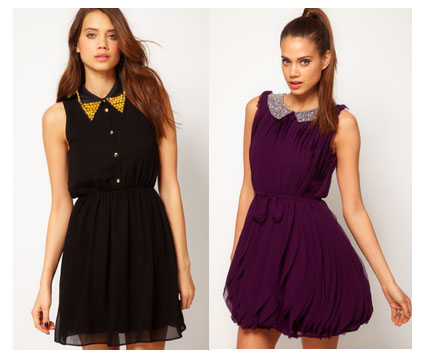 Do you struggle with transforming your outfits from day to night? Don't worry, CF is here to help turn that daily annoyance into a fun challenge. Class to Night Out focuses on one piece per week, and aims to help you take your look from study sessions in the library to dancing the night away.
Want to add a touch of rockstar edge to your ultra-feminine wardrobe? Or are you a rebel with an inner girly-girl? Look no further than a studded collar. When paired with a flirty, ladylike or just plain adorable dress, it creates the perfect amount of contrast that's oh-so-trendy right now.
This week, I'll be showing you how to style a chic forest green dress with a studded Peter Pan collar. I know you're dying for more!
Studded Collar Dress: Class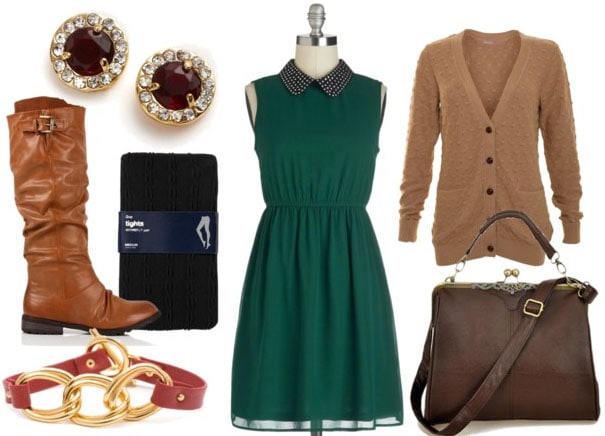 Dress, Cardigan, Tights, Bag, Boots, Bracelet, Earrings
To make this dress perfect for class, layering is key. Add a pair of thick black cable-knit tights for a cozy, wintery look, and dress things down with a textured tan boyfriend cardigan. Matching knee-high boots and a deep brown satchel give you a look that's totally library-chic. Play up the gorgeous green of the dress by accessorizing with deep reds. Try out a simple leather and gold bracelet and embellished garnet studs to complete the look.
Studded Collar Dress: Night Out
Dress, Pumps, Clutch, Earrings, Ring, Lipstick
Mix modern textures with retro style by pairing your dress with an art deco clutch in glittering gold. Next, play up your edgy collar by keeping the rest of the look bold and stark – black pumps with spiked detailing and a matching ring will bring out your inner wild child. Next, go glam with a pair of gold chandelier earrings. Deep plum lips complete the look.
Your thoughts?
Do you like studded collars? Would you wear one to class? Be sure to let me know what you think of the outfits in the comments, I love hearing your thoughts!