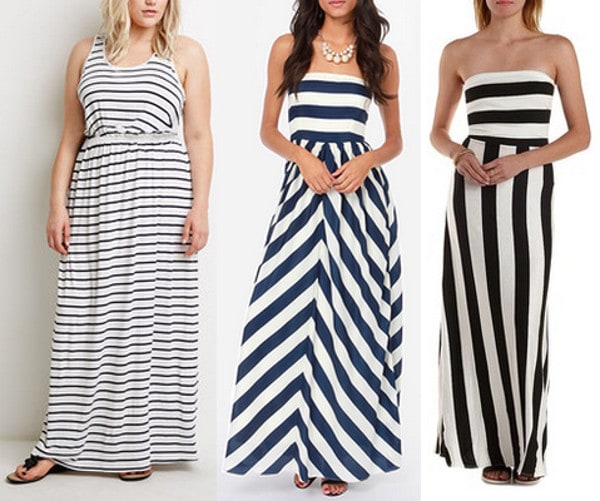 Striped Maxi Dresses: 1. Forever 21, 2. Lulu's, 3. Charlotte Russe
I'll tell you my secret for surviving finals – maxi dresses. Not a very well-kept secret, of course, as college girls have been rocking maxi dresses long before me and will hopefully continue to rock them long after I graduate.
If you don't already know the benefits of wearing maxi dresses, you're missing out. They are comfortable beyond belief, insanely chic, easy to dress up or down, and they're still acceptable to wear if you forget to shave your legs (we've all been there during finals week, don't lie).
If you want to look elegant and beach-ready while secretly feeling like you're wearing your comfiest pajamas, a maxi dress is the right pick for you. To add a little fun to the stressed-out, caffeine-fueled terror fest that finals week can be for some of us, choose a bold striped maxi dress and dress it up or down, however you want!
Below, I'll be showing you how to style one of these striped dresses for both a day of classes (or studying, or exams) and a fun night out (because you're got to make time for fun, even during finals week). If you're interested in this comfy, casual, and chic style, read on.
Striped Maxi Dress: Class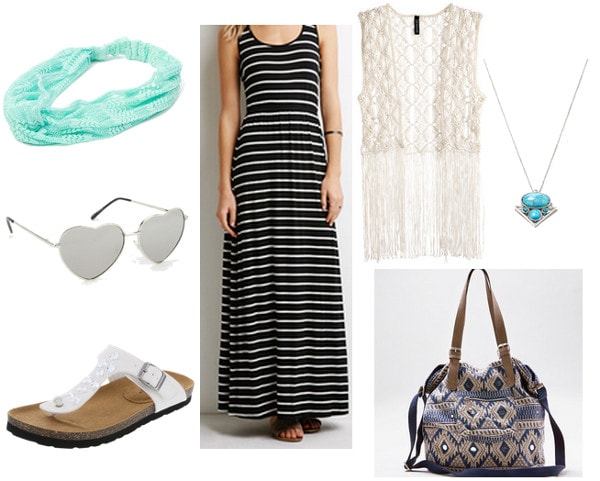 Product Info: Maxi Dress, Vest, Necklace, Bag, Sandals, Sunglasses, Headwrap
To survive a day at the library or in the exam room, comfort is key. Flat sandals like these aren't too distracting or too complicated to slip on and off. A crocheted vest adds a fun bohemian touch to your casual outfit. Keep the hippie vibe going with a long turquoise pendant necklace and a fun printed tote bag. Finish up with adorable heart-shaped sunnies, a messy bun, and a pretty headwrap to keep your hair out of your face while studying.
Striped Maxi Dress: Night Out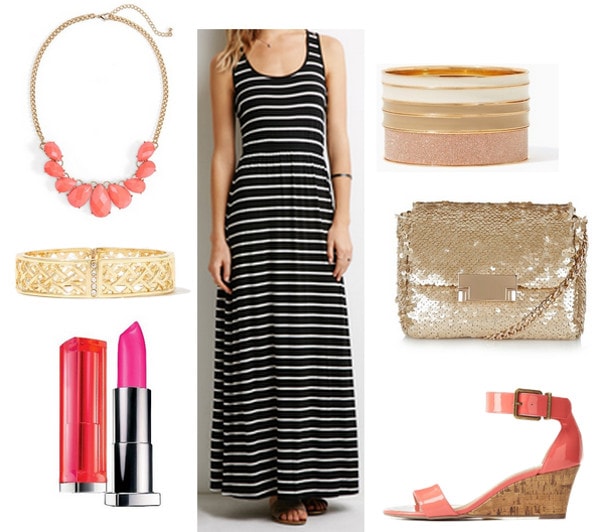 Product Info: Maxi Dress, Wedge Heels, Necklace, Lattice Bracelet, Bangles, Lipstick, Crossbody Bag
For a fun night out look, pair your maxi dress with bright wedge heels. Add a matching statement necklace for an extra pop of color. Load up on bracelets, like this lattice-style bracelet and these glam bangles. Swipe on your boldest lip color for some added drama. Finally, go all-out with a sparkling crossbody bag.
Thoughts?
Hopefully you're already sold on maxi dresses (if not, in the words of Ellie Goulding, what are you waiting for?), but how do you feel about a maxi dress for finals week? Are you in? What do you think about the outfits featured above? How would you style a striped maxi dress? I'd love to hear your thoughts!