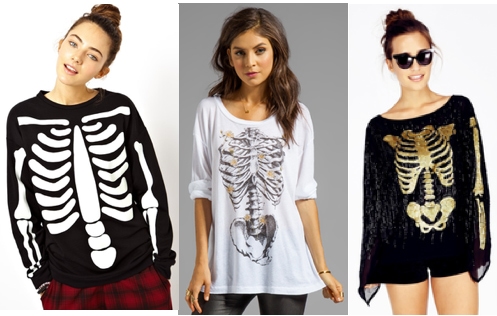 Tops: ASOS, Revolve, Wildfox Couture
Do you struggle with transforming your outfits from day to night? Don't worry, CF is here to help turn that daily annoyance into a fun challenge. Class to Night Out focuses on one piece per week, and aims to help you take your look from study sessions in the library to dancing the night away.
Who says dressing up on Halloween is just for kids? It's so easy to show a little spirit (see what I did there?) by incorporating a few spooky elements into your wardrobe.
You can create a holiday-friendly look that will work for day or night with a super cool skeleton top. Perfect for Halloween, but still chic enough to wear whenever (and this one's a sweater, so it'll help you fight off the cold, too)! Below, I'll show you two ways to style a skeleton-adorned sweater:
Skeleton Top: Class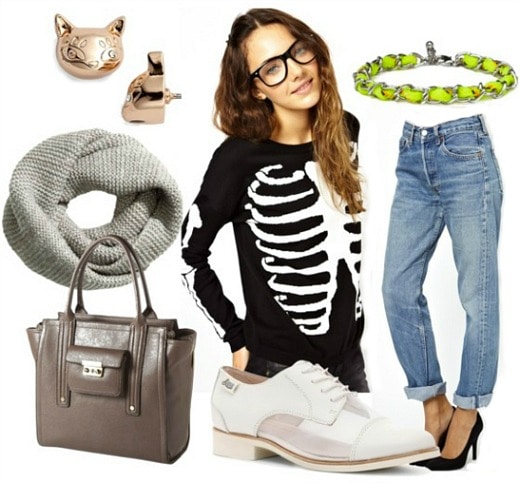 Top, Jeans, Oxfords, Bag, Scarf, Bracelet, Earrings
Create a casual yet funky look for class by pairing your top with some well-tailored boyfriend jeans and throwing on a cozy gray infinity scarf for extra comfort. Structured accessories, like chic sheer oxfords and an elegant gray bag tie the ensemble together. Add a little sparkle with a pair of cat-shaped earrings (bonus Halloween flair!) and a blinged-out friendship bracelet.
Skeleton Top: Night Out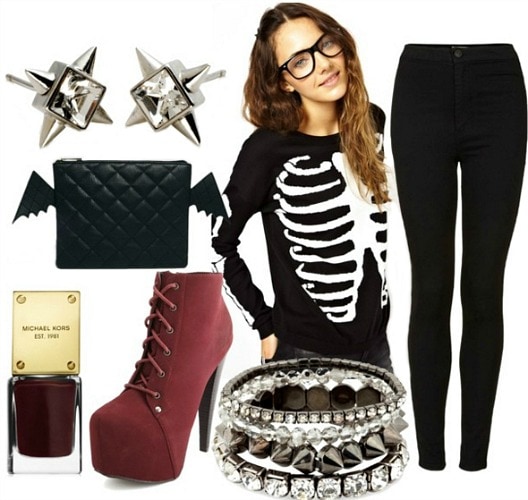 Top, Jeans, Boots, Clutch, Bangles, Earrings, Nail Polish
Get vampy for your nighttime outfit by switching out your boyfriend jeans for a pair of sleek black skinnies. Add drama with some deep red platform ankle booties (and matching nails!) for that "creature-of-the-night" vibe. A bat wing clutch might be a little too costume-y on an ordinary night, but this is Halloween! Sparkly accessories, like a stack of spiked bangles and matching earrings, add the finishing touches to this wild look.
Your thoughts?
What are you wearing for Halloween this year? How would you style this sweater? Be sure to let me know what you think of the outfits in the comments, and what other pieces you'd like to see featured on Class to Night Out!