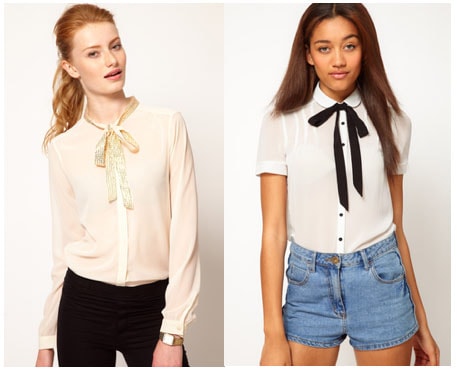 Do you struggle with transforming your outfits from day to night? Don't worry, CF is here to help turn that daily annoyance into a fun challenge. Class to Night Out focuses on one piece per week, and aims to help you take your look from study sessions in the library to dancing the night away.
Okay, so blouses are pretty standard wardrobe staples, even for us college girls – after all, we all have that one nice button-down for job interviews. But blouses are not something you'd wear to class, and definitely not on a night out, right? Think again! It's easier than you think to style a conservative blouse in a trendy, or even sexy way. All it takes is the right styling.
To liven things up about, try out a blouse in a sheer style that's perfect for layering, or opt for one with a fun print. This week, I'll be showing you how to style a trendy pussy bow blouse for both a day of class and a night out.
Pussy Bow Blouse: Class
Blouse, Jeans, Satchel, Boots, Belt, Earrings
To give this chic and polished top a more casual feel, pair it with dark wash skinny jeans for a refined yet effortless look.
When it comes time to accessorize, keep the pieces classic. (Think preppy, if you dare!) Try out a pair of deep brown riding boots with a matching waist belt, and a neutral-toned satchel. Keep things from getting too formal with a fun pair of stud earrings. I'm digging these skulls, but you could try anything from hearts to spikes to cupcakes!
Pussy Bow Blouse: Night Out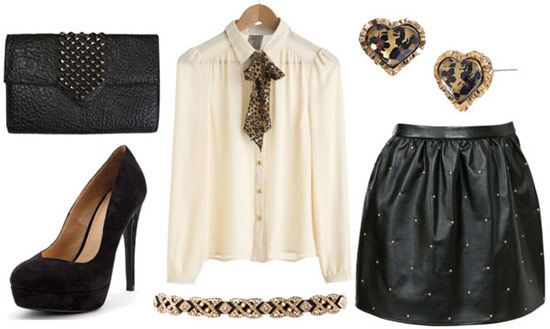 Blouse, Skirt, Belt, Clutch, Pumps, Earrings
Bring out your inner bad-girl by pairing your blouse with a (faux!) leather studded skater skirt. This wild look balances out the more conservative top, which lets you get away with showing more leg than usual. Add sparkle with a gold detailed belt, then accessorize with simple black suede pumps and leopard heart-shaped earrings that match the bow print purrfectly. Complete the look with a spiked clutch that's both edgy and totally on-trend.
Your thoughts?
How would you style a pussy bow blouse? What do you think of the outfits? Be sure to let me know in the comments, I'd love to hear your thoughts!