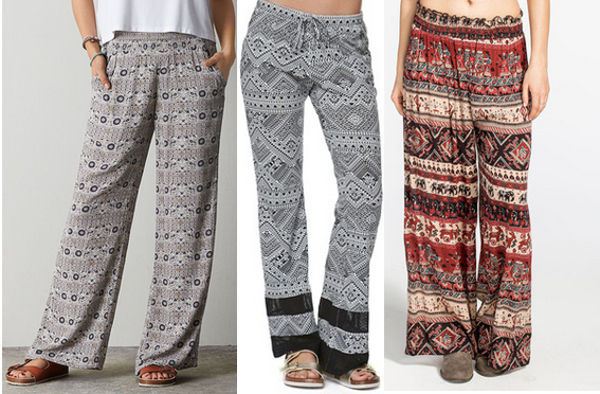 Wide-Leg Pants: 1. American Eagle, 2. PacSun, 3. Tilly's
On my most recent trip to the mall, I was blown away by the amount of '70s-inspired fashion I saw. Stores were filled with drapey kimonos, crocheted crop tops, and airy maxi dresses. There's no denying that bohemian style is huge this year. While this trend works well for warmer months, it's definitely possible to integrate a boho flair into your wardrobe before then.
I've been really falling head over heels for loose silhouettes this spring, which is why this week, I'll be featuring two outfits centered around "beach" pants. These pants are printed, wide-legged, soft, and so comfortable. They're obviously great for summer, but can easily help you transition into spring.
Below, I'll show you how to style these printed wide-leg pants for class and for a night out, so read on if you're interested in trying out this trend!
Printed Wide Leg Pants: Class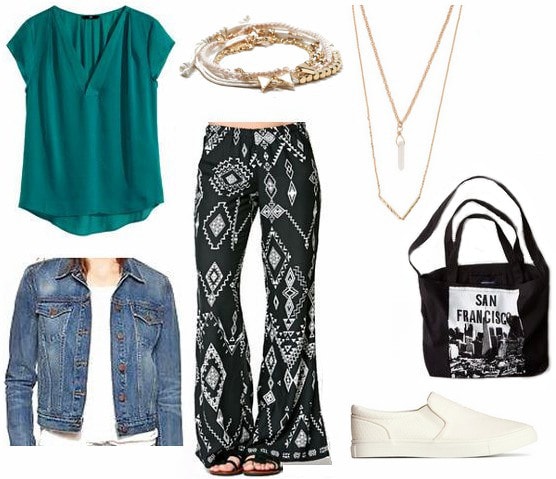 Product Info: Beach Pants, Top, Jacket, Necklace, Bracelet, Sneakers, Tote Bag
For a busy day of classes, pair your beach pants with a drapey v-neck top. Since it's likely still chilly out where you live, throw a denim jacket on top for warmth. Keep the vibe mellow with simple slip-on sneakers, but make sure to accessorize with a trendy layered crystal necklace and mixed bracelets. Finally, an edgy tote bag will hold all your belongings and finish off your look.
Printed Wide Leg Pants: Night Out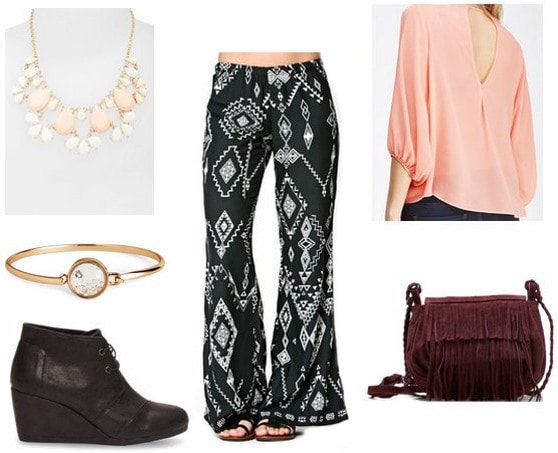 Product Info: Beach Pants, Top, Necklace, Bracelet, Wedges, Bag
For a night out, jazz up these printed pants by pairing them with a pastel blouse with a cutout back. Add wedge booties – or wedge sandals, if it's warm enough to bare your toes! A delicate bracelet looks pretty, so pair one with a statement necklace that coordinates with the color of your top. All you need now is a crossbody bag to hold your essentials, and this fringed one is perfectly trendy.
Thoughts?
Are you ready for the beach, or at least beach pants? What do you think of this trend? Would you wear either of the looks above? Leave me a comment; I'd love to hear from you!