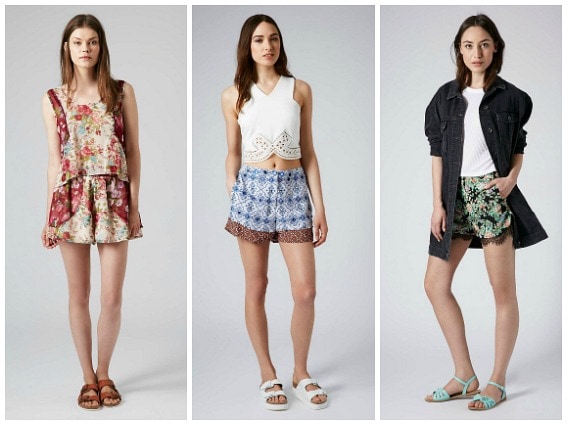 Printed shorts from Topshop: 1, 2, 3
Do you struggle with transforming your outfits from day to night? Don't worry, CF is here to help turn that daily annoyance into a fun challenge. Class to Night Out focuses on one piece per week, and aims to help you take your look from study sessions in the library to dancing the night away.
Printed shorts are one of this summer's biggest trends. It's not surprising that everyone wants in on this trend, considering all of the fun prints and fabrics featured on shorts this season. Breezy, lightweight, and colorful shorts are simply irresistible, and are so easy to throw on for almost any occasion.
In this post, I'll be showing you how to style a fabulous pair of printed canvas shorts for both class and a night out. Keep reading for tips on how to wear this fun, summery trend:
Printed Shorts: Class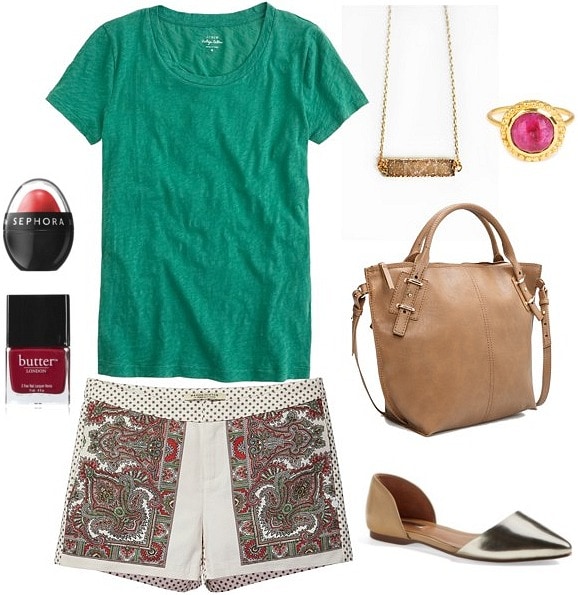 Product Information: Shorts, Shirt, Flats, Bag, Necklace, Ring, Lip Balm, Nail Polish
These beautiful scarf print canvas shorts look laid-back for class when paired with a no-frills crew neck t-shirt. The color of the tee plays nicely off the green in the print, but keep everything else neutral in order to let the print do the talkin'. Metallic d'orsay flats add a little shine, while a neutral brown tote is the perfect size to carry all of your belongings.
Dazzling, dainty accessories contribute a few more hints of sparkle without overdoing it. Deep red fingernails add a bold touch to this polished yet cool daytime look. Keep the rest of your beauty routine simple with a red-hued tinted lip balm.
Printed Shorts: Night Out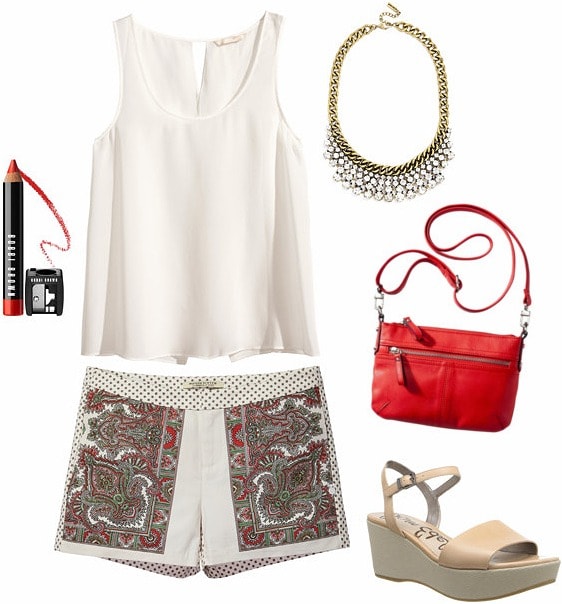 Product Information: Shorts, Top, Sandals, Bag, Necklace, Lip Pencil
These printed shorts look fab for a night out when paired with a sheer, flowy white tank top. A solid-colored top and neutral sandals with a low wedge ensure that the scarf print shorts are the star of this look.
Have some fun with your accessories by adding a red crossbody bag to play off the red in the print, as well as a big sparkly statement necklace. The perfect beauty statement to finish this ensemble off? A bold, long-lasting red lip. This look is simple, breezy, and chic for a balmy summer night spent out on the town.
Your thoughts?
Would you wear printed shorts? To class? For a night out? How would you style these printed shorts? Let me know what you think of the outfits in the comments, and tell me what other pieces you'd like to see featured on Class to Night Out!