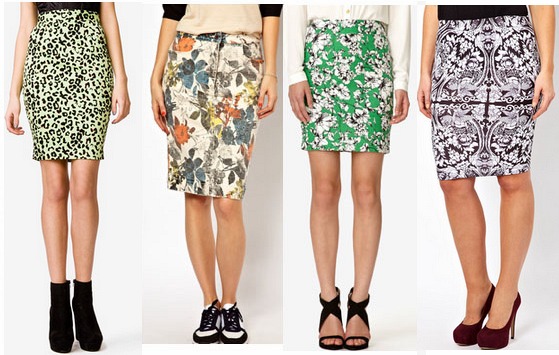 Do you struggle with transforming your outfits from day to night? Don't worry, CF is here to help turn that daily annoyance into a fun challenge. Class to Night Out focuses on one piece per week, and aims to help you take your look from study sessions in the library to dancing the night away.
Pencil skirts can be tricky to wear, especially for college-aged women. We all need to own one for those on-campus interviews and special events, but the rest of the time, our pencil skirts don't get much wear. This style hasn't quite become a college girl staple yet… but this season's twist on the pencil skirt might change that.
Printed pencil skirts have been popping up absolutely everywhere this season, breathing new life into this classic career staple. These revamped skirts are still conservative in length, but their fun prints and wild colors make them incredibly versatile — perfect for when you want to look a little dressier in class or for a night out with the girls.
Want to learn how to style a printed pencil skirt of your own? Read on.
Printed Pencil Skirt: Class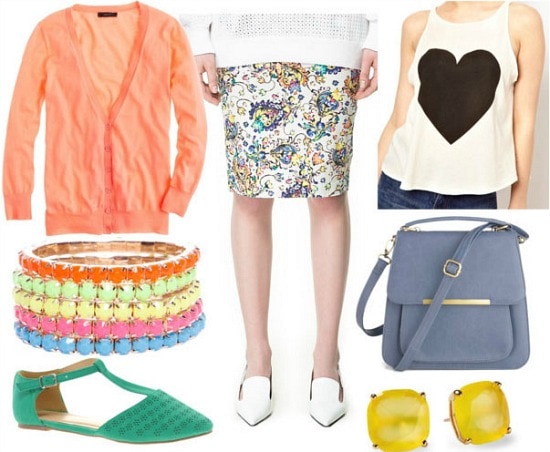 Skirt, Top, Cardigan, Bag, Flats, Bangles, Earrings
For a fun and playful daytime look, pair a colorful pencil skirt with a bold graphic tank. Next, add a ladylike melon sweater to create an edgy, yet feminine look. Bring out the colors of the skirt with the rest of your accessories, like these fun neon bangles, emerald t-strap flats, and yellow crystal studs. Complete the look with a subtle, soft blue bag.
Printed Pencil Skirt: Night Out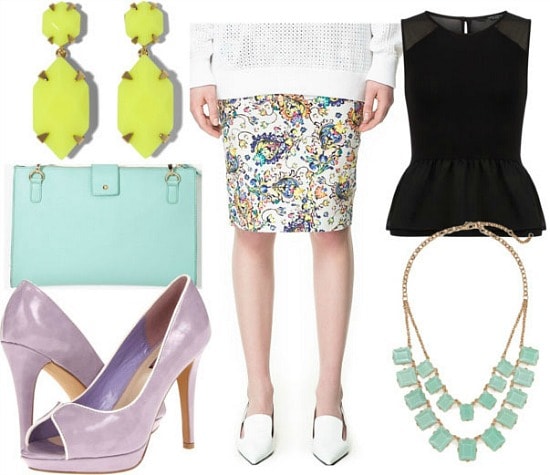 Skirt, Top, Clutch, Pumps, Necklace, Earrings
Can you tell I've got Easter on my mind? If you're excited by the Easter holiday, too, play with bright pastel hues in your night look for an elegant, yet wild feel. Pair the skirt with a black peplum top for stark contrast, then add a mint statement necklace to amp up the playful aspect of this outfit. Next, grab a matching mint clutch and, finally, go totally wild with the rest of your accessories: Super-fun lilac peep-toe pumps and neon yellow drop earrings complete this look on a colorful note.
Your thoughts?
How would you style a printed pencil skirt? For class? A night out? Be sure to leave me a comment and let me know what you think of the outfits – I love hearing your thoughts!