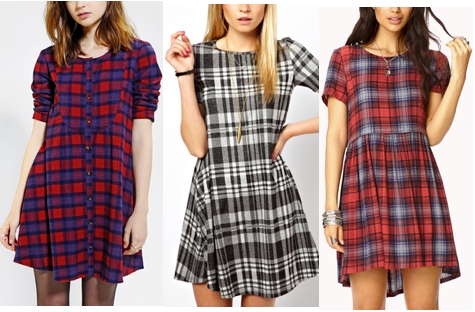 Dresses: Urban Outfitters, ASOS, Forever 21
Do you struggle with transforming your outfits from day to night? Don't worry, CF is here to help turn that daily annoyance into a fun challenge. Class to Night Out focuses on one piece per week, and aims to help you take your look from study sessions in the library to dancing the night away.
Any true child of the '90s has a weakness for several fashion risks of the era, like head-to-toe plaid, flannel, Doc Martens, and babydoll dresses. Trends from the decade have been on the rise for several years in the fashion world (hello, why else would we all be wearing crushed velvet again?) and '90s-inspired fashion has never been so chic.
This week, I'll be showing you how to style the ultimate '90s piece, the plaid babydoll dress. These dresses are so easy to rock for day or night, and now that it's October, they're also the perfect costume party transition piece! (Well, if you plan on going as Cher Horowitz or Courtney Love, that is.)
Plaid Babydoll Dress: Class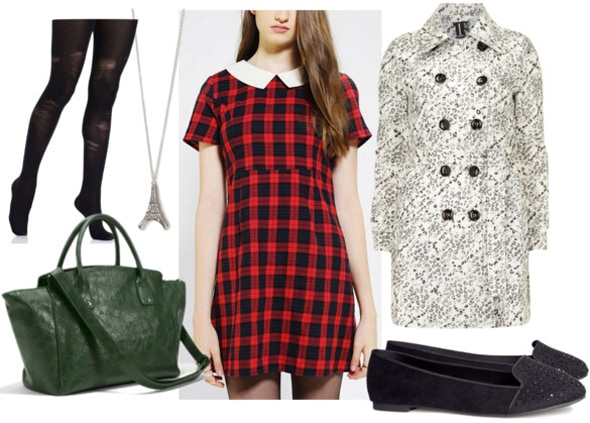 Dress, Trench, Tights, Flats, Bag, Necklace
Add a touch of girly glamor to your outfit with an animal print trench coat. Not only is it perfect for those rainy fall mornings, but the mixed prints create a super chic look. Get that grunge vibe with a pair of stylishly ripped tights (no need to worry about runs!). A pair of subtly embellished smoking flats and a Parisian charm pendant add a feminine touch. Complete the look with an autumnal deep green statement bag.
Plaid Babydoll Dress: Night Out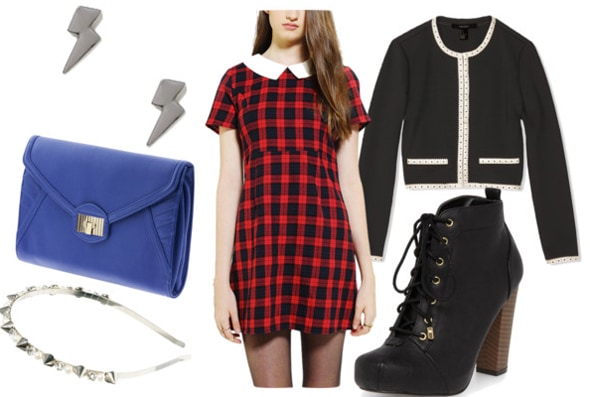 Dress, Jacket, Boots, Clutch, Earrings, Headband
Get nighttime-ready by pairing your dress with a super-girly yet structured leather trim jacket. Unleash your inner wild child with a pair of chunky black ankle booties, then grab a cool blue clutch for contrast. A pair of lightning bolt shaped studs and an edgy embellished headband complete the ensemble.
Your thoughts?
Will you be rocking '90s-trends this fall? How would you style this dress? Be sure to let me know what you think of the outfits in the comments, and what other pieces you'd like to see featured on Class to Night Out!