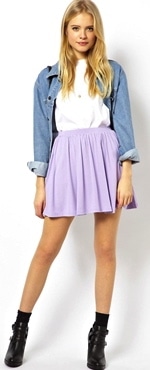 Pastel Mini Skirts from ASOS: 1, 2, 3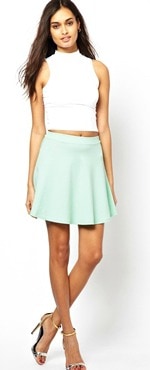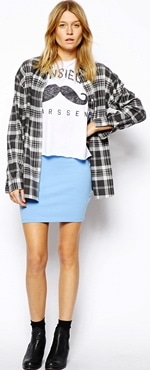 Do you struggle with transforming your outfits from day to night? Don't worry, CF is here to help turn that daily annoyance into a fun challenge. Class to Night Out focuses on one piece per week, and aims to help you take your look from study sessions in the library to dancing the night away.
Pastels were all over the runways for spring 2014, and these sweet hues were featured by designers like Rebecca Taylor, Prabal Gurung, and Christian Dior in pretty much every shape and style you can imagine. There is bound to be a pastel piece out there for everyone as spring approaches, so just pick your favorite color and find the shape that flatters you the best.
This trend is so pretty, which makes it perfect for any Valentine's Day plans you may have. In this post, I'll be showing you how to style a pastel mini skirt for both class and a night out. (Bonus: the skirt is only $13!)
Pastel Mini Skirt: Class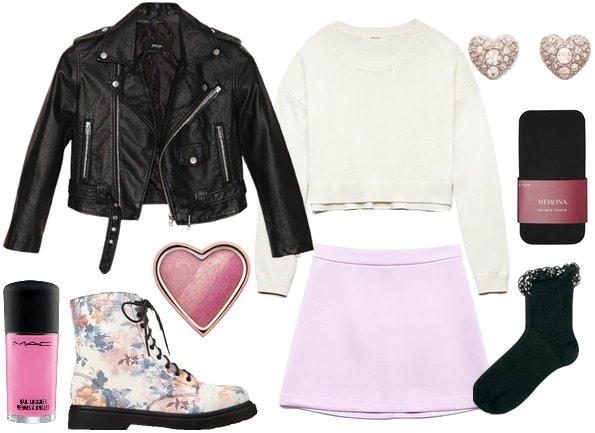 Product Information: Skirt, Sweater, Jacket, Boots, Tights, Socks, Earrings, Blush, Nail Polish
This look manages to be both sweet and edgy for your time in class on Valentine's Day. The lilac-hued mini is higher waisted, so pair it with a cream-colored cropped sweater to accentuate your waist. Add some grunge to the ensemble with floral combat boots that pick up on the colors found on the skirt and sweater.
The black accents on the boots make it okay to wear black tights and ruffle socks with the lighter colors in the rest of the outfit. Add to the moto feel with a cropped black leather jacket. Pay homage to Valentine's Day with heart stud earrings, rosy pink cheeks, and bright pink nails. Can you say pretty biker chick?
Pastel Mini Skirt: Night Out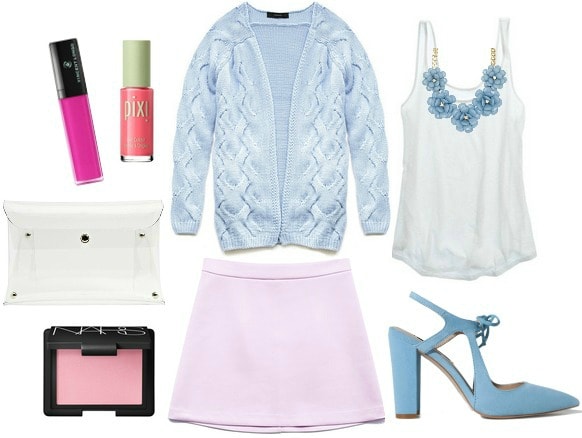 Product Information: Skirt, Tank, Sweater, Heels, Necklace, Clutch, Blush, Lip Gloss, Nail Polish
Go for a girlier look for your night out on the town by pairing this lilac mini skirt with baby blue accents. Keep the top half of the ensemble simple with a plain tank tucked into the skirt. Add a baby blue cable cardigan to keep warm until you reach your destination. Give the outfit some pizzazz with a baby blue floral statement necklace and a killer pair of blue suede heels that will make your legs look miles long.
This outfit is very sweet, so add a trendy touch with a transparent clutch to keep from looking too princess-y. Make your complexion glow for Valentine's Day with a beautiful pink blush, hot pink lip gloss, and hot pink nails.
Your thoughts?
Would you wear a pastel mini skirt? Would you wear this pastel mini for your Valentine's Day plans? On a date? Out with your girls? Let me know what you think of the outfits in the comments, and let me know what other pieces you'd like to see featured on Class to Night Out!