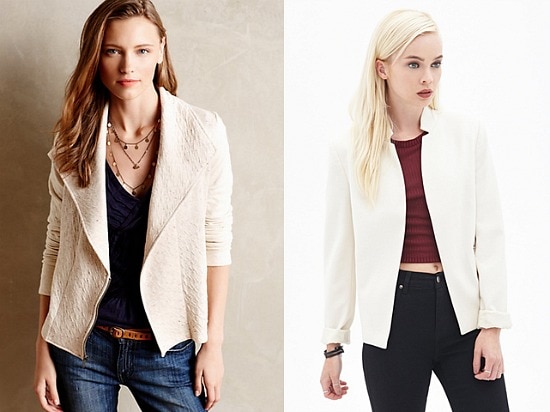 Blazers from: Anthropologie, Forever 21
Do you struggle with transforming your outfits from day to night? Don't worry, CF is here to help turn that daily annoyance into a fun challenge. Class to Night Out focuses on one piece per week, and aims to help you take your look from study sessions in the library to dancing the night away.
Blazers are a great layering piece for fall, and can get you through some tricky temperature changes. They also happen to be incredibly versatile. You can throw a blazer on over a dress or a casual jeans and tee combo, plus they can be worn in business formal and business casual settings. Every college girl should own a blazer!
Blazers are available in a huge variety of cuts and fabrics – some are looser and a bit flowy, while others are classic and structured. A white or off-white blazer is the perfect way to embrace the last few days of warm weather before it gets too chilly outside, and they can even carry you into winter with some strategic layering. In this post, I'll be showing you how to style an adorable, open-front, off-white blazer for class and a night out.
Off-White Blazer: Class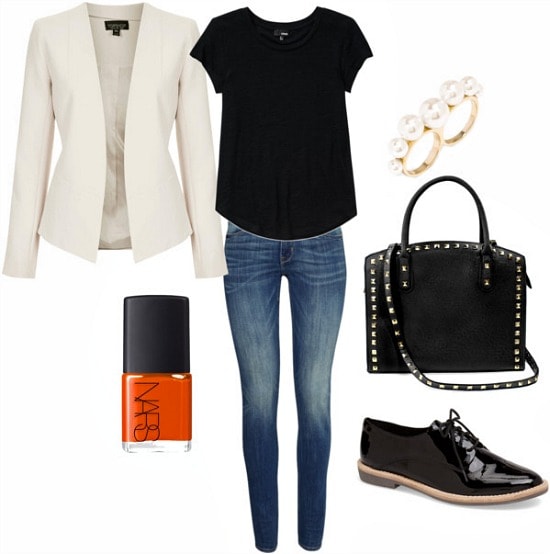 Product Information: Blazer, T-Shirt, Jeans, Shoes, Bag, Ring, Nail Polish
Keep this blazer looking casual and classy for daytime by pairing it with a basic, swingy black t-shirt and a pair of medium wash skinny jeans. Bring a cool menswear vibe to the ensemble with a pair of black patent leather oxfords. Casually cuff the skinny jeans to show of the almond-shaped toe of the shoes, which adds just the right amount of femininity to this menswear-inspired look.
Carry a black tote with edgy stud detailing, then add a hint of trendy shine with a pearl double finger ring. A big color trend this fall is orange, so paint your nails this festive hue.
Off-White Blazer: Night Out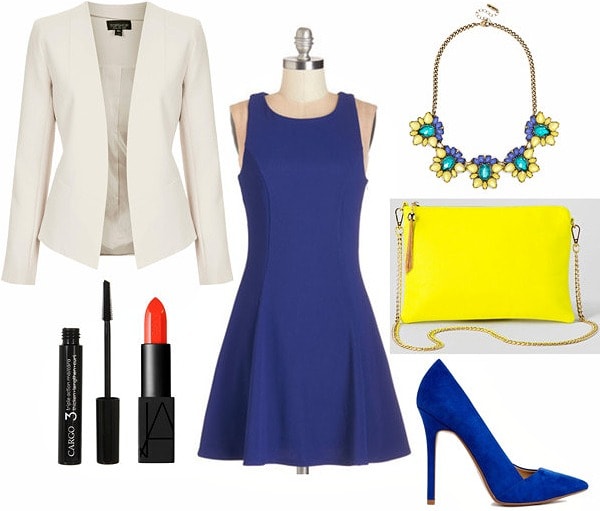 Product Information: Blazer, Dress, Necklace, Bag, Heels, Lipstick, Mascara
Cobalt blue is such an eye-catching color for fall, so rock it for nighttime with a cobalt blue A-line dress, as well as matching suede pointy-toe pumps and a statement necklace. Play off the yellow in the necklace by carrying all of your evening essentials in a yellow crossbody bag with a gold chain and tassel detail.
The off-white blazer is the perfect outwear piece for this look! It keeps the ensemble looking classy and chic without bogging the outfit down with a boring black jacket. It adds its own amount of flair to the look. Make this getup all about primary colors by painting on a bright red lip. Keep the rest of your beauty look simple with just a hint of mascara and a fresh face.
Your thoughts?
Would you ever wear a white or off-white blazer? To class? Out at night? How would you style this off-white blazer? Let me know what you think of the outfits in the comments, and tell me what other pieces you'd like to see featured on Class to Night Out!