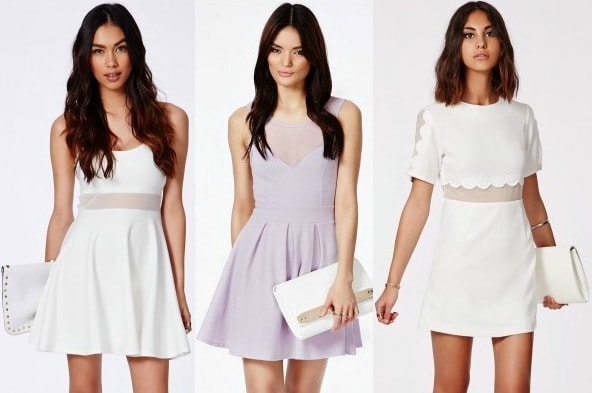 Mesh Detail Dresses from MissGuided: 1, 2, 3
Do you struggle with transforming your outfits from day to night? Don't worry, CF is here to help turn that daily annoyance into a fun challenge. Class to Night Out focuses on one piece per week, and aims to help you take your look from study sessions in the library to dancing the night away.
Cutouts have been trendy for a while now, but recently they have been given a fun, fresh twist. Cutouts with a sheer mesh overlay were huge on the spring and fall 2014 runways. Mesh has been featured in other ways too, like dresses and skirts with mesh detailing at the hem.
Mesh is a great way to achieve a trendy, interesting look, but it may seem difficult to style for daytime. In this post, I'll be showing you how to style a beautiful dress with mesh overlay at the neckline for both class and a night out. Keep reading for tips on how to style this tricky trend!
Mesh Detail Dress: Class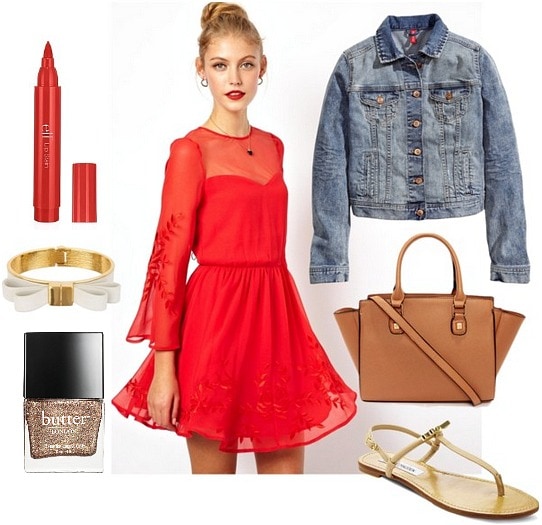 Product Information: Dress, Jacket, Bag, Sandals, Lip Stain, Bracelet, Nail Polish
Take this slightly dressy red frock down a couple notches for daytime by pairing it with a classic denim jacket in a medium wash. This will still show off the beautiful embroidery on the skirt, but makes the top of the dress more casual for class.
Pair this look with neutral but girly accessories, like these sandals with gold bows and a brown trapeze-shaped tote with gold hardware. A cuff bracelet featuring a white bow detail continues the feminine look. Paint your nails a shimmery dark gold, and look fresh-faced and beautiful with a red lip stain.
Mesh Detail Dress: Night Out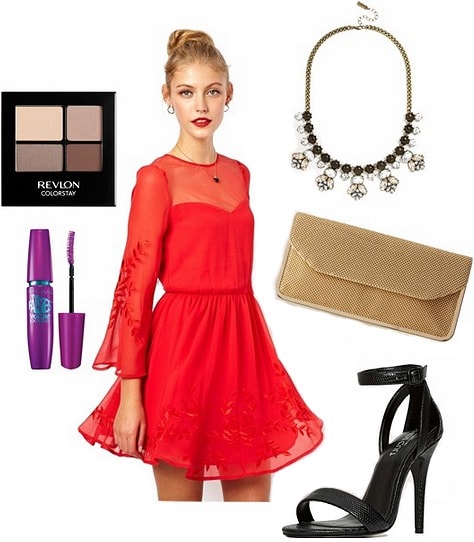 Product Information: Dress, Necklace, Bag, Shoes, Eyeshadow, Mascara
This dress works perfectly for a night out when paired with a statement necklace and a shiny gold clutch. This champagne and black-hued statement necklace would look amazing over the mesh neckline of this dress, and the gold clutch plays off of the champagne color in the necklace so well.
Take advantage of the still relatively warm weather and grab a pair of black heeled sandals. Go for a naturally gorgeous makeup look: a brown smoky eye and big lashes.
Your thoughts?
Would you ever wear a mesh detail dress? To class? For a night out? On a date? How would you style this mesh detail dress? Let me know what you think of the outfits in the comments, and tell me what other pieces you'd like to see featured on Class to Night Out!