Crop top and skirt sets from Topshop: 1, 2, 3


Do you struggle with transforming your outfits from day to night? Don't worry, CF is here to help turn that daily annoyance into a fun challenge. Class to Night Out focuses on one piece per week, and aims to help you take your look from study sessions in the library to dancing the night away.
Matching crop top and skirt sets are everywhere lately! Not only has this trend been featured on runways, but it's also a favorite amongst fashion-forward celebs.
It may seem tricky to find crop top and skirt set that looks modest enough for daytime without being stuffy when transitioned for a night out, but there are definitely options out there that work for everyone. Longer hemlines and high-waisted skirts keep the little sliver of midriff that shows looking classy, as does a more structured top.
In this post, I'll be showing you how to style a matching crop top and skirt set for both class and a night out, so keep reading for styling tips and tricks!
Matching Crop Top and Skirt: Class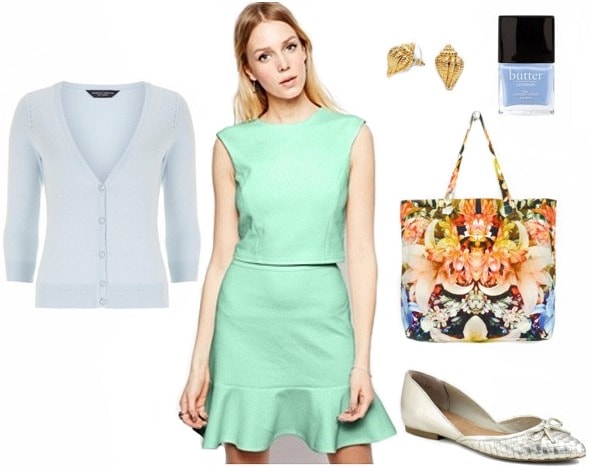 Product Information: Top, Skirt, Cardigan, Flats, Tote, Earrings, Nail Polish
Since it doesn't show any midriff, this mint-hued scuba crop top and skirt set is modest enough for daytime, although it still looks fresh and young.
Carry a graphic floral print tote to add some pizazz, then play off the bag's color with a pale blue cardigan and a pretty periwinkle nail polish. Light blue and mint always look fabulous together! Lastly, incorporate metallic touches with these d'orsay flats and adorable conch shell stud earrings.
Matching Crop Top and Skirt: Night Out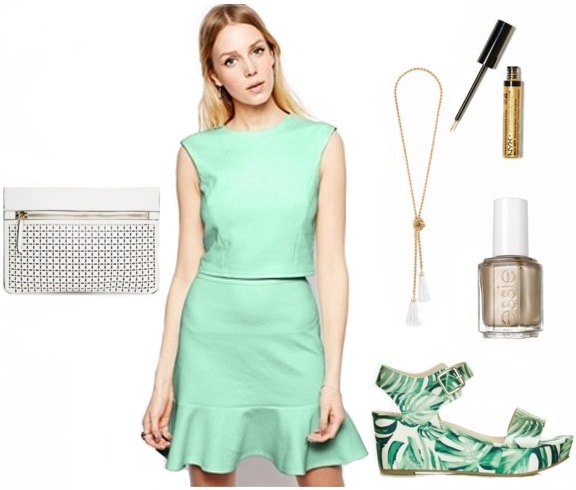 Product Information: Top, Skirt, Sandals, Bag, Necklace, Eyeliner, Nail Polish
Amp this chic matching top and skirt set for a night out by pairing it with trendy summer accessories. Start by throwing on a pair of flatform-inspired wedges in a tropical palm print. This is a great way to transition this look for nighttime without having to wear a huge pair of heels. These shoes are trendy and comfortable, which is a total win-win!
Stash your essentials is a white hot laser-cut clutch, then accessorize with a gold lariat necklace with white tassels. Add some shimmer to your beauty routine by painting your nails a shiny gold and, for the finishing touch, create a glam gold cat eye with the help of this liquid liner.
Your thoughts?
Would you ever wear a matching crop top and skirt set? To class? To the office? For a fun night out? How would you style these pieces? Let me know what you think of the outfits in the comments, and tell me what other pieces you'd like to see featured on Class to Night Out!