Long sleeve shift dresses from: Wayf, Charlotte Russe, Tildon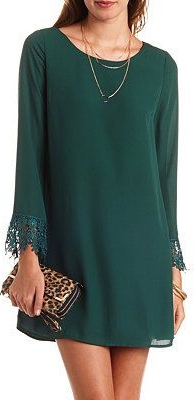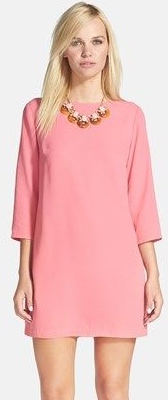 Do you struggle with transforming your outfits from day to night? Don't worry, CF is here to help turn that daily annoyance into a fun challenge. Class to Night Out focuses on one piece per week, and aims to help you take your look from study sessions in the library to dancing the night away.
A shift dress with long sleeves is the perfect transitional piece to add to your wardrobe. Shift dresses look great with fall jackets and boots, and layering with them is a breeze. There was a serious '60s vibe happening on many fall runways, and these frocks capture that era in a very modern and on-trend way.
In this post, I'll be showing you how to wear a super-cute, printed long sleeve shift dress for both class and a night out. Read on for tips on how to style this fab fall trend!
Long Sleeve Shift Dress: Class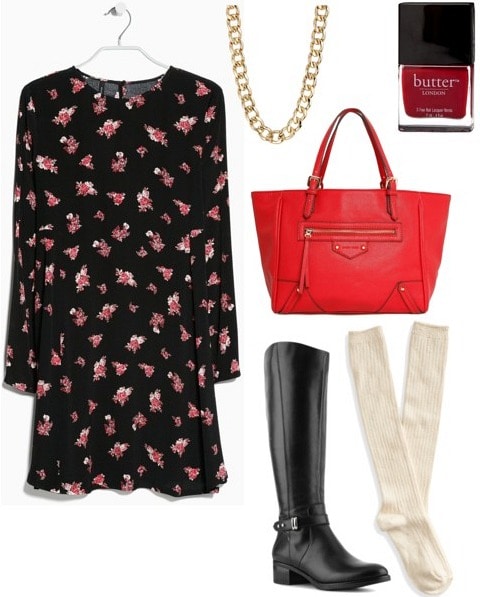 Product Information: Dress, Necklace, Nail Polish, Tote, Boots, Socks
This adorable, fall-appropriate dress features a cream, pink, and red floral print, as well as a keyhole opening in the back. Style it for class by pairing it with sleek black riding boots and cream-colored cable knit boot socks. Make sure the socks peek out over the top of the riding boots, since they perfectly complement the print on the dress and add a cozy, casual feel to the outfit.
Continue to play off the colors in the pattern by carrying all of your school essentials in a red tote and painting your nails a deep crimson hue. For the finishing touch, add a hint of shine by accessorizing with a chunky gold chain necklace.
Long Sleeve Shift Dress: Night Out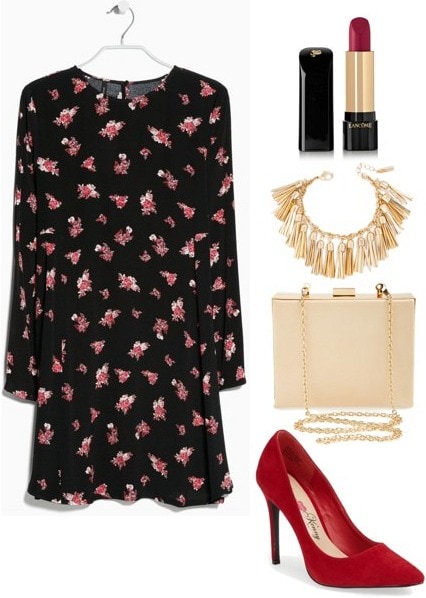 Product Information: Dress, Lipstick, Bracelet, Clutch, Heels
Keep your night out look simple yet classy by pairing this shift dress with red, pointy-toe suede pumps and a small, blush and gold-tone box clutch. A gold tassel bracelet adds the perfect amount of sparkle and charm, while a perfect red lip is the best beauty look to complement this night out ensemble. Simple, classy, and a little bit sassy – how perfect!
Your thoughts?
Would you ever wear a long sleeve shift dress? To class? For a night out? How would you style this long sleeve shift dress? Let me know what you think of the outfits in the comments, and tell me what other pieces you'd like to see featured on Class to Night Out!