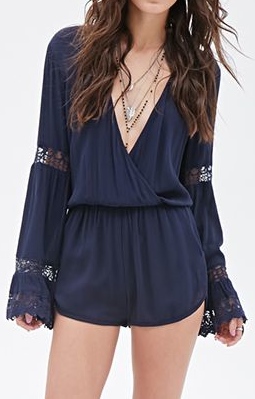 Long sleeve romper from Forever 21
Do you struggle with transforming your outfits from day to night? Don't worry, CF is here to help turn that daily annoyance into a fun challenge. Class to Night Out focuses on one piece per week, and aims to help you take your look from study sessions in the library to dancing the night away.
Rompers have been a popular piece to wear during the spring and summer months these last few years, and now they've become a fall and winter staple, too. This season, you can find plenty of flowy long-sleeved rompers in gorgeous jewel tones and rich textures. Pair these luxe-looking rompers with warm tights, and you'll have a fashion-forward look that works so well for a holiday gathering.
While a long sleeve romper may seem like more of a nighttime staple, it can totally be transformed for a casual daytime look. In this post, I'll be showing you how to style a shimmery long sleeve romper for both class and a night out.
Long Sleeve Romper: Class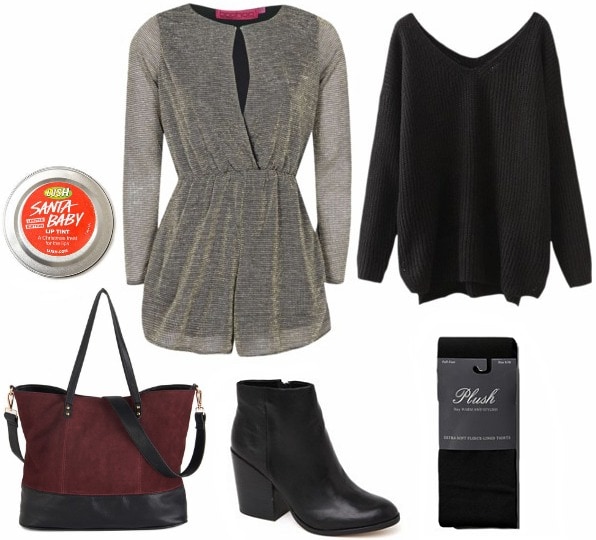 Product Information: Romper, Sweater, Tights, Booties, Tote, Lip Tint
Tone down the shimmery factor of this adorable romper for class by pairing it with all dark colors. A black pullover sweater worn over the romper leaves just a hint of shimmer showing in the shorts portion of the romper. Fleece-lined tights keep you warm, while sleek black booties take this romper from holiday party to street chic.
Carry all of your essentials in a functional tote; this burgundy-and-black one adds a nice pop of color. Swipe on a sheer red lip tint for a low maintenance beauty look.
Long Sleeve Romper: Night Out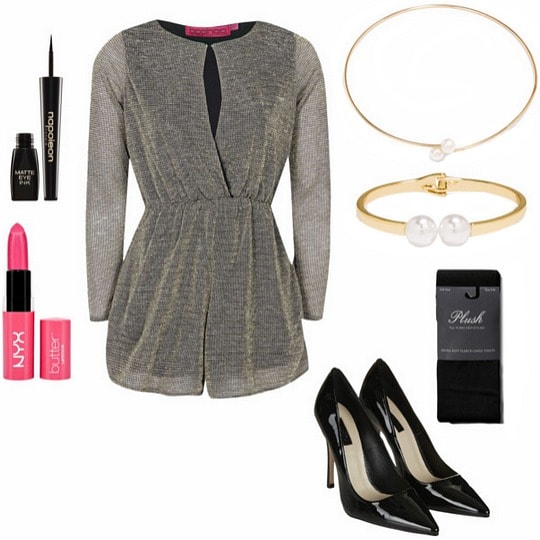 Product Information: Romper, Tights, Pumps, Choker, Bangle, Eyeliner, Lipstick
This shimmery, gold-toned romper looks perfect for holiday functions when paired with black tights and black patent pointy-toe pumps. Sleek gold accessories, like this thin choker with pearl detailing and gold pearl bangle, add the right amount of shine to this already shimmery outfit. A perfectly executed black cat eye and a bold Barbie-pink lip add the finishing touches to this dressy ensemble.
Your thoughts?
Would you ever wear a long-sleeved romper? To class? For a night out? To a holiday party? How would you style this shimmery romper? Let me know what you think of the outfits in the comments, and tell me what other pieces you'd like to see featured on Class to Night Out!