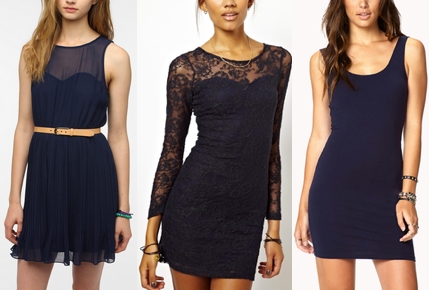 Dresses: Urban Outfitters, ASOS, Forever 21
Do you struggle with transforming your outfits from day to night? Don't worry, CF is here to help turn that daily annoyance into a fun challenge. Class to Night Out focuses on one piece per week, and aims to help you take your look from study sessions in the library to dancing the night away.
While there's no doubt every girl needs a little black dress, other variations of this classic piece are a little more wardrobe-friendly. (Check out my posts on red dresses and blue dresses.) Take navy, for instance. It's just as chic as classic black, but much more versatile! Whether you need a cozy-but-glamorous look for day, or a dramatic nighttime ensemble, look no further than a little navy dress.
Below, check out two looks I've created around a stunning LND, and get ready to get inspired:
Little Navy Dress: Class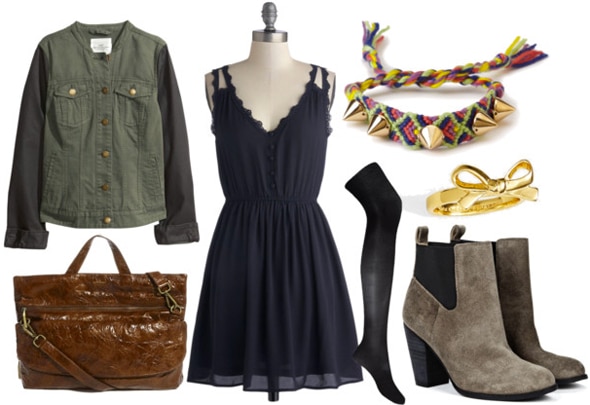 Dress, Jacket, Tights, Boots, Bag, Bracelet, Ring
When searching for a versatile dress, try to find one that's a little more feminine and flowy — it'll save you a lot of trouble when you're trying to make it classroom-appropriate! (Sadly, I haven't found a way to make bandage dresses work for the lecture hall.) I love this super sweet lace-detailed dress from Modcloth.
Dress your frock down with a cool two-tone utility jacket — gotta love that boy-meets-girl contrast. If you're starting to feel that fall chill, grab a pair of opaque black tights, layered under a fabulous pair of heeled Chelsea ankle boots. Next, grab a classically chic leather messenger bag, and add a little more fun to your look with cute jewelry, like a spiked friendship bracelet and a bow-shaped ring.
Little Navy Dress: Night Out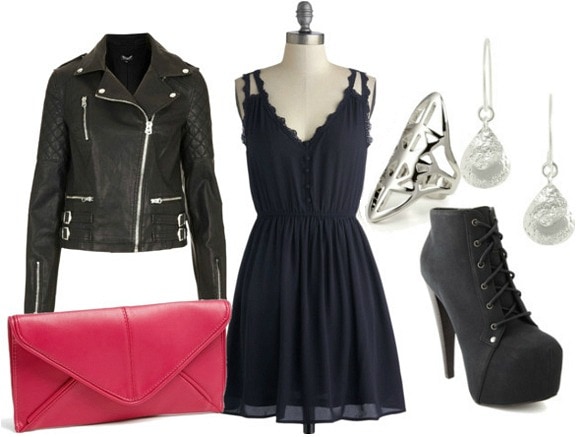 Dress, Jacket, Boots, Clutch, Earrings, Ring
Create the perfect night out ensemble by adding every college girl's nighttime staple — the edgy leather-look jacket. Keep up the rocker vibe with a pair of killer platform ankle booties. These boots from Charlotte Russe look just like Jeffrey Campbell Lita boots, but go for the real thing if you're in the mood to splurge.
Next, add a pop of color with a glamorous hot pink clutch, and complete the outfit with pretty silver accents, like classic drop earrings and an awesome geographic knuckle ring.
Your thoughts?
Would you wear an Little Navy Dress? How would you style this dress? Be sure to let me know what you think of the outfits in the comments, and what other pieces you'd like to see featured on Class to Night Out!