Leather Dress from ASOS
Do you struggle with transforming your outfits from day to night? Don't worry, CF is here to help turn that daily annoyance into a fun challenge. Class to Night Out focuses on one piece per week, and aims to help you take your look from study sessions in the library to dancing the night away.
With pre-fall items entering stores now, I can't help but let my mind wander to the crisper, cooler months of the year. Fall is my favorite time to shop; I just love all of the luxe fabrics and rich colors that the season has to offer.
Even though the weather is still scorching, there is a way to incorporate fall trends into your wardrobe now. Leather and leather look accents and pieces will definitely still be around for the upcoming fall and winter seasons.
In this post, I'll be showing you how to style a leather look shift dress for both class and a night out. Read on for tips on how to make this colder weather trend a part of your summer wardrobe!
Leather Look Dress: Class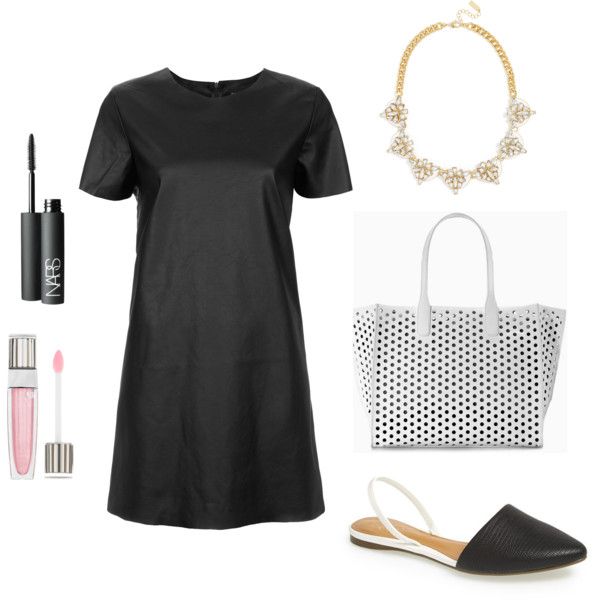 Product Information: Dress, Shoes, Bag, Necklace, Mascara, Lip Gloss
This faux leather shift dress is an appropriate cut for the summer months, since the loose fit and short sleeves will keep you breezy and cool. Keep the black hue from looking too blah by adding a pair of black-and-white closed-toe sandals and an edgy white perforated tote.
A sparkly white-and-gold statement necklace breaks up the black of the dress, and looks fabulous layered over the higher neckline. Add some mascara for a touch of glamour and a sheer yet shimmery light pink lip to keep things fresh.
Leather Look Dress: Night Out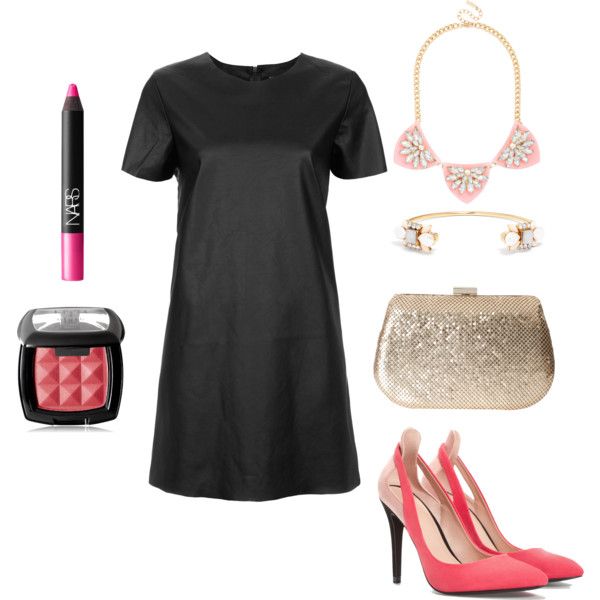 Product Information: Dress, Heels, Bag, Bracelet, Necklace, Lip Pencil, Blush
This dress is a blend of edgy and girly, and looks especially chic for a night out when you add pink and gold accessories. Two-toned pink pumps and a light pink bib statement necklace make this black dress more summery, while a gold cuff bracelet and a glittery box clutch glam up an otherwise edgy dress.
Keep the balance of sweet and sleek going with a velvet matte hot pink lip in this cult classic NARS color and a pink flush on your cheeks.
Your thoughts?
Would you ever wear a leather look dress? To class? For a night out? How would you style this faux leather dress? Let me know what you think of the outfits in the comments, and tell me what other pieces you'd like to see featured on Class to Night Out!