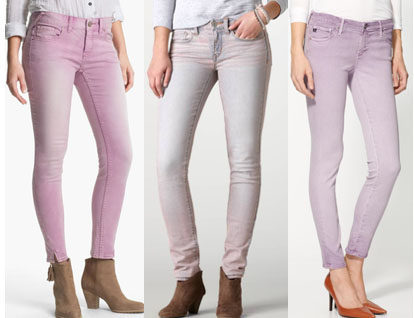 Now that it's officially March, I'm definitely in the mood to shake off a long and dreary winter. Today is the first of my spring break, and I am so excited to clean out my closet and bring out all of my favorite springtime essentials. Pretty prints and bright colors, here we come!
If you're in a springy mood, why not try out a pair of lavender jeans? This pale purple is one of spring's hottest colors, and puts a bright new spin on the colored jeans trend. Chic and wearable, what more could you ask for?
Lavender Jeans: Class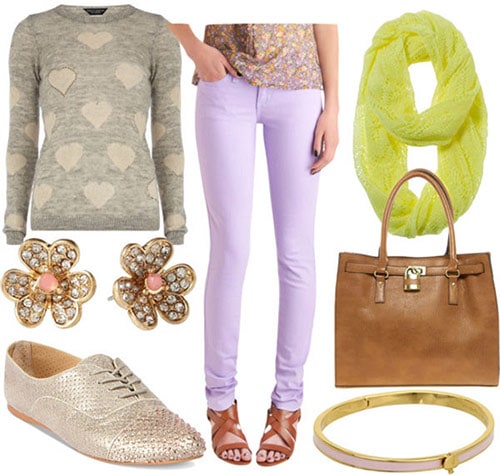 Jeans, Sweater, Scarf, Bag, Oxfords, Bangle, Earrings
Since March isn't exactly known for its tropical temperatures, why not brighten up one of your favorite winter sweaters? A bold, feminine print (like the hearts on this adorable graphic knit) creates perfect balance with the super girly color of the pants. Next, add a pop of complementary color with a lemon-colored infinity scarf. Crystal-studded oxfords add a little bling, while a no-nonsense brown leather tote adds a polished touch to this fun look. Complete the outfit with subtle, girly jewelry like a thin, baby pink bangle and embellished floral studs.
Lavender Jeans: Night Out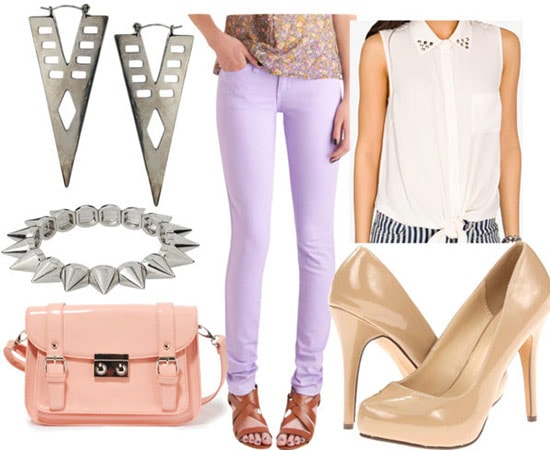 Jeans, Top, Bag, Pumps, Bracelet, Earrings
Put an edgy twist on these ultra-girly pants by pairing them with a stud-embellished collared top. The pop of white makes the look feel fresh and feminine, while the studded collar really gives off a rockstar vibe. Classic nude pumps add a touch of sophistication to the look, while a candy pink cross-body bag just screams "spring is here!" Complete the look with trendy silver jewelry like a spiked bracelet and geometric earrings.
Your thoughts?
Will you be rocking lavender this spring? Any exciting plans for break? Be sure to leave me a comment and let me know what you think of the outfits, I love hearing your thoughts!