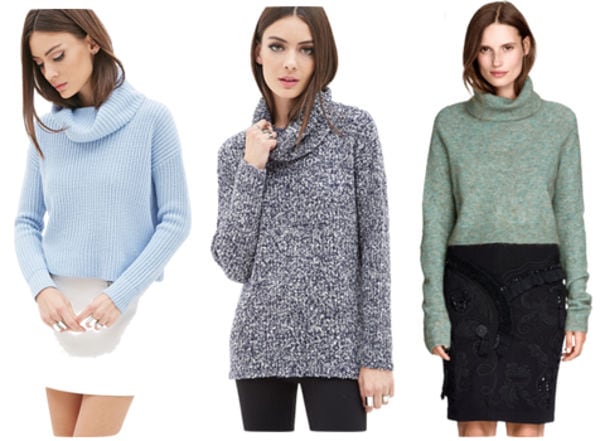 Knit Turtlenecks: 1. Forever 21, 2. Forever 21, 3. H&M
The scarf-and-sweater outfit formula has been saving my life recently; as temperatures drop into the single digits in New Jersey, I love that I'm able to stay warm and cute for class. But even an endless combination of sweaters and scarves can get boring after a while, which is why I've turned my attention to knit turtleneck sweaters.
For a while, this trend reminded me way too much of my style circa 1999 (i.e. I was five years old and it was the hip thing to dress little kids in turtlenecks). But thick, knitted turtlenecks have really been catching my eye lately. For one thing, they're warm, which is really important for most of the country during this time of year. Another plus? They're versatile and can be paired with anything from jeans to leggings to skirts. Turtlenecks can even be layered over dresses for a hip look.
Below, I'll show you how to style a knit turtleneck for a day of classes and a night out. If you're interested in this trend, read on!
Knit Turtleneck: Class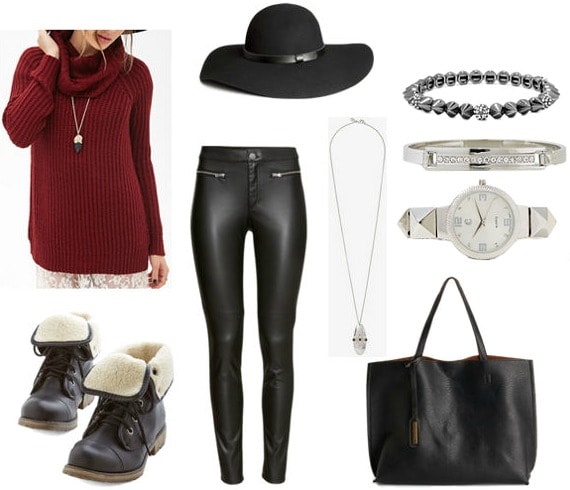 Product Info: Turtleneck, Pants, Boots, Necklace, Hat, Bracelet 1, Bracelet 2, Watch, Tote Bag
Pick a boldly-colored turtleneck to brighten up a cold winter day. Next, add a pair of sleek leather-look pants and cozy fleece-lined boots. Although there's a myth that dictates you can't wear necklaces with turtlenecks, I like the look of a long pendant peeking out from under the collar.
Layer on a few bracelets with an elegant watch, then add a wide-brimmed hat for a trendy touch. Throw all of your belongings in a black tote, and you'll be ready for a day of classes!
Knit Turtleneck: Night Out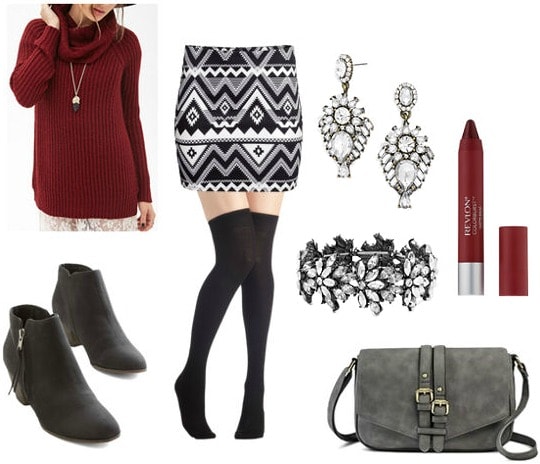 Product Info: Turtleneck, Skirt, Socks, Booties, Purse, Bracelet, Earrings, Matte Lip Balm
For a night out, add a mod twist to your outfit by pairing your turtleneck with a mini skirt. The length feels vaguely '60s-inspired, but the print keeps things modern and fresh. Sheer black over-the-knee socks (feel free to swap in fleece-lined tights if it's freezing where you live!) look fab with black ankle booties.
For jewelry, add some serious sparkle with long drop earrings and a bold cuff bracelet. A sleek gray crossbody bag will carry your essentials in style. Finally, add a swipe of a deep red, matte lip color to complete your look.
Thoughts?
What are your thoughts on turtleneck sweaters? How would you style one on a freezing winter day? What do you think of the looks above? I'd love to hear from you guys!