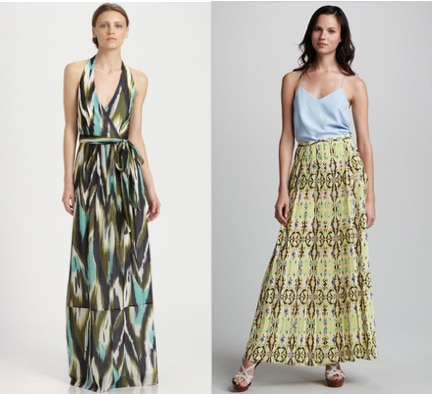 Do you struggle with transforming your outfits from day to night? Don't worry, CF is here to help turn that daily annoyance into a fun challenge. This column will focus on one piece per week, and teach you how to take your look from study sessions in the library to dancing the night away.
Nothing screams summer 2012 quite like Ikat print. The look has been super trendy this season, and for good reason – its geometric blend of diamond and triangle shapes creates a unique aesthetic and makes any summer day feel like an exotic vacation.
This week, I'll be showing you how to style an Ikat maxi dress for a casual day of class and a glamorous night out, taking this trendy print to the next level.
Ikat Maxi Dress: Class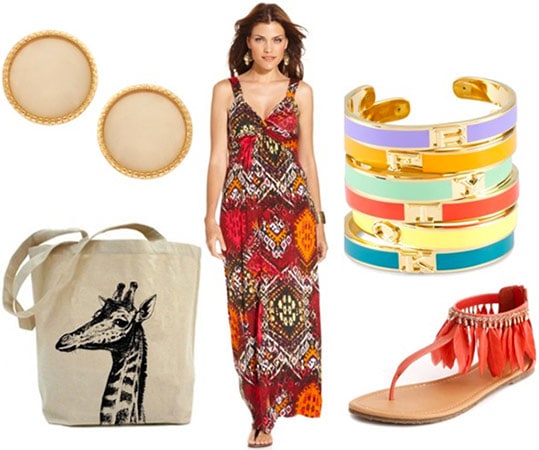 Dress, Tote, Sandals, Bangles, Earrings
For your daytime look, play up the colorful print of the dress by pairing it with fun jewelry like playful bangles and round enamel studs. Bright sandals (I'm digging this coral color) play up the colors in the dress. Finish this casual look with a cute, slightly whimsical tote. Who doesn't love giraffes?
Ikat Maxi Dress: Night Out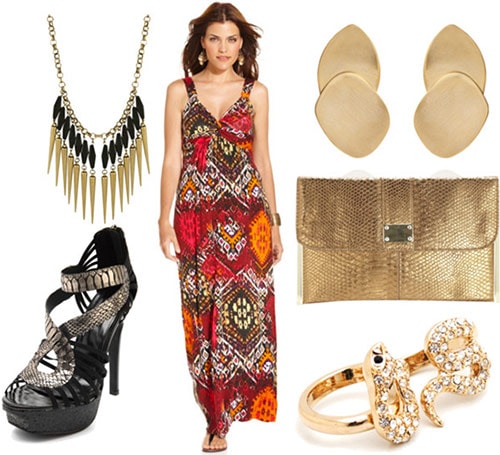 Dress, Heels, Clutch, Necklace, Earrings, Ring
When night rolls around, it's time to explore the edgy side of Ikat print. To start with the edgy look, try a trendy spiked gold necklace and sky-high heels with metallic accents. Keeping up with the snake theme, (okay, maybe I'm showing off my inner Slytherin a little) try a gold clutch with a subtle snake print and cute-but-edgy snake ring. Simple gold geometric earrings complete the look.
Your thoughts?
Have you tried out Ikat print this season? What do you think of the outfits? Be sure to leave me a comment and let me know, I'd love to hear your thoughts!