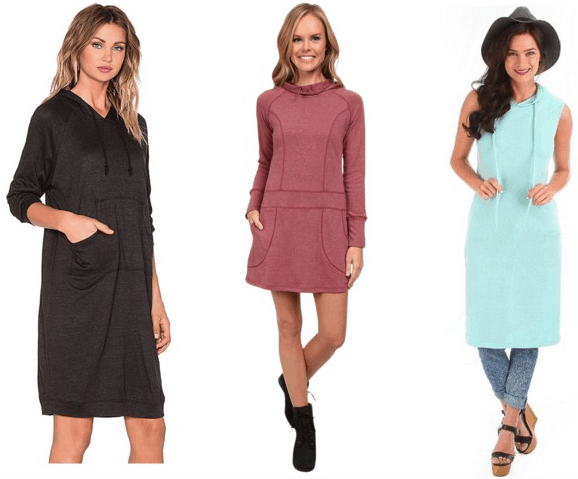 Do you struggle with transforming your outfits from day to night? Don't worry, CF is here to help turn that daily annoyance into a fun challenge. Class to Night Out focuses on one piece per week, and aims to help you take your look from study sessions in the library to dancing the night away.
Few things in life are warmer and more comfortable than sweatpants and a robe, but hoodies definitely make the list. I don't know about you, but I'm partial to items of clothing with pockets to keep my hands warm, and, yes, gloves are an adorable option, but 9 out of 10 times I will forget them at home.
It may be a tricky trend to pull off, but a hoodie dress is a fun fashion alternative to jeans and your everyday hoodie! You get the pockets, the hood to pull over your head if it's raining or you are just really cold, and you have a chance to put together a sporty chic outfit.
You may see them in stores and think "What even is this? Is it a really long hoodie? Is it a dress? How would I even wear this?" Never fear, I'm here to help! To see how to style one of these hoodie dresses for class and a night out, keep reading!
Hoodie Dress: Class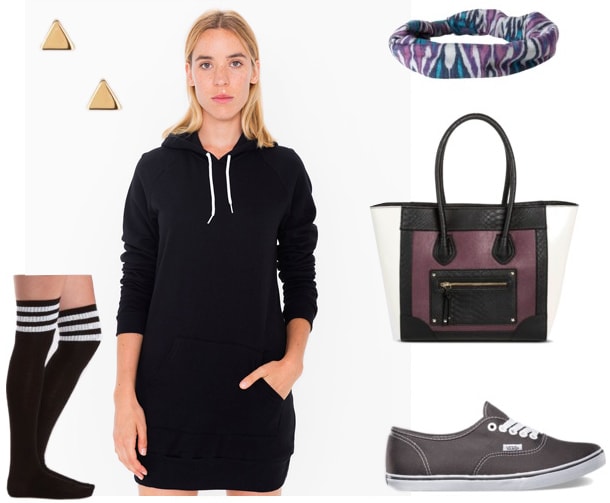 Products: Dress – Socks – Shoes – Tote – Headband – Earrings
Be comfortable and cozy in class with some sporty striped black knee high socks and dark grey sneakers. Add a touch of feminine with some purple accented accessories like this tote and headband. Since the neckline is so high on this dress, I don't think a necklace is necessary – just stick with some gold stud earrings or a bracelet if you'd like. We are trying to keep it sporty for class, so I think less is more regarding jewelry.
Hoodie Dress: Night Out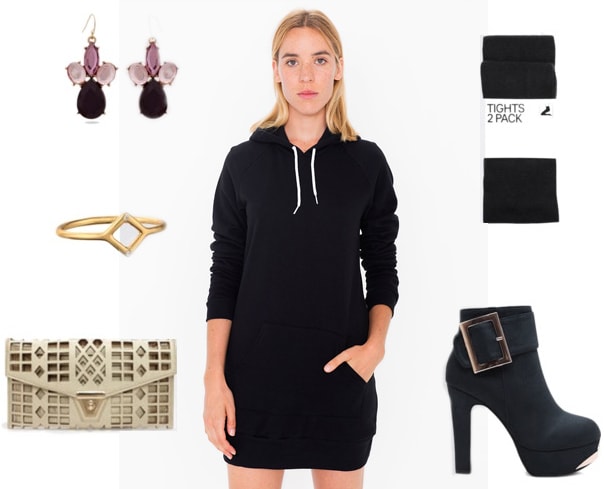 Products: Dress – Clutch – Shoes – Tights – Earrings – Ring
A cooler fall night might call for a pair of black or gray tights paired with some edgy black platform ankle boots. I adore the oversized buckle and gold detail on the toe on these. Gold and black look gorgeous together, so stick with gold accessories like this gold geometric cutout clutch and gold triangle ring. Finally, finish off the outfit with a pair of berry-hued earrings for a some added color and you are ready to rock that dress for a night out!
Your thoughts?
What do you think? Are you going to try the hoodie dress trend, or are you going to stick to hoodies and jeans? If you do, how would you style one for class and a night out? Also, how cute are those shoes?! Let me know what you think in the comments, I love hearing feedback!