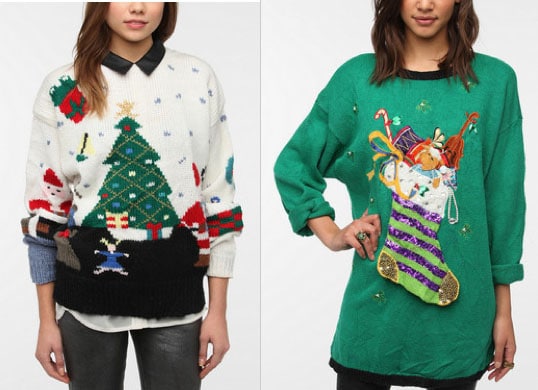 Sweaters: Both vintage via Urban Outfitters
Do you struggle with transforming your outfits from day to night? Don't worry, CF is here to help turn that daily annoyance into a fun challenge. Class to Night Out focuses on one piece per week, and aims to help you take your look from study sessions in the library to dancing the night away.
Let me be the first to admit this – I've gotten a little carried away with holiday cheer this year. My school just switched from quarters to semesters, so this is the first time I've ever been on campus in December! It's been a rough transition, but most of us have adapted pretty well… mostly because of the vast world of holiday party themes that we've discovered.
Since most of us only have one more weekend left before we head home for break, I thought I'd celebrate by sharing two outfits (one for day, one for night) centered around my absolute favorite party theme. That's right, it's ugly sweater time!
Holiday Sweater: Class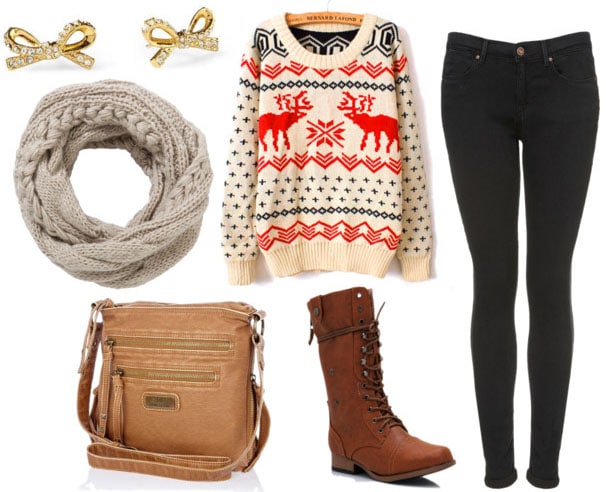 Sweater, Jeans, Scarf, Boots, Bag, Earrings
When seeking out a holiday sweater, it's best to find one that isn't too hideous (I'm talking sparkles and jingle bells) because big, cozy sweaters can be really trendy when styled properly. Look for something with a classic, but still amusing print – you can never go wrong with snowflakes and reindeer!
Now it's time to get styling. Pair your sweater with black skinny jeans and brown combat boots for a casual, wintery look. Accessorize with a big, comfy infinity scarf for extra warmth, and grab a classic brown messenger bag. Cute gold bow-shaped studs complete this holiday-friendly look!
Holiday Sweater: Night Out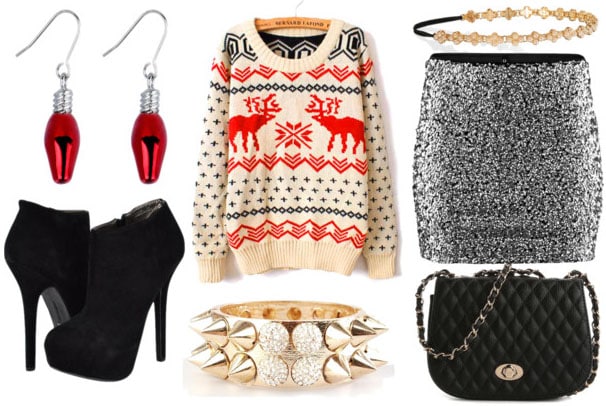 Sweater, Skirt, Bag, Booties, Headband, Bangle, Earrings
Go full on "tacky Christmas" for night by pairing your sweater with a sequined skirt. (Honestly, this is one of the few times you can dress like a total weirdo and feel like Mariah Carey at the same time, so you might as well go all out.) Accessorize with trendy pieces like velvety black ankle booties, a spiked cuff, and a quilted black cross-body bag. It's not an ugly sweater party without matching costume jewelry, so grab a pair of seasonal earrings to complete the look.
Your thoughts?
How would you style a holiday sweater? What's your favorite "ugly" print? Be sure to leave a comment and let me know what you think of the outfits, I'd love to hear your thoughts!