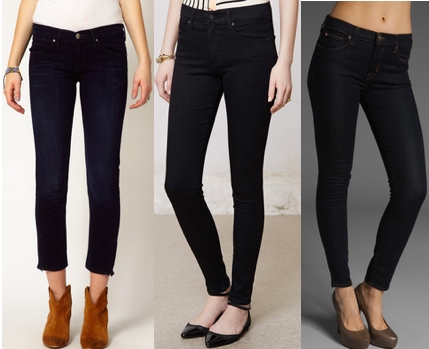 Jeans: ASOS, Anthropologie, Revolve
Do you struggle with transforming your outfits from day to night? Don't worry, CF is here to help turn that daily annoyance into a fun challenge. Class to Night Out focuses on one piece per week, and aims to help you take your look from study sessions in the library to dancing the night away.
Nothing screams "classic" like a pair of ankle-length jeans. Retro enough to have you feeling like Audrey Hepburn, but still modern enough that you don't feel like you're playing dress up, these classic pants are a must-have for any college girl's wardrobe.
This week, I'll be showing you how to style two sophisticated looks around a pair of high-waisted black ankle jeans. Though you could find a pair of your own just about anywhere, trust me, this is one piece that's worth the splurge. Ready for the outfits? Let's get to 'em:
High-Waisted Black Ankle Jeans: Class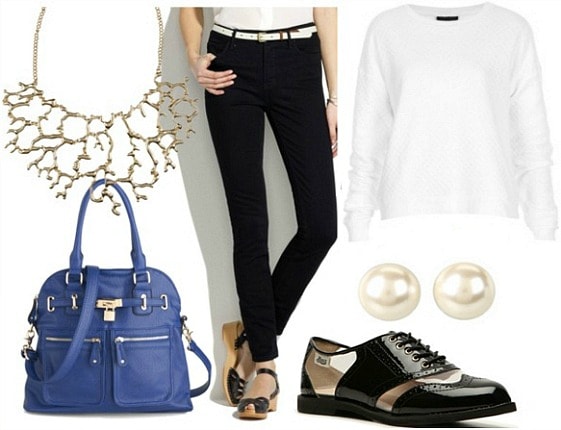 Jeans, Sweater, Bag, Oxfords, Necklace, Pearls
Who says you can't wear white after labor day? Winter white is huge this fall, so go the classic route by sporting a super-soft quilted white sweater with your jeans. The best thing about wearing black-and-white? Color accents! Pick your favorite hue and go bold with a structured bag — personally, I love this dusty cobalt shade.
Next, add a pair of funky oxfords with see-through details for a more studious vibe, then try a gold statement necklace with a pretty coral pattern. Complete the look with a pair of classic pearls. Audrey would approve!
High-Waisted Black Ankle Jeans: Night Out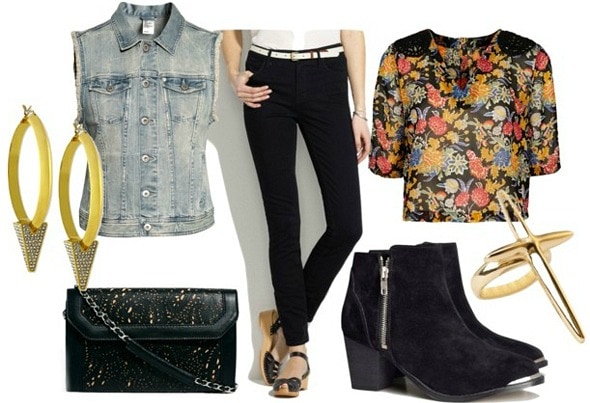 Jeans, Top, Vest, Boots, Bag, Earrings, Ring
Bring back the '9os with your nighttime look by pairing your jeans with a super-colorful floral crop top. Buffy, anyone? Next, add a rugged jean vest for that super trendy denim-on-denim look. Black suede booties with a subtle heel add plenty of grunge-inspired edge. Accessorize with a gold-detailed cross-body bag and a pair of spiky hoops.
Complete the ensemble with a statement ring that features the ultimate '90s accessory — the edgy cross. Love it!
Your thoughts?
Would you wear high-waisted ankle jeans? How would you style this pair? Be sure to let me know what you think of the outfits in the comments, and what other pieces you'd like to see featured on Class to Night Out!