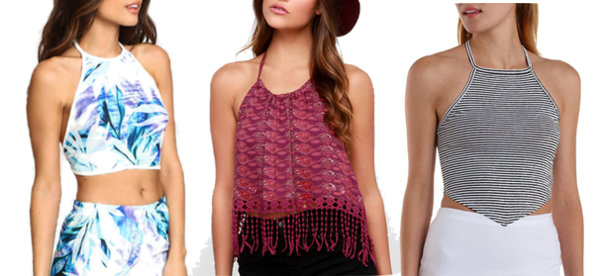 Halter Crop Tops: 1. Love Culture, 2. Lulu's, 3. Charlotte Russe
The other day, my professor allowed us to have class outside (the ultimate goal of every college student = achieved). Afterwards, I was shocked to see that my shoulders were pink! I had experienced the first sunburn of the season (and from now on I will have to be extra-diligent with sunscreen every time I go outside). It is officially spring, complete with sunshine and sunburn.
I'm really inspired lately by warm-weather styles… probably a side effect from living in nothing but sweaters for so many long months. Right now I'm all about tank tops, shorts, and anything that screams "It's warm out!" Hence my current obsession with the halter crop top. It's a little bit '70s, a little bit '90s, and very much warm-weather appropriate. This throwback style can be worn for a long day of classes in a stifling hot classroom, but can also transition well to a dressier look for a fun night out.
Below, I've styled two outfits featuring a halter crop top that can easily bring you from class to a night out, so if you're interested in this trend, read on!
Halter Crop Top: Class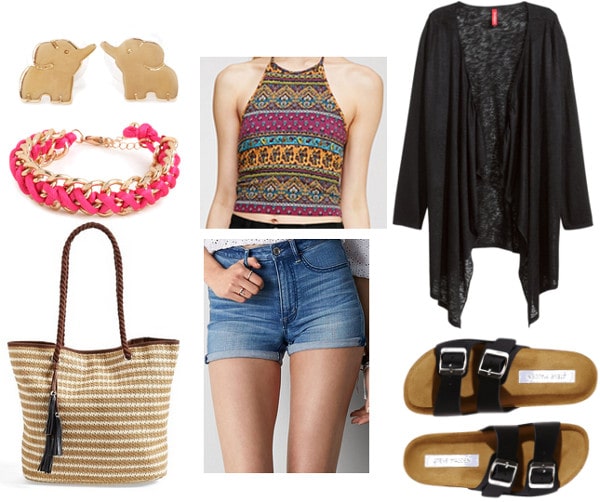 Product Info: Halter Crop Top, Shorts, Cardigan, Sandals, Tote, Bracelet, Earrings
Start with a bold, colorful crop top to really stand out from a crowd. Pair it with high-waisted denim shorts to make the outfit more classroom-appropriate. In case the buildings on your campus are blasting the AC already, add a lightweight cardigan in a neutral color. Slip on comfy sandals, and fill a big straw tote bag with all your school supplies. For jewelry, all you need is a pretty braided bracelet and some adorably simple studs.
Halter Crop Top: Night Out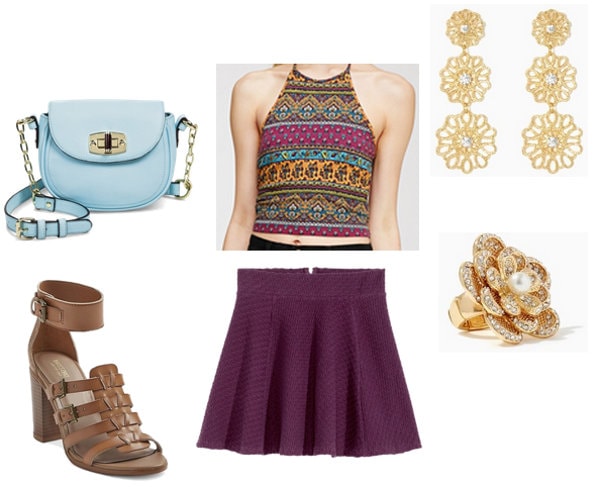 Product Info: Halter Crop Top, Circle Skirt, Sandals, Purse, Earrings, Ring
For a fun night out, wear your halter crop top with a brightly-colored circle skirt. Edgy stacked heel sandals will give your look an extra boost of height and style. Add some elegant drop earrings and a glam cocktail ring for a bit of sparkle. Finally, incorporate one last pop of color with a pretty pastel crossbody purse.
Thoughts?
What are your thoughts on halter crop tops? How would you style this piece? Are you into the outfits I posted above? I'd love to hear your thoughts!