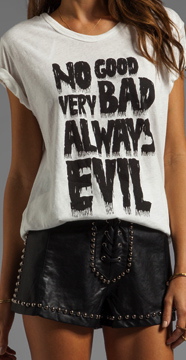 Graphic Tees: Evil Twin, The Laundry Room, Sauce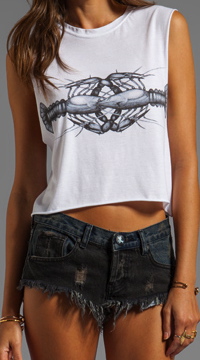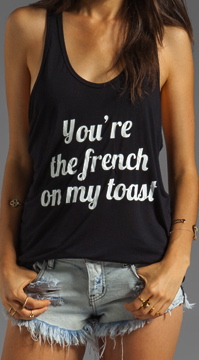 Do you struggle with transforming your outfits from day to night? Don't worry, CF is here to help turn that daily annoyance into a fun challenge. Class to Night Out focuses on one piece per week, and aims to help you take your look from study sessions in the library to dancing the night away.
A graphic tee is the perfect way to stay cozy and stylish in any casual setting. They can also be dressed up or down, which makes them quite the versatile addition to your wardrobe. Whenever you're feeling a little sassy, just throw on a graphic tee. There are so many out there right now – there's sure to be one that perfectly represents your style and personality.
Here, I'll be showing you how to style a graphic tee for class and a night out. This particular tee is adorned with the phrase "Ça m'est égal," which is French for "It's all the same to me" or "I don't care." Très sassy-chic!
Graphic Tee: Class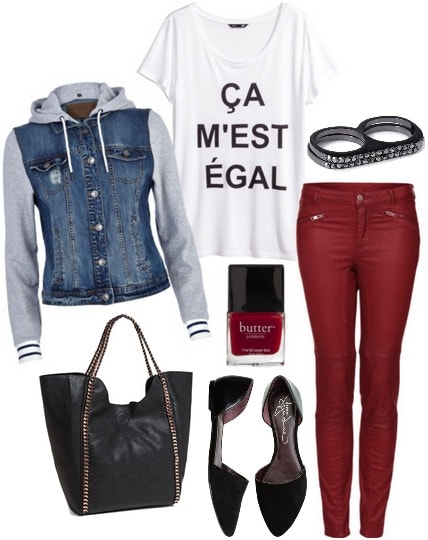 Product Information: Graphic Tee, Pants, Jacket, Flats, Tote, Ring, Nail Polish
Style this graphic tee with a pair of red coated skinny jeans and black D'Orsay flats for a trendy look that's still appropriate for class. Wear a mixed media jacket that looks like a sweatshirt worn under a denim vest to give the ensemble a sportier, edgier vibe.
A black tote with embellishments is a stylish way to hold all of your essentials for class. Accessorize with an edgy gunmetal-hued ring, then play up the color of the pants by painting your nails red.
Graphic Tee: Night Out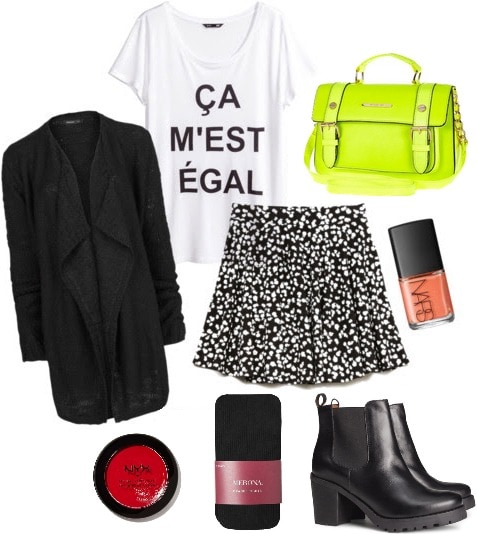 Product Information: Graphic Tee, Skirt, Sweater, Booties, Tights, Bag, Nail Polish, Cheek/Lip Color
For a night out, you can style this graphic tee in a grungier, more laid-back way and still look totally cool. Pair the tee with a flouncy black-and-white printed skater skirt, black tights, and chunky ankle booties. Adding a slouchy, open-front cardigan keeps the ensemble relaxed and warm.
Because this outfit is very neutral, add pops of color with accessories. This neon cross-body bag makes quite the statement, while a coral mani and bright red cheek/lip color will make your complexion rosier than ever.
Your thoughts?
Would you ever wear a graphic tee? How would you style this one? Let me know what you think of the outfits in the comments, and let me know what other pieces you'd like to see featured on Class to Night Out!